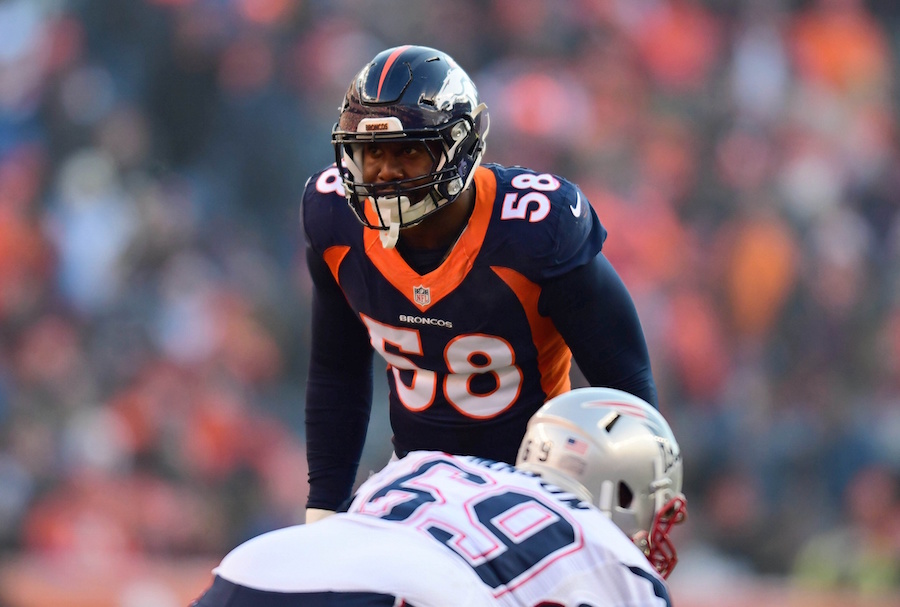 Von Miller is on the path to becoming one of the all-time great Denver Broncos. He already claims three first-team (and two second-team) All-Pro designations, a NFL Defensive Rookie of the Year award and a Super Bowl MVP. So it might seem a little strange that he cited a Broncos player who never really panned out as expected as someone he models his training after.
Still, Miller referenced the one and only Tim Tebow (alongside a pair of sure-fire Hall of Famers) earlier this week when describing one of the ways he's continuing to ascend in his career, now entering his seventh NFL season.
"I just work," Miller told the gathered media after Wednesday's training camp practice. "Every single day when we get a break, I go work. I'm not going home, going to get lunch or taking a break. I'm getting in the facility all day. All the time that I get, I like to take advantage of it, whether it's the walk through time, the weight room time, or the lunch time – I like to take advantage of every single minute that I've got and really try to transfer that into my game. I feel like all of the greats did that. DeMarcus [Ware] did that. He stayed extra and did some ab work. Peyton [Manning] did that. [Former Broncos QB] Tim Tebow was one of the warriors in taking advantage of all the time that he had. That's what I'm trying to do, I'm trying to take advantage of all of the time that I have to improve my game."
While Miller and Tebow's NFL careers veered in very different directions, there's no denying they share a common – dare we say legendary – work ethic. This year, Miller has focused on increasing his mental fitness as well.
"It was great physical work but it was a lot of mental work, too. My trainer, we'd walk out there and he'd say, run the stairs. He's not telling you, give me 10 stairs. He just says, run the stairs. You run them, come back down and keep going," Miller explained. "Over time, you really develop this mentality where you're just here to work and that's the mentality that I want on the football field. It doesn't matter if it's first quarter, second quarter or overtime. It doesn't matter if we've been out here for eight plays or seven plays, I just want to keep going and keep going. That was one of the most positive things I got out of working in San Francisco."
While Tebow never fully reached the potential fans hoped for from the 2007 Heisman Trophy winner, Broncos can expect that Miller will continue his upward trajectory. All signs point to that happening in 2017 and beyond.