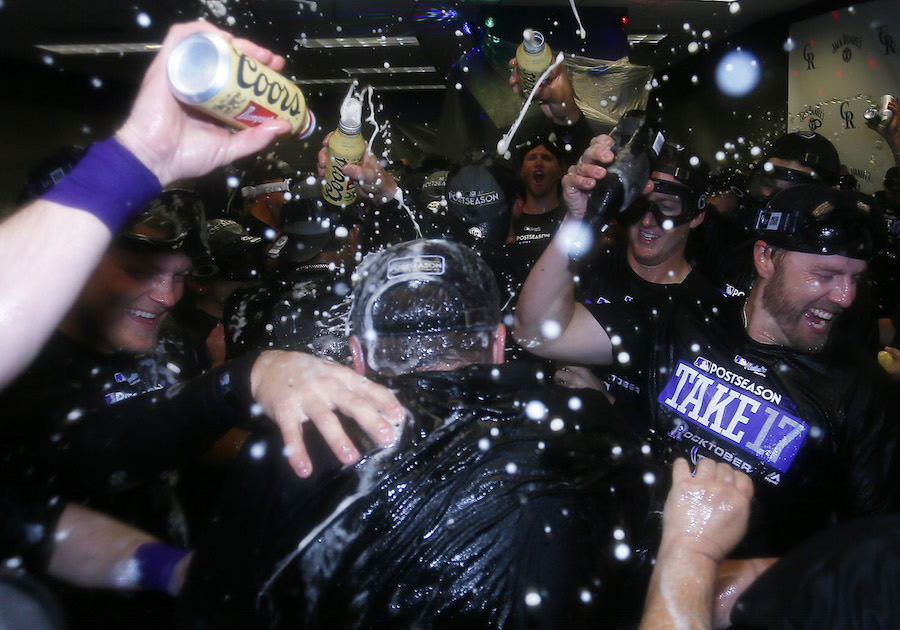 Coors Field may well be the crown jewel of Denver's skyline. The entrancing brick-and-steel home of the Rockies will enter its 23rd season this spring, ensconced as a natural fit in a century-old part of town, and as the beating heart at the center of the new one that its very presence created. Rockies ownership, led by Dick and Charlie Monfort, has made keeping Coors Field as fresh as the day it opened a priority, with new features like wrap-around scoreboards (some solar-powered), a better variety of food and drink, a cutting-edge, high-definition scoreboard set to debut in 2018, and "The Rooftop" in right field… better known in these parts as "the party deck".
The always-packed collection of bars atop Coors Field serve as fodder for lazy local radio-types and national scribes to ridicule the organization and its fan base, suggesting that its popularity is proof that neither the Rockies nor its fans care about the actual game of baseball — and in truth, the Rockies brought much of that upon themselves.
That's changed.
Following the 2014 season, a 66-96 disaster that marked the team's fourth consecutive campaign with 88 or more losses, the Rockies named Jeff Bridich the club's general manager. Bridich, who had been the Rockies' senior director of player development since 2011, seemed a natural fit for an organization that too often promoted from within, keeping most of the same people in place for losing season after losing season, somehow expecting it to change.
Then, amazingly, it did.
Not all at once, mind you — the Rockies finished the 2015 season only two games better, finishing in the NL West cellar yet again, but in 2016, they climbed into third place after finishing 75-87. The nine-game improvement in two seasons marked incremental growth and promise, but then 2017 changed the landscape for the Rockies — and it should change fans' perspective about the organization.
Long-derided as a "cheap" organization by pundits and local talking heads as a lazy crutch — the truth is that the Rockies' payroll was commensurate within one or two spots of their media market size almost every year of the last decade — but for fans, it became dogma.
The Rockies had indeed become gun-shy about pursuing top free-agent pitchers ever since the disastrous 2001 signings of Mike Hampton (eight years, $121 million) and Denny Neagle (five years, $51 million); the organization hasn't signed a starting pitcher to a lucrative, long-term deal since. It's made it all too easy to look at the lavish additions to still-sparkling Coors Field and lament about all the money that could have been spent on the team instead.
Bridich has convinced the Monforts that needs to happen, too. Since Bridich took the reins, there have been early signings that didn't work out — starting pitcher Kyle Kendrick and relievers John Axford, Chad Qualls and Jason Motte all failed to make the impact the Rockies had hoped. Then the Rockies really opened the checkbook. In January of 2016, the Rockies added outfielder Gerardo Parra, signing him to a three-year, $28 million contract that looked like a bust during an injury-plagued 2016 campaign, but then looked like a bargain in 2017 when the versatile and ebullient Parra hit .309 with 35 extra-base hits and played top-notch defense.
The spigot was wrenched open prior to that 2017 season after the Rockies pried Ian Desmond from Texas with a whopping five-year, $70 million contract that hasn't paid off — Desmond was expected to play first base, but had never spent any significant time there and was quickly recognized as a liability and moved to the outfield… when healthy, that is. Like Parra before him, however, there's plenty of time left for Desmond to bounce back.
Bridich bolstered the bullpen with Miami's Mike Dunn (three years, $19 million) and rolled the dice on Greg Holland's ability to return from 'Tommy John' surgery. Holland, who had the best season as a closer in Rockies history, was worth the $7 million gamble.
That bullpen, adeptly handled by new manager Bud Black, pointed the way to a new direction for the Rockies. Even with young and inexperienced starters throughout the rotation, the strong, versatile 'pen became the team's backbone. The Rockies added to it prior to the trade deadline, dealing for 'rental players' Pat Neshek and catcher Jonathan Lucroy, both of whom helped the Rockies stay afloat long enough to claim a wild-card playoff spot.
Though they lost that playoff game, the Rockies had found their way. Like the mid-market Cleveland Indians and Kansas City Royals between them, the Rockies could build an elite bullpen that could smooth over the inevitable bumps in the road that every starting pitcher encounters over 81 games in Denver.
Here it stands in January, less than six weeks from major-league baseball teams will report for spring training in Arizona and Florida, and the Rockies have outspent every single team in baseball during this offseason's free-agency period. Every one.
Relievers Bryan Shaw and Jake McGee (who was re-signed as a free agent) received matching three-year, $27 million deals, and the team cherry-picked Wade Davis from Cubs, handing him a three-year, $52 million contract — the highest in major-league history for a closer.
Today, the Rockies have baseball's 11th-highest payroll, directly trailing the Cubs (10th) and Cardinals (ninth) — franchises that no pundits would dare call "cheap" — and they may be just getting started. With All-Stars like Charlie Blackmon and D.J. LeMahieu set to become free agents after the 2018 season, and what's sure to be an jaw-dropping sum required to keep Nolan Arenado in Rockies purple one year later, Bridich — and the Monforts — have flipped the script.
The Rockies have matured; they're in it to win it, and they're willing to pay for it, too — everything that fans have ever asked for. Let's see if those same fans, and a local media that too often fails to study anything that isn't an prolate spheroid, are willing to mature, as well.
"Cheap"? Grow up.