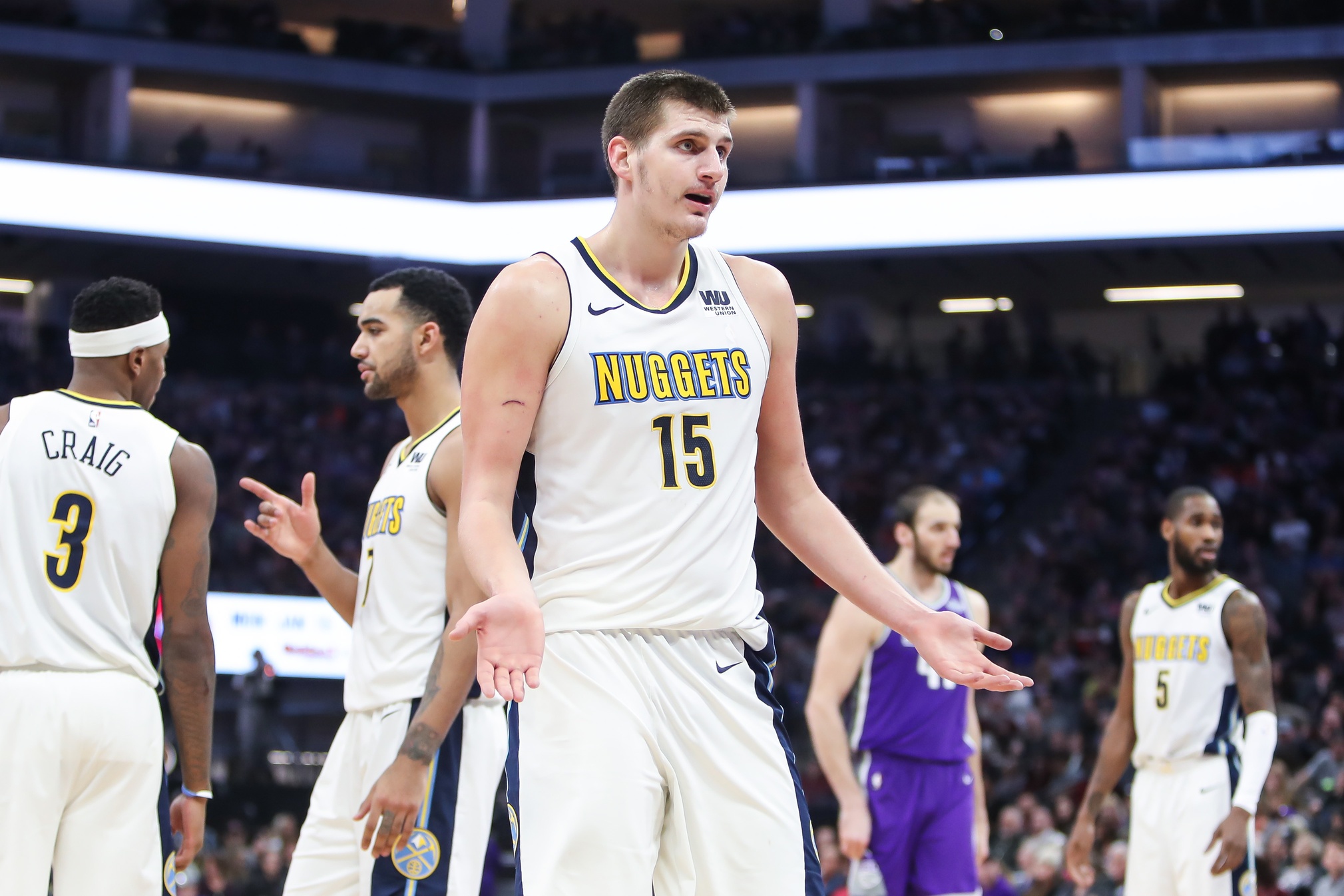 Expectations make for a heavy burden.
There's no two ways around it; it's not easy being the face of an NBA franchise when that franchise has been faceless for so many years. For the Denver Nuggets and star center Nikola Jokic, this season has been an arduous, sometimes painful readjustment after his dominant 3-1/2 month performance during the previous season. What has become apparent is it's as much a learning experience for him as it is the organization.
Head coach Michael Malone likes to point out that Jokic is a second-round pick and his ascendancy wasn't expected. While this is undeniably true, Jokic has been — to a large extent — the marquee, franchise player for the last two seasons. It's not like he wasn't prepared for the avalanche of expectation and pressure coming into the season, even with the presence of the (injured) $90 million man, Paul Millsap.
Still, it's understandably hard to face up to franchise-savior expectations; even in a basketball-agnostic city like Denver. Just ask Carmelo Anthony, whose emergence as the marquee Nuggets player of the mid-2000's propelled the Nuggets to 10 straight playoff appearances. It wasn't easy… and Melo dealt with the "you aren't good enough" critiques over the entirety of his nearly eight-year tenure in Denver. It's not fair, but it's part of the job. Nobody said this would be easy.
Nuggets fans need to stop focusing on Jokic's goofy personality and casual demeanor and understand that, while the pressures that come with expectations are often unfair, they're part of the job. When Jokic plays like garbage and seems disinterested — regardless of lineup configuration — he needs to be called out and criticized because he is the face of the franchise. Fans need to be critical of 'The Joker' while taking into consideration that everything isn't perfect for him to flourish. It comes with the territory.
There have been several games during this season where Jokic appeared to be able to 'turn on' what he showed last season rather effortlessly, including when he and Millsap were still trying to figure out how to play together against the Washington Wizards at home. In the previous game against Sacramento, Jokic scored zero points and seemed completely disinterested in shooting the ball in a Nuggets victory. Obviously, he was going to be asked about his scoring before the Nuggets played the Wizards the next game. Jokic was bit sarcastic, and he mockingly said he would score 81 in the game that night.
He scored 29 and pulled down nine rebounds that night. Effortlessly.
Same again against the Brooklyn Nets at home on November 7th. In the previous game, Jokic was apathetic against the Warriors, looking tired and less than productive. Against the Nets, Jokic set a career high with 41 points and was single-handed in destroying the Nets that night. Again, effortlessly.
Much has been made on Nuggets Twitter about the lineup that Michael Malone has chosen to go with, largely since Paul Millsap has been out of the lineup. It features the Nuggets backup center Mason Plumlee along side Jokic. Many have made a correlation between this particular lineup and Jokic's rather disengaged, three-point happy play of late. While this doesn't exactly amplify Jokic's skill set, and does push him out to the three-point line frequently, take this under consideration: Jokic is choosing to shoot threes.
Even if you're out of your comfort zone, it is always your choice to settle. The so-called "Plumic" lineup isn't something that is ideal for Jokic, and one can argue that the Nuggets aren't giving themselves the best ability to amplify their offense with that particular lineup. Yet, it's up to Jokic to play to his best within the lineup he is given and … you don't always get the sense that he does. A player who has repeatedly demonstrated that he can 'turn it on' in an instant, in any situation, can't be putting forth games like the recent loss to the Atlanta Hawks at home where Jokic chucked six three-point shots in the first quarter; and missed all of them on his way to a 4-21 shooting night.
Heavy is the head that bears the crown, and with being the face of the franchise, there comes expectation. It's part of the deal, and you know what? It's OK! This is how you — presumably — get better. Nikola Jokic can be better than he has shown, and he has shown it in nearly all offensive configuration this year.
It's time for Nuggets fans to understand expectations aren't a bad thing — wanting more from your best player will make him a better player.