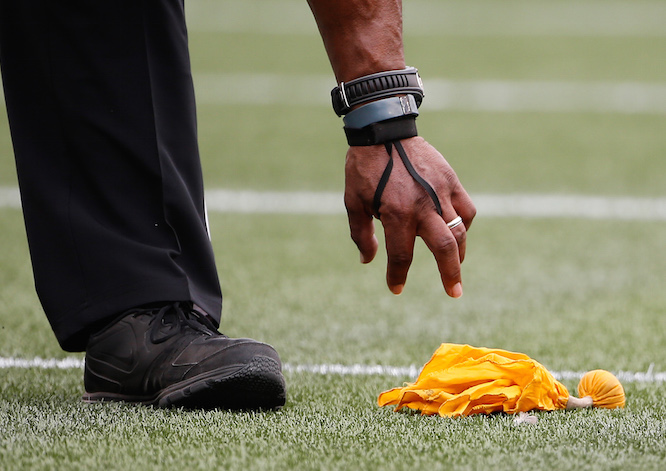 Through two preseason games, the Denver Broncos have surrendered 17 penalties, four of which resulted in first downs for their opponents. It's a bad trend that is carrying over from 2014, says Zach Fogg on Mile High Sports AM 1340, when Denver racked up 122 penalties for 1,053 yards (fifth most in the league).
Adam Kinney, who joined Fogg on Afternoon Drive on Thursday, is less concerned. He attributes the team's lack of discipline to the generally lackadaisical approach employed by John Fox and Jack Del Rio. Kinney says things are already looking better under Gary Kubiak, and was particularly impressed with the fact that the o-line did not incur any procedural penalties in the opening preseason game against Seattle.
Fogg, however, says fans shouldn't let the Broncos off the hook so easily. He recalls a narrative that said players will naturally want to cut down on their infractions (both on the field and off) because of Peyton Manning's sterling reputation. "Manning will get them in line," he says was the refrain throughout Broncos Country – something that hasn't happened in the penalties department, especially on third down.
"Holding penalties are drive killers," says Fogg. But Kinney offers a different perspective. He'd rather have an offensive lineman surrender a holding penalty than have a 39-year-old quarterback end up eating turf.
If the goal of the offensive line this season is to keep Manning healthy, Denver may still find itself high on that list of penalties throughout 2015.
Listen to the full discussion on the Broncos penalty woes in the podcast below…
Listen to Afternoon Drive with Eric Goodman and Zach Fogg every weekday from 4p-6p on Mile High Sports AM 1340 or Listen Live any time online for the best local coverage of what's new and what's next in Colorado sports.