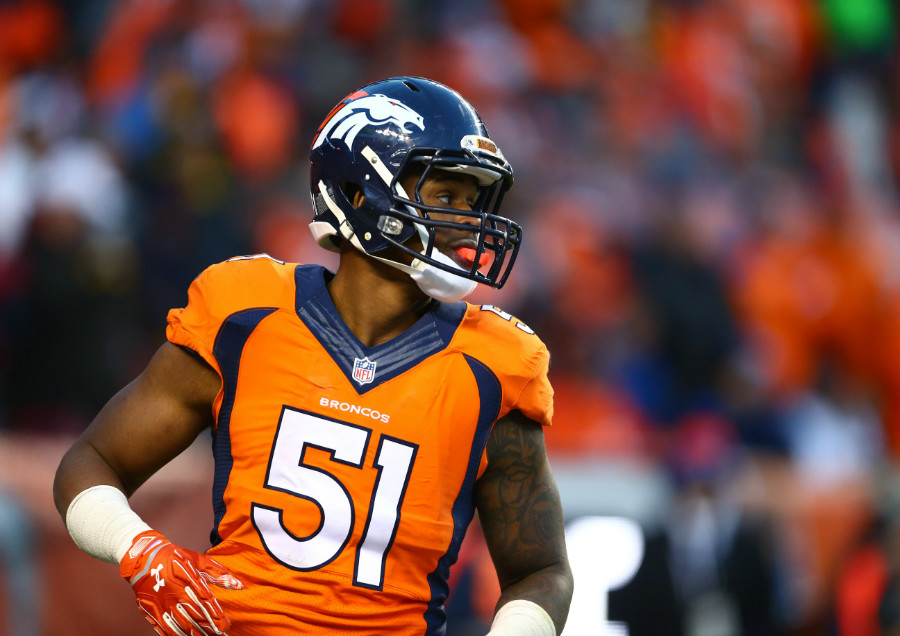 Denver Broncos linebacker Todd Davis is set to make his return to the gridiron Sunday afternoon in Wisconsin where the Broncos will play the Green Bay Packers.
Prior to his return, Davis caught up with Les Shapiro of Mile High Sports' Afternoon Drive radio program to discuss the matchup and his road to recovery.
Davis, 27, injured his calf on the first day of Broncos' training camp and has yet to play a down this season. Davis was a starter in all 16 games for Denver last season, compiling 114 tackles and grabbing an interception.
Davis used his time away from the game to study head coach Vic Fangio's defensive system, so he is prepared when things get rolling.
"I just want to come and bring some tenacity and aggression to the defense," Davis told Shapiro. "I'm excited to get back out there with my guys. It's going to be a great day."
Davis and the Broncos' medical staff handled the calf injury with caution due to the complex nature of the muscle.
"I feel great," Davis said. "My body feels great, so I'll be ready to go. There is so much that comes with it (calf injury). The calf is connected to the achilles, and with Kevin Durant, everybody is worried about calf injuries now."
Davis mentioned NBA Star Kevin Durant who returned to the court prematurely after injuring his calf. The decision resulted in Durant rupturing his achilles in the NBA Finals. Calf injuries have been at the forefront of the sports world as of late, so teams have started to treat them with intensive care.
That said, Davis has healed and is ready to contribute to Denver's defense.
Defensive coordinator Ed Donatell looks forward to Davis' impact come Sunday.
"The biggest thing is experience," Donatell said of what Davis brings to the table. "This guy's an experienced guy. He's been with Reggie Herring, our linebackers coach, so we know what he can do, but he missed a big block of time he's a guy that studies really hard. He's a smart player, and he's looked good in the preparation so far."
Davis is one of the anchors on the Broncos' defense. While Von Miller and Bradley Chubb absorb most of the attention, Davis serves as an integral part of Denver's defensive unit.
Miller labeled Davis as a "thug" earlier this season for his ability to wreak havoc on opposing teams.
"A good thug," Davis said. "I'm definitely a different person when I get out there on the field and put the helmet on. I guess that's accurate." 
Listen to the full interview with Davis here, including what he had to say about the state of the Broncos moving forward this season.
Catch Afternoon Drive with Goodman and Shapiro every weekday from 4p-6p on Mile High Sports FM 104.7 | AM1340 or stream live any time for the best local coverage of Colorado sports from Denver's biggest sports talk lineup. Download the all-new free Mile High Sports Radio mobile app for Apple or Android.