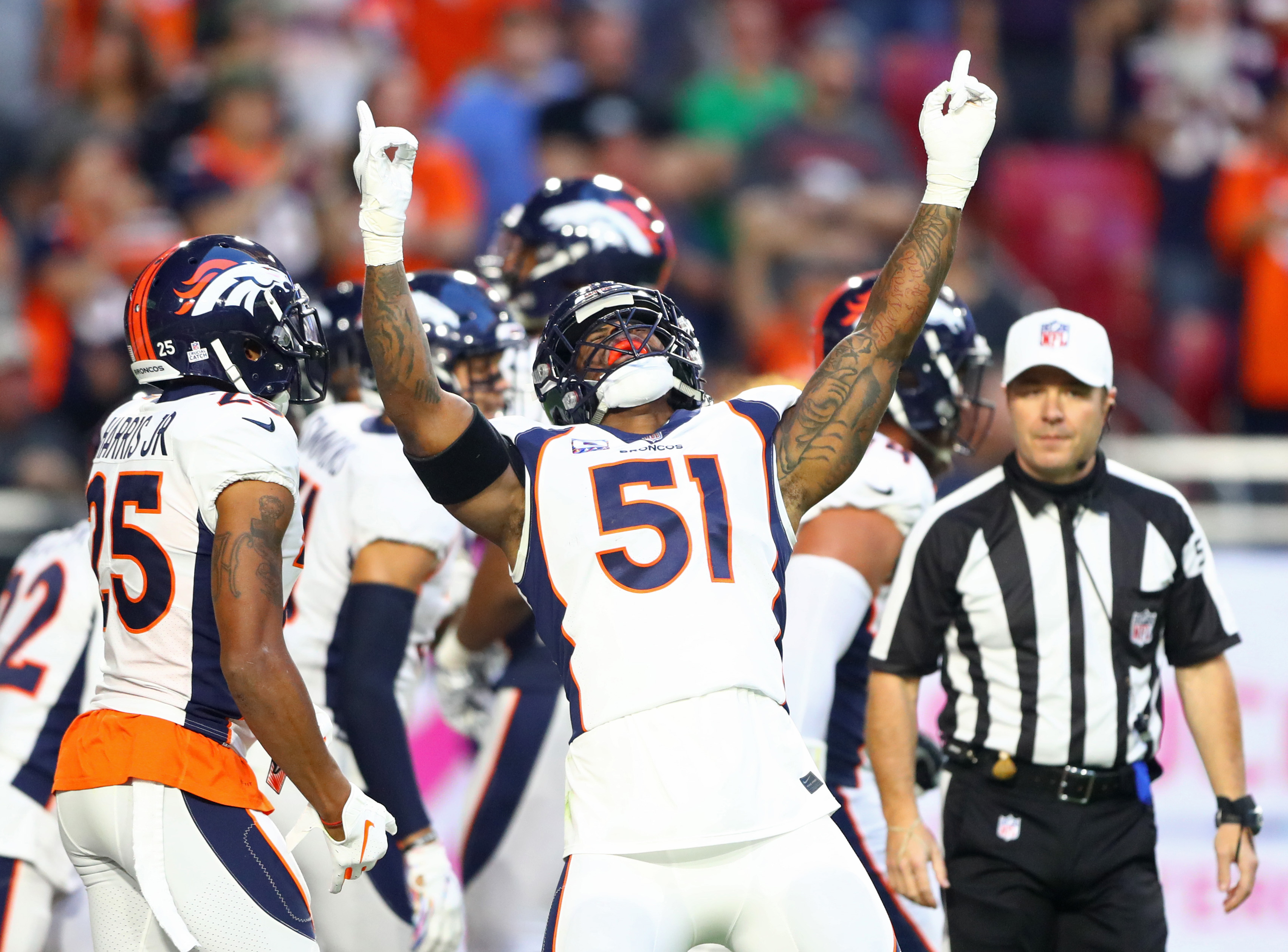 In last month's draft, when head coach Vic Fangio and the Broncos passed on star Michigan linebacker Devin Bush to trade down, it was a head-scratcher for much of Broncos country considering the apparent need at the position.
Denver already had few, if any, strong coverage linebackers and Brandon Marshall, arguably their best one, signed with the division rival Raiders.
However, now with OTAs underway, it looks like Fangio might've known something the rest of us didn't. Both Todd Davis and Josey Jewell have been thriving under their new head coach in Marshall's absence.
Fangio's scheme is incredibly linebacker friendly, which has led to Fangio having more success coaching linebackers than almost anyone in league history, from the "Dome Patrol" to last year's Bears defense.
"I like it a lot," Davis said of the new defense. "I feel like it's a great defense for linebackers. It allows them to roam a little bit, allows them to make every tackle on the field. I really get to play sideline to sideline, so I'm really excited about the defense. Not only that, I feel like the things we do on defense are going to be hard for the offense to try and figure out or really get a key on what we do. We change up a lot, so we have a lot to throw at people."
Davis is coming off the best season of his career statistically, which saw him lead the team with 114 tackles, record the first interception of his career, and earn his highest grade from Pro Football Focus (71.9). Now in Fangio's scheme and with Marshall out the door, those numbers could take yet another leap.
"I feel like it couldn't be a better defense for me. I feel like it fits exactly into the way I play and how I play," Davis added, but he's not the only one thriving in the new scheme. In regards to Josey Jewell, Davis said, "He's just making plays. I feel like he has a better command of the NFL offensive schemes and how teams are going to try and attack us as linebackers and our overall defense. I feel like he's playing really well."
Fortunately for the Broncos, the new tandem already had some time playing together last year while Brandon Marshall was dealing with a knee injury. "Josey played really well, and I think even more this year that our communication is growing. We hang out. When we're off, we talk and text nonstop trying to get the playbook down and make sure we're both on our Ps and Qs."
It should be noted that the linebackers aren't the only ones thrilled with Fangio's new defense. Veteran defensive lineman Derek Wolfe said "[I'm] falling in love with the defense actually. Last time I felt this was when I was first introduced to Wade's [Phillips] defense, I almost feel like I was born to play this defense. I was telling my wife that last night. She was like you know it's your contract year, where are we going to be, this and that. I feel like I was born for this defense, so I don't think we have anything to worry about."
If the Denver defense is able to return to the form it showed under the Phillips, the Broncos could find themselves back in the playoff race much sooner than expected.