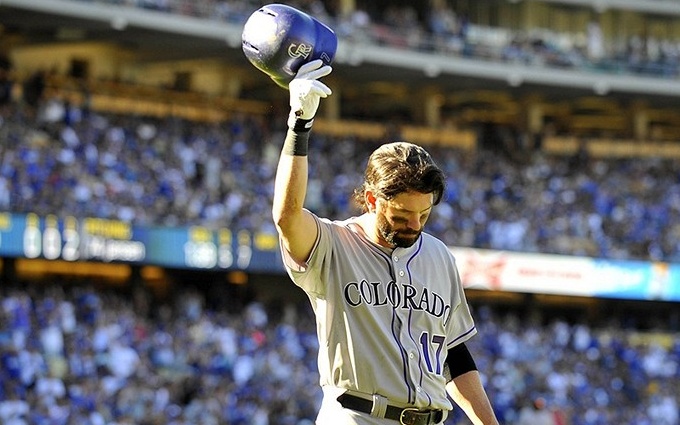 Todd Helton, otherwise dubbed "The Toddfather" is on the Hall of Fame ballot for the first time after his 17-year career for the Colorado Rockies. Though beloved by fans, Helton is going to be on the ballot, without an induction, for at least another year.
Over the last decade, an average of just over two players has been inducted each year into the Major League Baseball Hall of Fame by the Baseball Writers' Association of America. For our purposes, we will raise that number to four, the same number as the 2015 and 2018 classes.
Those classes of four were headlined by legends such as Vladimir Guerrero, Chipper Jones and a trio of shutdown pitchers in Pedro Martinez, John Smoltz and Randy Johnson. All of them were deserving of induction, and the voting, over 90 percent for every aforementioned inductee except Smoltz, shows as much.
The theoretical four-person class for this year appears to be Edgar Martinez, Mariano Rivera, Mike Mussina and either Barry Bonds or Roger Clemens. The latter pair are a toss up due to being the faces of the steroid era, but at least one is likely to get in.
First on the list: Rivera.
In his 19-year career, Rivera pitched to a 2.21 earned run average in 1,283.2 innings. His 652 career saves are the most in MLB history. His ERA+, which adjusts for ballparks is also the highest of all time at 205, a full 46 points higher than Clayton Kershaw in second place.
When the postseason came about for Rivera's New York Yankees, he was even better.
In his postseason career, Rivera allowed a mere 11 earned runs in 141 innings spanning across 32 separate playoff series. His postseason WHIP of 0.759, if placed among relievers with similar innings, is unrivaled.
Rivera is arguably the most dominant reliever of all time and nearly won the AL Cy Young in five different seasons, an unheard of feat in today's form of relief pitching.
However you may feel about relief pitchers making the HOF, Rivera belongs in Cooperstown.
The two notable hitters, both Bonds and Martinez, have HOF-worthy cases as well.
Martinez, who spent all 18 seasons of his career with the Seattle Mariners, is similar to Helton.
When looking at 162 game averages, Helton and Martinez are within single digits in batting average, on-base percentage, hits, doubles and many more categories. In other words, their cases, statistically speaking, are identical for the most part.
Where they differ can only be attributed to the "Coors Field effect."
In OPS+, a weighted combination of both on-base percentage and slugging that accounts for ballparks, the difference is stark. In his career, Martinez accumulated a 147 mark, tied for 42nd all-time with five other players. Among the six tied at 147, Martinez is the only one not in the HOF yet.
Helton, though respectable, posted a career mark of 133, a full 14 points lower than Martinez. His mark, when placed in MLB history is tied ironically for 133rd. Of the ten players that are tied at 133, six are in the HOF, with David Wright not yet eligible.
When viewing the career of Bonds, the numbers are astronomical. Steroid scandal aside, Bonds will go down as one of the best hitters of all time. His career totals of home runs and walks is the most all time, with his OPS+, OPS, OBP, WAR and slugging percentage all in the top-five in league history.
Oh, and he could do this:
Steroids aided his efforts, but are not the full story. Even before his alleged steroid use started in 1998, Bonds was a three-time National League Most Valuable Player, eight-time All-Star and eight-time Gold Glove winner. Bonds also led the NL in WAR seven times in his 13 seasons prior to using steroids.
If you split Bonds' career into two separate portions, similar to the way Kobe Bryant was revered by the Los Angeles Lakers, he may be a two-time HOF nominee. 
The final two, both starting pitchers, have very different cases for the hall.
Mussina, split between two AL East foes in the Yankees and Orioles, spent 18 seasons as a high-level arm.
In his career, Mussina, registered a 3.68 ERA across 3,562.2 innings. His 82.9 career WAR sits at 23rd in league history. All 22 pitchers above him, sans the aforementioned Clemens, are all in the HOF.
While not stunning, Mussina's numbers will get him into the HOF, whether it's this year or in subsequent years. My guess is he gets in this year or next, his sixth and seventh on the ballot, after garnering 63.5 percent of the minimum 75 percent of votes last year.
Last, but not least, is Clemens.
Though he dealt with the same criticism regarding steroids that Bonds did, his case is more curious. Because he wasn't caught until the 2007 Mitchell Report, it is largely impossible to know when Clemens began juicing, unlike Bonds who came out and admitted following his career that he began after the 1998 season.
In his 24-year career, Clemens pitched 4,916.2 innings, good for 16th in MLB history. In those innings, Clemens registered a 3.12 ERA with seven CY Young awards, an AL MVP and a pair of pitching Triple Crowns (most wins, strikeouts and lowest ERA).
Given the use from the hitters he was facing, paired with elite all-time numbers, Clemens will likely get into the HOF at some point in his final quartet of ballots.
Helton is not being snubbed simply because of his career within the hitting haven that is Coors. His numbers, though respectable, fall short of the leaders on this year's ballot.
If you look at Helton's season in 2000, in which he led the league in hits, doubles, RBI, batting average, OBP, slugging percentage and OPS, its hard not to be astonished at his apex. His year rivals some of the top offensive years for the franchise in recent memory.
When accounting for the ballpark using OPS+ again, that season stands tied for the 469th best season (165). Bonds' best season prior to steroid use was 206. Martinez' career high for a single season was 185.
With only an average of two slots available by way of voting, with the largest class since 2000 being four, there simply isn't a spot for Helton this year.
Luckily for Rockies pundits, this year is merely the first on the ballot for the face of the Rockies franchise for nearly two decades.