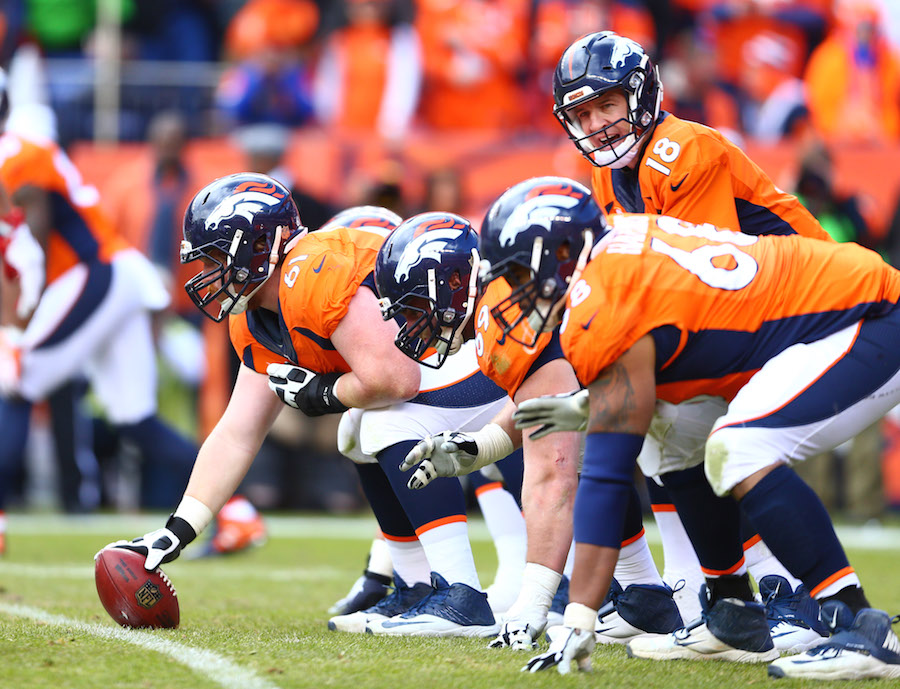 Take it from one of the greatest offensive linemen, who played on arguably the greatest offensive line, for two of the greatest teams in Broncos history: This Broncos offensive line is peaking at the right time.
That's the message from Tom Nalen, Broncos Ring of Fame center and "quarterback" of the offensive line that helped lead the Denver Broncos to back-to-back Super Bowl victories and produced numerous 1,000-yard (and one 2,000-yard) rushers.
Nalen joined Notaro and Big Dee on Mile High Sports AM 1340 to preview Super Bowl 50 and how things will play out for the guys along the lines for both the Broncos and Panthers.
The Broncos offensive line struggled through much of the 2015 season, adjusting slowly to a new offensive scheme. Their 39 sacks allowed were 20th in the league, one year after surrendering the fewest in the league (17). But Nalen sees significant improvement in the Denver line, which is good news against a tough Carolina defense. This group has finally found an identity, according to Nalen.
"I think they're peaking at the right time," he says. "I think they've figured out, with Peyton being what Peyton is now, to just kind-of grind. You hear third line players in hockey are grinders – these guys are out there grinding away and coming together as a group. It's good to see."
The line took some time to develop for a number of reasons, not the least of which was installing a totally new offensive system – an evolution of the zone blocking system employed by Gary Kubiak and Mike Shanahan during the Super Bowl runs of the late '90s. Nalen reminded Broncos fans that the system that was so successful at its peak took several years to come to fruition.
"This is a whole new offense. This is Gary Kubiak," he said. "Mike Shanahan, when he came here in 1995, the offensive line, it wasn't like we were hitting on all cylinders that first year. We were 8-8 and T.D. [Terrell Davis] had 1,000 yards and it was a pretty pedestrian year offensively."
As if a new system wasn't enough, Denver had to deal with major personnel changes, some of their own doing, some due to bad luck. General manager John Elway parted ways in various forms with center Manny Ramirez, right tackle Orlando Franklin and swing tackle Chris Clark, all of whom played key roles in Denver's run to Super Bowl XLVIII. Injuries also severely impacted the group, as the Broncos lost All-Pro left tackle Ryan Clady and his understudy, Ty Sambrailo, to injury before the season started. Veteran Ryan Harris came of out near-retirement and second-year player Michael Schofield was called into action to fill their shoes. That, coupled with the late addition of left guard Evan Mathis, meant a steep learning curve – one Nalen believes they are finally over.
"I think it's taken them awhile to get into a groove," he said. "I think they're peaking at the right time. I don't think they played all that great throughout the year. They've had to overcome Clady going out and Ty [Sambrailo] going out early in the season, but they've played enough together now throughout the season.
"I think with Schofield, they've figured out his strengths and weaknesses and addressed that in the play-calling," he added.
Health has been a significant obstacle throughout the year even for those not on injured reserve, as veteran guards Mathis and Louis Vasquez dealt with a myriad of aches and pains that come with lengthy careers like theirs. Rookie Max Garcia has done an admirable job spelling them for series or whole games at a time, but Nalen suggests Denver needs the two All-Pros to be play as much as possible in the biggest game of the year.
"You throw Garcia in there," he says, "him rotating in, I'm not crazy about. I understand Mathis and Vasquez have had some injuries, but if they're well enough to suit up and get out there and play I think they should not rotate a guy in there. My rookie year, I was rotating with a guard and it was a bad situation for both of us. You couldn't get into the flow of the game."
Denver didn't get off to a good start in their last Super Bowl and things only went downhill from there. They can't afford a repeat of that performance in what could be the final game of Peyton Manning's illustrious career.
"Now there's a lot of pressure on these guys because they're blocking for Peyton Manning. It was like blocking for Elway. You don't want to get a Hall of Fame quarterback killed."
Fortunately for Manning, the offensive line was the best its been all year in the Divisional Playoff against Pittsburgh, allowing just one sack. Although it did take a step back against New England, giving up three. They'll face an even tougher task in the Super Bowl against Carolina and their dangerous linebacker tandem, Thomas Davis and Luke Kuechly.
"Here's the problem with Thomas Davis and Kuechly: They're smart football players. If you watch them, it's almost like they're talking a step towards where they think the play is going [before it happens]. Ray Lewis was the same way. They used to diagnose, they'd be calling out your plays before you snap the ball and you'd be like, 'oh crap.'"
Not only are Davis and Kuechly smart, they're also extremely aggressive, something Nalen says the Broncos will have to use against them.
"So if I have a linebacker that already has a head start in front of me," Nalen says, "I'm climbing up to him, but my angle is to push him past the hole. Kind-of run him by, let him take all his intelligence and all his athleticism and just push him on by. You don't have to get much of him because the running backs are so good they see that, and they basically cut right behind you because the linebacker at that point has almost taken himself out of the play.
"If you don't get up there and get a hand on them, they're going to hit the running back in the hole, but if you can get a hand on them and just push them on by it's not really a hard block because you're using all their momentum against them."
Carolina as a team certainly has momentum on their side; they're coming off a 34-point dismantling of the Arizona Cardinals in the NFC Championship. But with an offensive line that's peaking at the right time, perhaps Denver can use that momentum against them and deliver the franchise's third world championship.
Listen to the full discussion between Nalen, Notaro and Big Dee, including talk about Cam Newton and Peyton Manning, in the podcast below…
Catch Notaro & Big Dee every Monday-Thursday from 6p-8p on Mile High Sports AM 1340 or stream live any time for Denver's largest lineup covering what's new and what's next in Colorado sports.