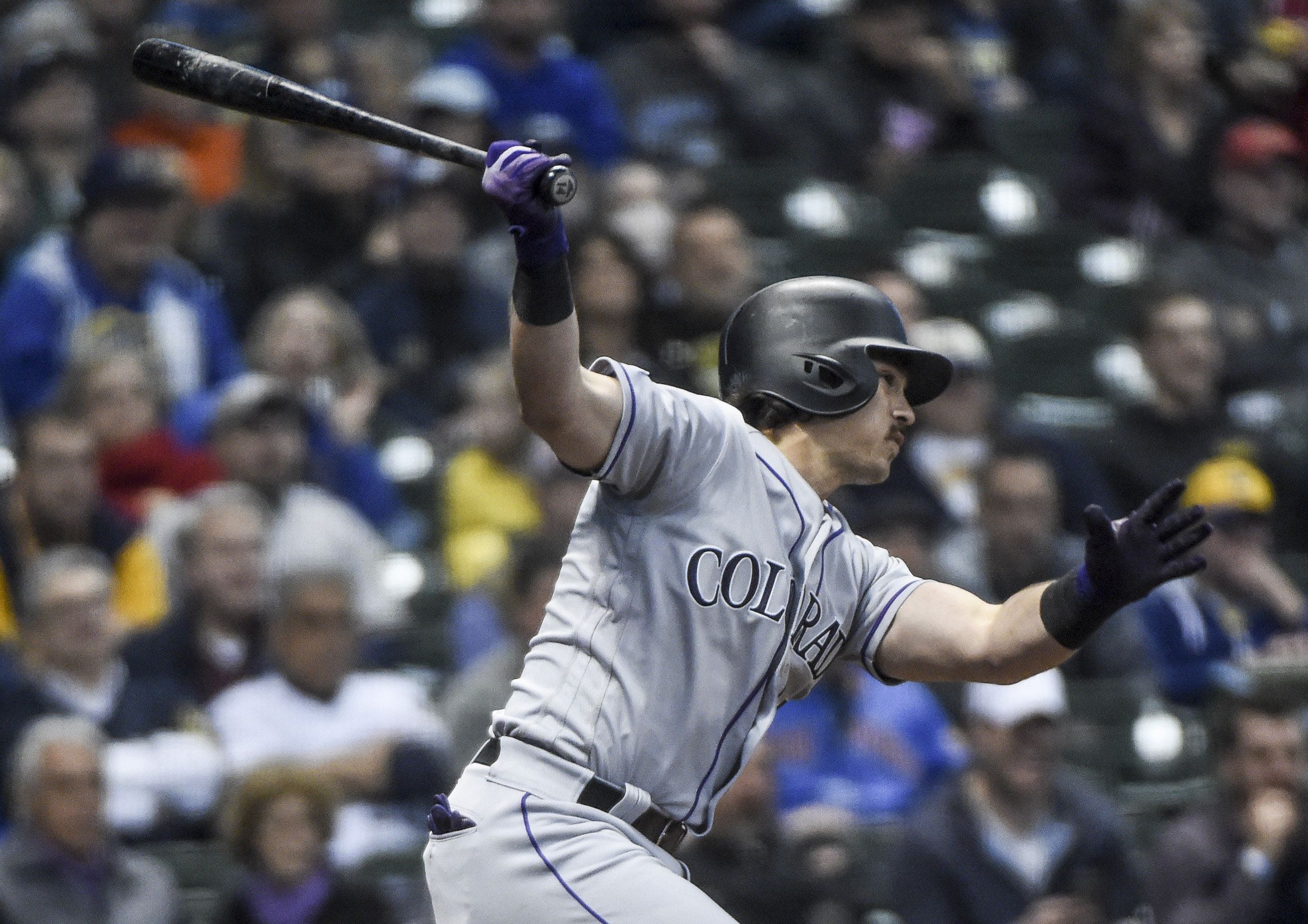 The 2019 season has been a bit of a whirlwind for the Colorado Rockies. Despite the team's struggles this season, there have a been a few bright spots within the commotion, including the emergence of Tony Wolters behind the plate.
The Rockies started the season with two catchers on their roster in both Wolters and veteran, Chris Iannetta. The tandem was deployed as a platoon to start the season, with each catcher assigned to specific starting pitchers.
However, an injury to Iannetta in the early portion of the season defaulted playing time to Wolters and Drew Butera.
Wolters took full advantage of the extended playing time and looks like a completely different player in 2019. He is hitting .300 with 11 RBI's this season and has posted an impressive .367 mark so far in the month of May.
The 26 year old transformed his approach this offseason which included tinkering with his batting stance. Wolters has simplified his mechanics and is sticking with them this season. Throughout his struggles last year Wolters was consistently altering his mechanics to compensate for his deficiencies; however, this offseason he has refined his approach to become more consistent.
Wolters says he's just trying to see the ball and hit the ball and he has done just that this season. Besides his increased batting average, Wolters has done a splendid job of increasing his overall production at the plate.
Wolters' 27 hits this season have nearly surpassed his hit total (31) from last season while he has already eclipsed his double total from last season with nine. The nine two-baggers are already the second most he has hit in any season of his career and he is well on pace to have a career year should these trends continue.
Collectively, Wolter's slash line is leaps and bounds ahead of what it was last year.
2018: .170/.292/.286
2019: .300/.350/.400
Entering the season, the Rockies were relying on their catching corps to improve offensively in 2019 after a poor showing last season. Wolters has shown significant improvement and could be on a path to solidify the primary catching position should he continue to succeed at the plate.
Wolters has started 27 of the Rockies' 43 games played this season, including eight of the Rockies' 13 games in May.
While Iannetta brings a solid veteran presence behind the dish, both are solid defensively and outside of the occasional home run, Iannetta has not made a real impact at the plate this season.
Additionally, Wolters defense was on display in the Rockies' loss to the Philadelphia Phillies Friday evening as he gunned down two runners trying to steal in the first inning.
Wolters became the first Rockies' catcher to throw out two runners trying to steal in an inning since Charles Johnson did it in the 2003 season.
The catching position has always been a hit-or-miss proposition for teams, but the Rockies may have found their go-to catcher for the foreseeable future in Wolters.
The Phillies were looking for an upgrade at catcher this offseason following the departure of Wilson Ramos, so they made a splash by trading for J.T. Realmuto. Realmuto is widely considered to be one of the best catchers in baseball today.
So far this season, Realmuto and Wolters have put up near identical numbers.
Tony Wolters vs. JT Realmuto in 2019:

Wolters: .310 AVG, .775 OPS, 9 XBH, 62.5 Opponent Steal Rate, 4 defensive runs saved⁰
Realmuto – .276 AVG., 759 OPS, 13 XBH, 56.3 Opponent Steal Rate, 4 defensive runs saved#Rockies #Phillies

— Taylor McGregor (@Taylor_McGregor) May 17, 2019
Overall, Wolters has been rock solid for the Rockies behind the plate and in the batter's box. Should he continue to perform at a high level, he could solidify himself as the Rockies' primary catcher for this season and beyond.