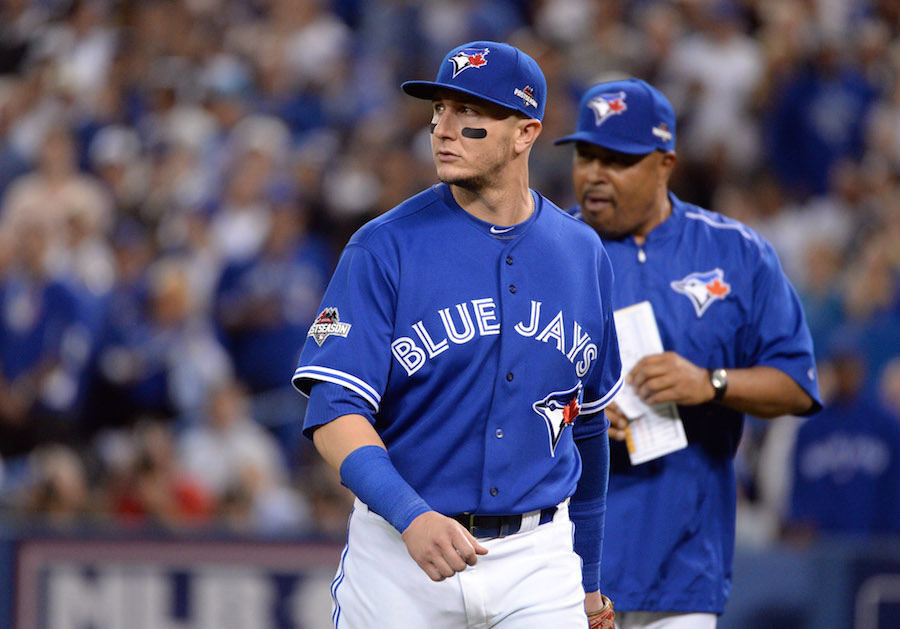 Pipe down, Tulo. It's time to move on.
I've written many a column defending, supporting and celebrating Troy Tulowitzki. Nobody could snag grounders deep in the hole like Tulo. Nobody could gun down a base runner like he could. When he got ahold of one at Coors Field, there was no sweeter crack of the bat.
Conversely, I've penned more than my share of words intended to blast the Colorado Rockies. They can't spell, they can't pitch and, for the majority of their existence, they can't win. If ever there was an indefensible sports organization, the Rockies might be it.
But after reading Bob Nightengale's story on Tulowitzki in yesterday's USA Today, it's time to flip the script. The shortstop comes across like a bitter whiner. And no matter where you weigh in on "The Trade," I'm fine with how the Rockies organization handled it. In this instance, they took the high road, along with some low blows thrown by Tulowitzki.
If you haven't read the piece yet – stop – click on the above, and do so. You be the judge first. But if you have (or you're just now returning), then hear this: It's time for Tulowitzki to grow up, lighten up and shut up.
Did Tulowitzki get blindsided by the deal that sent him to Toronto in the middle of a game last season? Probably. But so what? There's a business side of baseball, and it might not be pretty at times, but as Rockies general manager Jeff Bridich pointed out – "I feel we handled our business professionally" – he did what he had to do.
It was time for Tulowitzki to go. If ever there was a time to let go of him, it was then. He was playing fairly well and, for the moment, was feeling well, too. At age 30, he was earning $20 million annually, not only in 2015 but also from 2016-2019. Criticize the Rockies for being cheap all you want, but Tulowitzki cashed a lot of big checks in seasons where he barely played. In 2012 he played 47 games; in 2014 he played 91. Offseason surgeries were the norm when it came to the rangy shortstop.
And despite the fact that he was angry that he wasn't alerted of the trade, the Rockies really didn't "owe" him that information. No team in baseball does – that's the business side of things. The cold hard truth is that the guys writing those hefty checks get to do that from time to time. Besides, the writing had been on the wall for quite some time. And remember, the earliest trade rumors surrounding Tulowitzki came from within his own camp. His agent reportedly started the rumblings. Amidst some standard midseason losing with the Rockies, Tulowitzki himself said he wouldn't mind playing for a team that "had a chance to be in the playoffs every single year."
Hey, anyone could understand those feelings, and Tulowitzki was making a not-so-subtle point, perhaps a plea to get better. But when you're popping off in the media like that, you lose your right to cry about it when it actually happens. At the time when those rumors were swirling, Tulowitzki held an impromptu press conference to publicly say he wanted to remain in Colorado, but he also couldn't avoid being spotted front and center at a Yankees game in 2014. He fueled the fire by offering up innuendo about the possibility of replacing Derek Jeter one day – "I think everybody knows that," Tulowitzki said about why he wears the No. 2, "everybody wants that perfect story."
Tulowitzki's memory of his own antics is foggy. "I wasn't ready to leave at all," Tulowitzki told Nightengale. "I had intentions to stay there and play there a long time, my entire career. Never once did I go to anybody and say, 'Hey, get me out of here.'"
My memory (and Google search) shows differently.
And I love how Tulowitzki blasted the Rockies for having "too nice" of a spring training facility. Really? You're upset with the organization for providing the finest offseason workout facility in all the land? That's pretty rich. Maybe the Rockies should have held spring training at the intramural fields at Colorado State University and made the players bunk up in the student dorms. They'd have been contenders – a gritty, gutty, "play the game the right way" team – Tulowitzki would have loved it. Give me a break.
I also find it ironic that the appointed – and probably self-appointed – leader of the Rockies got sick of leading.
"We've got some good, young talent here and on the way," Tulowitzki told Tracy Ringolsby last July. "We have the makings of a team that can win. To win here would be very satisfying."
Yet, now, he basically says he was tired of babysitting. "You look around here [in Toronto]," he continued with Nightengale, "and there are some great players in this locker room. It's different than in Colorado where I was leaned upon so heavily. Now, I'm just another guy. I enjoy that. The biggest difference is that I don't feel like a teacher anymore. Over there, there was a lot of young guys. The young guys were scared to walk around. I was trying to teach these guys how to handle themselves, instead of just going out there and playing the game the right way, playing the game to win. Here, we got so many veterans, it makes everyone relax. I enjoy not getting all of those questions now."
And just for good measure, Tulowitzki trotted out a tried and true, oh-so-tired sports cliché – he just can't wait to show his old ball club they made a mistake by trading him. Well, the early returns show that perhaps the Rockies weren't so crazy after all. Tulowitzki hit just .239 in his 41 games with the Blue Jays. He got hurt once, too, missing two-thirds of September. Sound familiar? And in the playoffs, Tulo – who holds a lifetime postseason batting average of .208 – did what Tulo always does. Actually, he did a little worse. In the playoffs for the Blue Jays last year, he was just 9-of-44 from the plate, good for an average of .205. As we saw more than once in Colorado, he gobbled when the stakes were highest.
"I look forward to playing here just to prove people wrong," said Tulowitzki told Nightengale "Last year was a tough transition for me. But you're going to see a different player this year. The sky is the limit now."
Seems like we've heard that before.