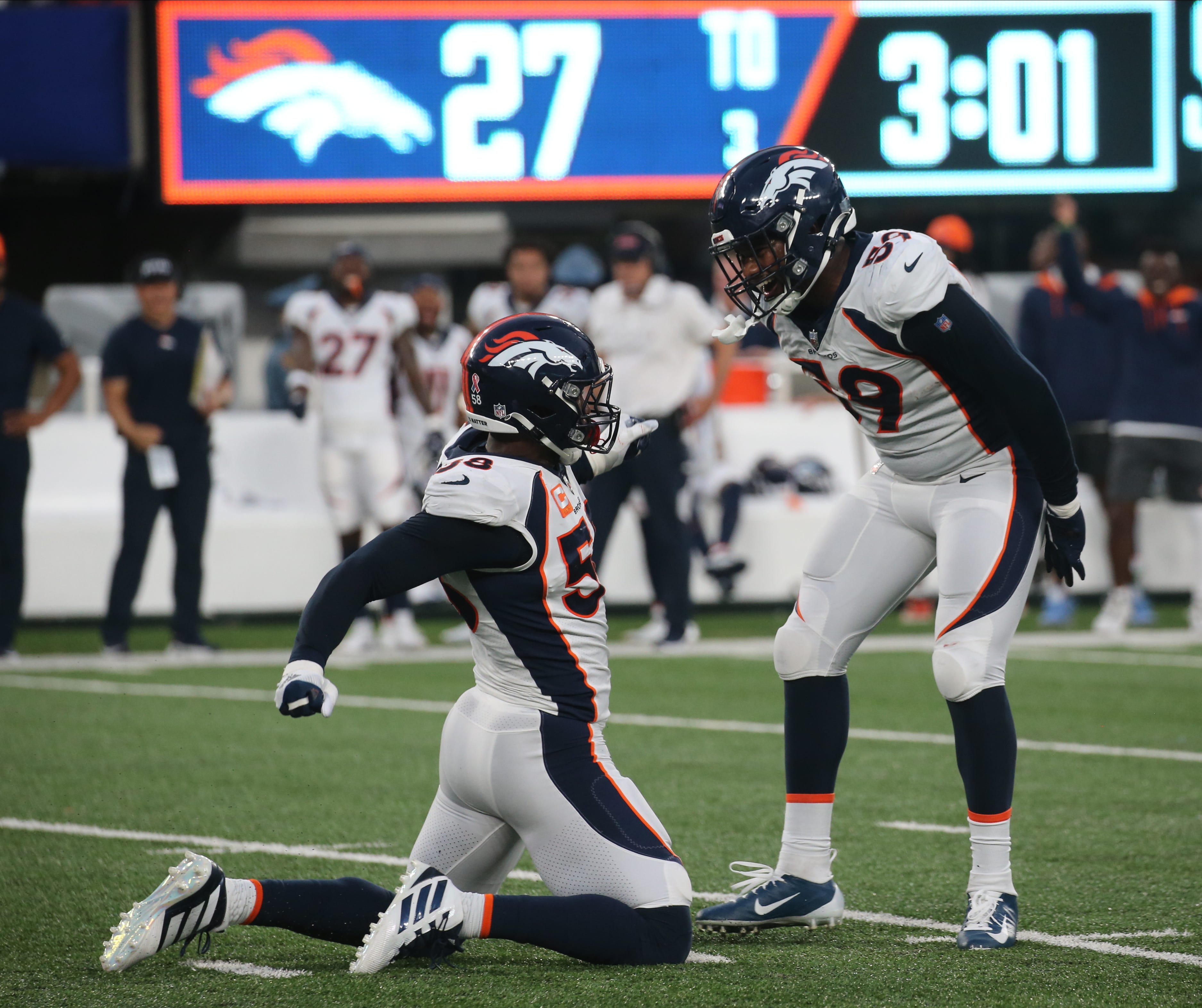 How about those Denver Broncos?
Sure, it's only been two weeks and their opponents have been bottom-feeders in the Jacksonville Jaguars and New York Giants, but even against lackluster competition, the Broncos — and several of their players — have thoroughly surpassed expectations.
Last week, we took a way-too-early glance at some of the top quarterbacks of the 2022 NFL Draft class for our 'Weekly Top Five", but now, let's take a closer look at some of the Broncos who have been the most pleasant surprises.
5. Justin Strnad
Had it not been for his incredibly unfortunate pectoral injury, suffered in Week 2 against the Jaguars, Josey Jewell would've earned this spot as a result of his terrific play.
However, as that injury knocks him out of the lineup (and off of our list for the time being), the Broncos' defense should remain in good hands.
After being drafted in the fifth round of the 2020 NFL Draft, he wowed coaches at training camp and helped push Todd Davis off the roster. Unfortunately, a wrist injury prematurely ended his rookie campaign before it even had a chance to start, making 2021 his first opportunity at live, in-game reps.
So far, Strnad has looked like anything but a player getting his first snaps in a live NFL game.
He's played with a level of cool and collectiveness you generally don't see from inexperienced inside linebackers. He also excelled at reading and reacting to what the Jacksonville offense was doing, which was also his strong suit at Wake Forest. He did such a good job at reading and reacting, in fact, that he finished the Week 2 game one tackle shy of leading the team for the game, despite riding the bench for almost an entire half.
4. Kareem Jackson
No one is surprised that Kareem Jackson is still playing good football from the safety position. The surprise is, that at age 32, Jackson somehow appears to be getting even better.
Through two weeks, Jackson has performed like a man possessed. Not only is he presently tied for the team-lead in tackles on the season, but he's also made two of the most highlight-reel-worthy plays of any Broncos defender.
First, he made this remarkable interception against Lawrence, where he comes sprinting out of nowhere to poach the pass.
Kareem Jackson's read on the pick was awesome. pic.twitter.com/s8Nzbrtfi7

— Joe Rowles (@JoRo_NFL) September 21, 2021
Then, even more impressively, he makes this tackle for a short gain despite the running back having a convoy of two — potentially three — offensive linemen, and a wide-open alley for a potential score.
#22 Kareem Jackson avoiding the puller and making the tackle. Really nice play that saves a big one for the Broncos. pic.twitter.com/dCPlfbW5wv

— Nate Tice (@Nate_Tice) September 21, 2021
The possibility for progression from Jackson at safety isn't too far-fetched, as Fangio highlighted this week during a pre-practice press conference. Fangio noted that despite the fact Jackson has been in the league for a long time, he's only been a safety for three seasons, and this was just his second complete offseason in the role.
Maybe Jackson returning in 2022 isn't quite a pie-in-the-sky notion.
3. Pat Shurmur
We'll dive deeper into this one later, so this section will be relatively brief, but Broncos Country needs to put some respect on Pat Shurmur's name.
The offense was bad last season, and it disappointed Broncos Country with its inability to capitalize on the scores of young, promising, and explosive talent he had. He also disappointed Broncos Country with his rigidity and his failure to mold the offense to Drew Lock's strengths.
He deserved criticism this offseason and he got it, but now, this is looking like a new and improved version of Shurmur.
The offense is creative and has new concepts taken from the college game, demonstrating a willingness to adapt many didn't believe existed this summer. Not only has the offense adapted, but it's been incredibly successful in its adaptions.
The Broncos offense hasn't been this productive since early 2014, and Teddy Bridgewater is currently performing like an MVP candidate at quarterback, according to any metric you want to use to measure quarterback play.
2. Von Miller
Similar to Kareem Jackson, it's not overly surprising that Von Miller can still play given his immense talent, but it does still remain surprising just how well he's playing at the age of 32.
Through just two weeks, it's already seeming like we're getting a vintage season from Miller in 2021. In this chart, we can see how Miller has performed through his first two appearances in every season of his career.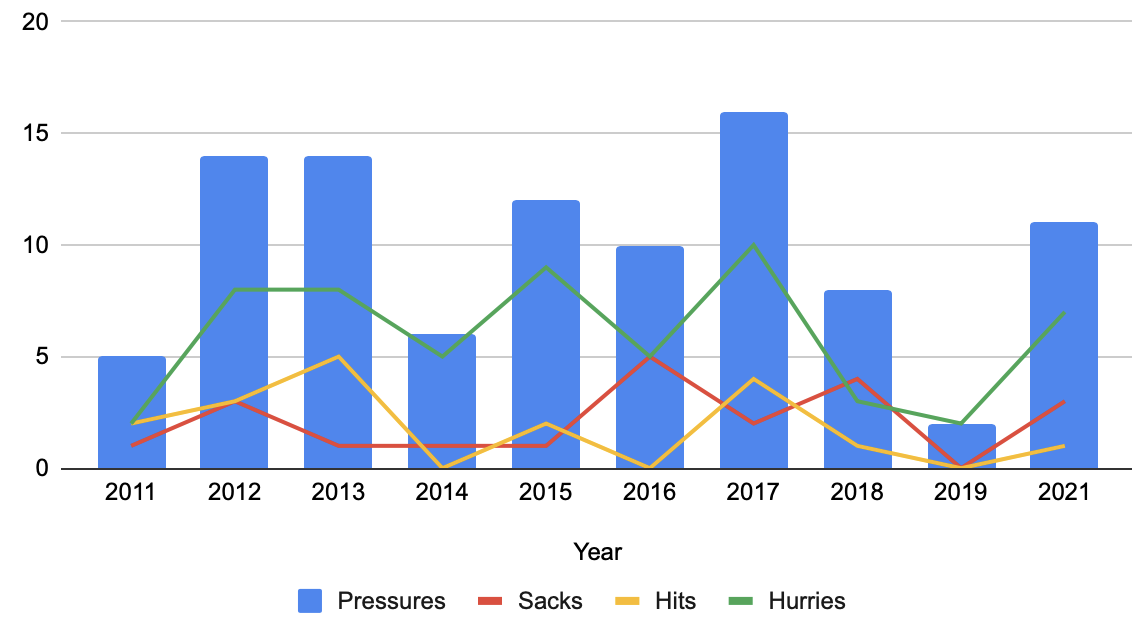 After down years in 2018 and 2019, and Miller missing the entire 2020 season as a result of injury, it would have been reasonable to expect the downward trajectory from the previous four years to continue. However, it's clear we're experiencing a bounceback.
The season his impressive start in 2021 most closely compares to, is his 2015 season, regarded by many to have been the best year of his career.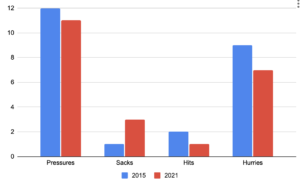 If Miller can play like that all season long, the Broncos may have to sign him to yet another lucrative extension.
1. Teddy Bridgewater
Was there ever any doubt about who would be in possession of this top spot?
As of right now, Bridgewater is playing out of his mind and is looking like one of the very best quarterbacks in all football. Sure, in all likelihood this isn't sustainable and his numbers are being somewhat inflated by opening the season against two bad teams. He's still an elite quarterback according to any meaningful analytic.
Forget 2015, Denver hasn't seen quarterback play like that since 2013.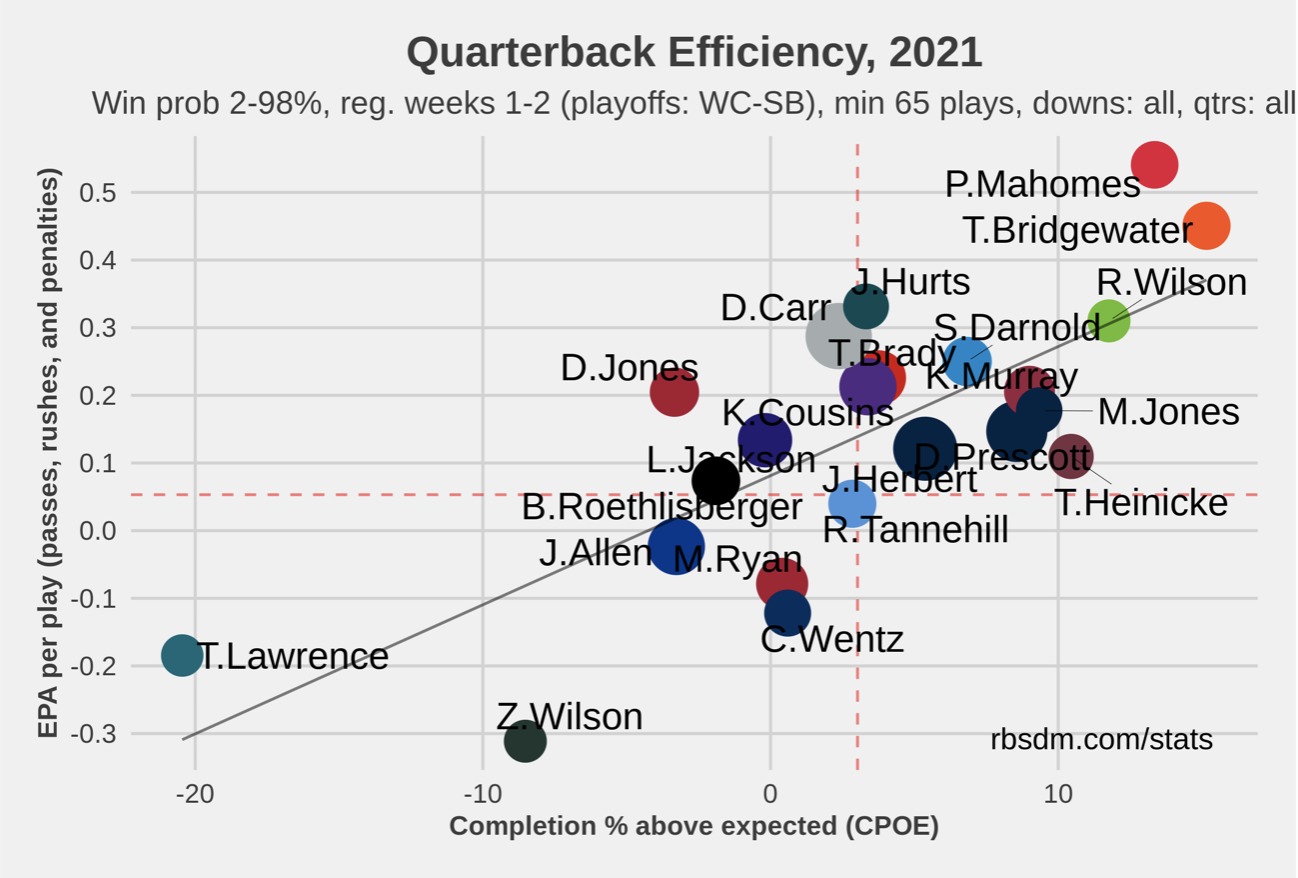 Bridgewater was sold to the Denver public as a 'safe' option that wouldn't win the team games, but he wouldn't ruin them for the talented roster either. Now, we're in the realm of Bridgewater winning the Broncos games and being a serious asset, considerably raising the team's ceiling in turn.
Broncos fans need to start setting their sights higher than a mere playoff birth. Let's start talking about the potential to win a playoff game or two.