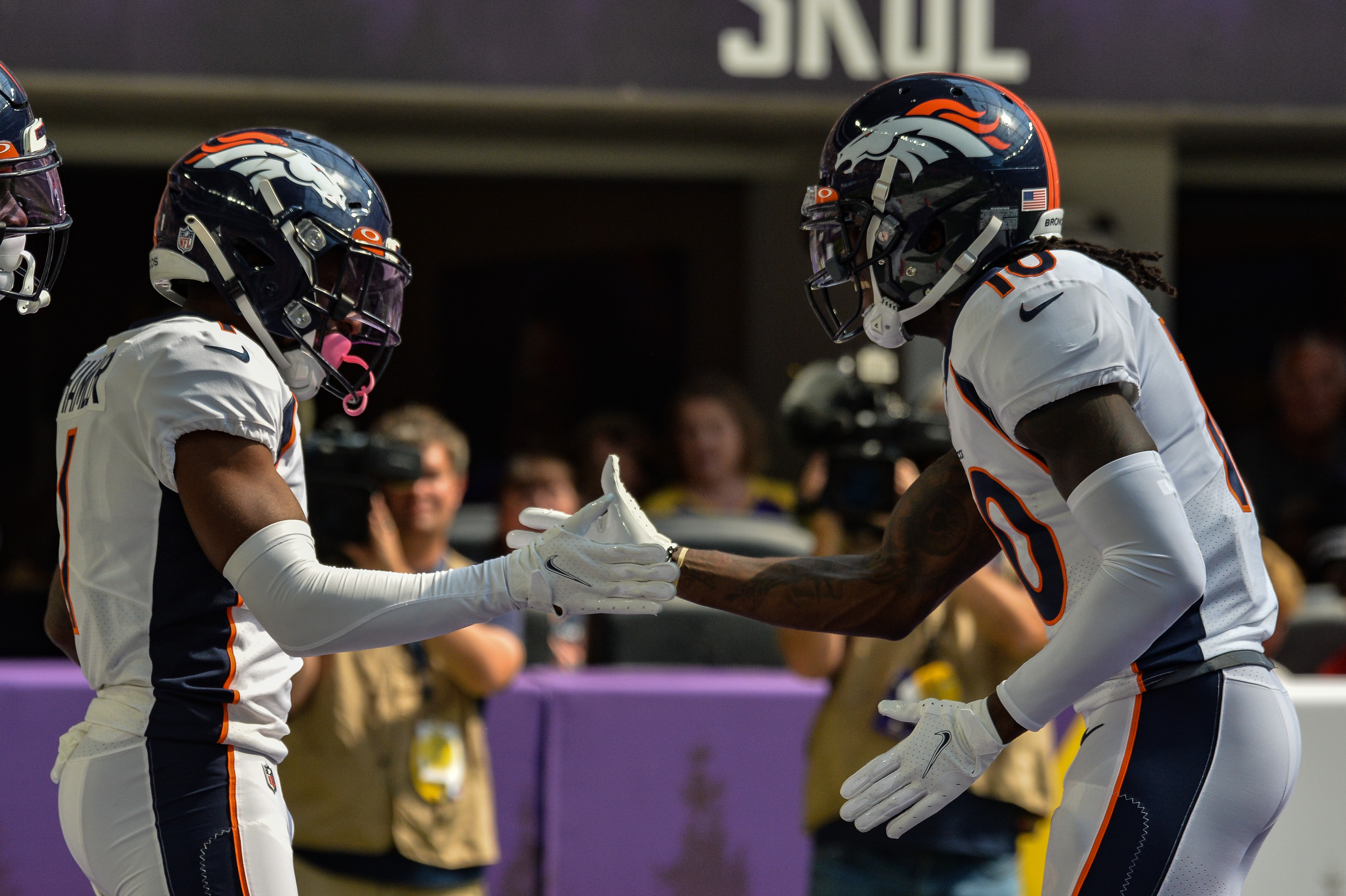 Thanks to their historic trade for quarterback Russell Wilson, the Denver Broncos offense is expected to take a huge leap this season, but in order to meet those expectations, it will require players outside of Wilson to step up and breakout.
This will require minor role players to thrive in starting roles; players that were mid-tier starters to turn into borderline stars; and for those established stars to reach towards superstardom.
Which Broncos are most likely to lead the charge on offense and breakout? Let's look.
Note: For this exercise, a breakout isn't only defined as going from a no-name player to a star. It can be a jump from a no-name player to stardom, but it can also be the leap from stardom to superstardom, or from roster bubble player to starter. Think 'players about to take the next developmental leap in their careers'
Honorable Mention: Albert Okwuegbunam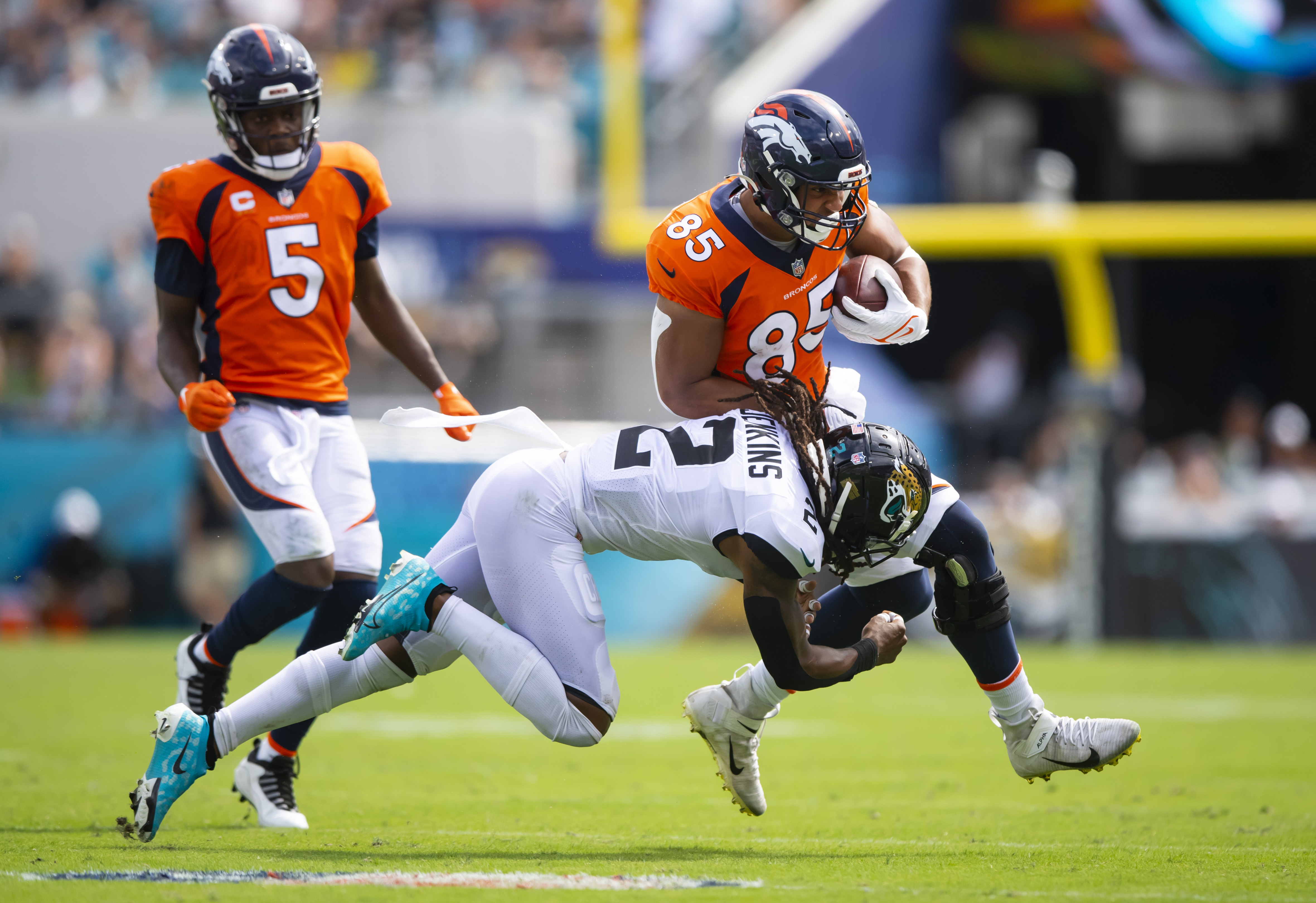 Albert Okwuegbunam will finally be a clear No. 1 tight end with Noah Fant out of the picture and Greg Dulcich trying to adjust to the NFL game, which lines up beautifully for him to breakout.
Also, Wilson's tight ends have tallied a good number of touchdowns over the years, especially relative to their production elsewhere. On average, Jacob Hollister has averaged three receiving touchdowns a year when playing with Wilson but has averaged just 0.3 touchdowns a season before and since. Gerald Everett averaged two touchdowns per season over his four-year stint with the Rams and then tallied four touchdowns in just 14 games with Wilson. Jimmy Graham averaged six receiving touchdowns a season while playing with Wilson, and has averaged only four per season in the years since (though, in Graham's case, that could be more tied to age, as he left Seattle at age 32).
However, Wilson's tight ends have failed to produce at an elite level, even if they might see their touchdown total a hair inflated, and there are concerns with how Okwuegbunam might fit, as the quarterback rarely targets the short-to-intermediate middle of the field, where tight ends tend to be.
Name the player

(from PFF's QB Annual) pic.twitter.com/57SEYsRqJd

— Josh Norris (@JoshNorris) June 16, 2022
The average stat line for a No. 1 tight end playing with Wilson, over the course of Wilson's career, has been 41 receptions for 450 yards and four touchdowns. That's not much of a step up from what Okwuegbunam produced last year as a backup (33 receptions for 330 yards and two touchdowns).
The hope for Okwuegbunam would be that he follows in Graham's footsteps, as Graham was the lone tight end to experience good production with Wilson (averaging 57 receptions for 683 yards and six touchdowns per year over a three-year stretch).
5. Jerry Jeudy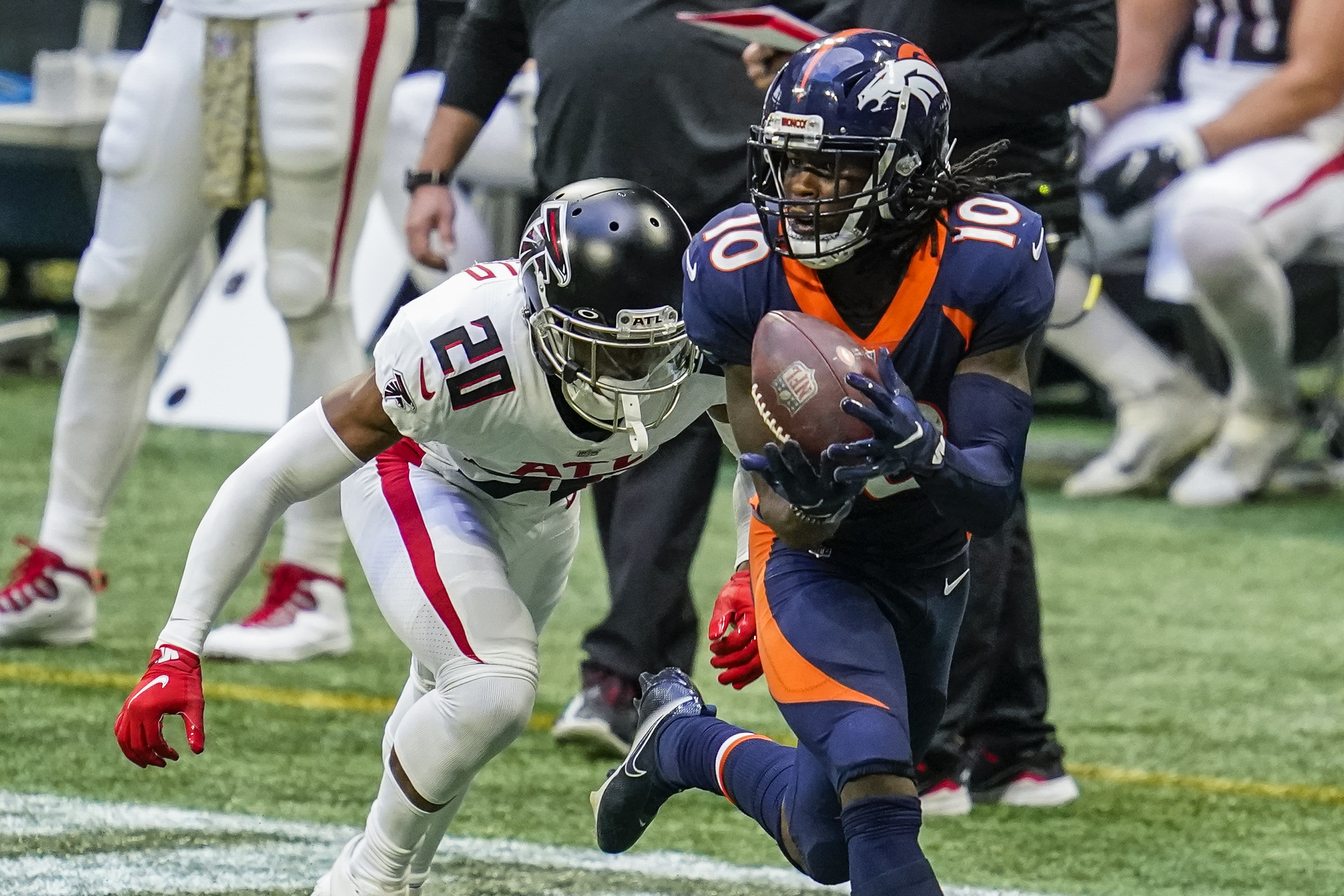 In a move that could easily embarrass this columnist in a few short months, Jerry Jeudy claims the bottom spot in this exercise.
That's largely because, although he's situated very well for a breakout campaign, it's hard to put a ton of faith in him having a huge season, as the fit feels a little clunky. Much like Okwugbunam, a lot of Jeudy's wins should be coming from the middle of the field, especially if he continues to be utilized in the slot so heavily.
That said, there's plenty of reason for optimism. NFL Network's Gregg Rosenthal even listed Jeudy as his "making the leap" candidate for the Denver Broncos in a recent episode of his podcast, in which he named one candidate for each team, and stated that if he had to bet his life on any of the players he listed breaking out, it would be Jeudy.
Also, according to ESPN's Bill Barnwell, if you look at some of Jeudy's advanced analytics (yards per route run and target share) when healthy, it's right in line with what Michael Pittman Jr. has produced for the Colts through
However, despite Rosenthal and Barnwell's confidence, there's plenty of reason for caution.
Although some analytics might see a similarity between Pittman and Jeudy, Pittman has greatly outperformed Jeudy over their first two years in the league, as have most of the receivers that have been drafted high over the past two seasons (Ja'Marr Chase, Jaylen Waddle, Devonta Smith, CeeDee Lamb, Justin Jefferson, Tee Higgins, Brandon Aiyuk, Chase Claypool, and one could even argue a compelling case for Henry Ruggs and Elijiah Moore).
On top of that, some of those receivers (Waddle, Pittman Jr., Smith, Claypool and Moore) make it harder to pin it all on Pat Shurmur and the quarterback situation, as they've experienced poor quarterbacking and/or poor play-calling, while out-performing Jeudy.
Terry McLaurin has been in the league longer but is another good example of a young receiver performing at a high level, and he played with even worse quarterbacking than Jeudy.
4. Quinn Meinerz & Calvin Anderson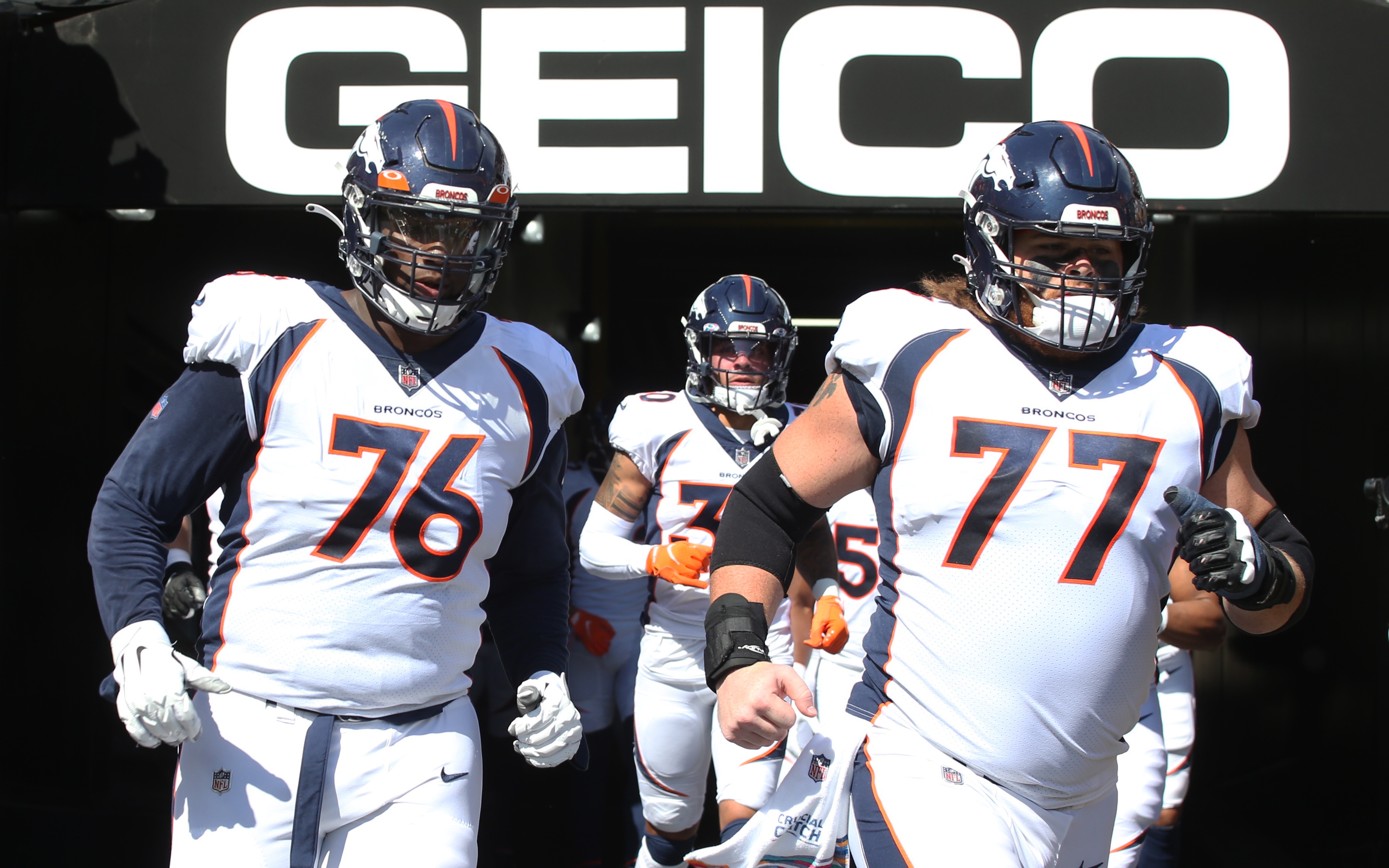 Last year was supposed to be a redshirt year for Quinn Meinerz and with good reason. Despite how remarkably talented the young guard was, he was coming from the Division-III level, hadn't played football in a year, and had spent the large majority of his offseason trying to learn the center position.
Meinerz also had a much steeper learning curve than most Division-1 prospects. When asked last season what the biggest part of that learning curve was, he mentioned his lack of familiarity with nickel and dime fronts, which are the most frequently seen defensive fronts at the NFL level.
Despite all those redshirt plans and Meinerz seemingly being far away from NFL readiness, he was thrust into the starting lineup at right guard — a position he hadn't played since high school — just four weeks into the season.
It was a sink or swim moment, and Meinerz looked like Michael Phelps with how quickly he adapted and started playing at a high level. Now, Meinerz has a year of experience under his belt and has certainly learned a ton over that year. He won't have to rely solely on his outstanding athleticism, as he now has the benefit of experience.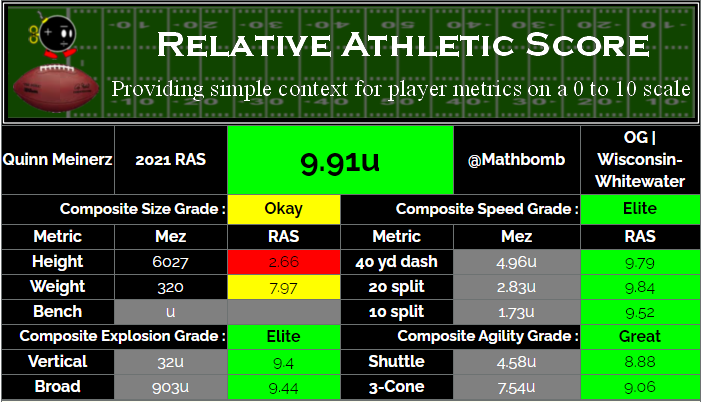 The Denver Broncos are also transitioning to a zone-blocking scheme that should highlight Meinerz's special athleticism even more (99th-percentile athlete at guard per Relative Athletic Score), and accentuate his rare movement ability. Meinerz could emerge as one of the NFL's top-end guards this season.
rookie Quinn Meinerz moving large people pic.twitter.com/i4oLxSPUht

— Warren Sharp (@SharpFootball) December 6, 2021
As for Calvin Anderson, the case is much more about the incredible opportunity in front of him, as opposed to experience — something he already has.
Anderson joined the Broncos midway through 2019 and has been their swing tackle since 2020. Despite his UDFA status, Anderson was in a neck-and-neck competition for starting tackle job, before narrowly losing out to proven veteran Bobby Massie.
Over the past two seasons, he's been forced into starting action five times and has impressed in each of those showings.
"Why doesn't this o-lineman just go play another spot on the o-line" talk is heavy every year…

So I asked Calvin Anderson the differences from playing LT and RT and how difficult of a change that might be.

Thought he gave a really insightful and thoughtful answer. pic.twitter.com/DTawPT5ux9

— Joey Richards (@JRDrafts) June 16, 2022
Now, he's locked into yet another competition for the starting right tackle job, this time against Billy Turner. If Anderson can beat Turner — which seems more likely than beating Massie, considering Turner's past play at tackle and his ability to play guard, which would benefit the line's interior a great deal — he'll have a full season to prove to the league he's a starting caliber tackle before he hits free agency in 2023.
3. K.J. Hamler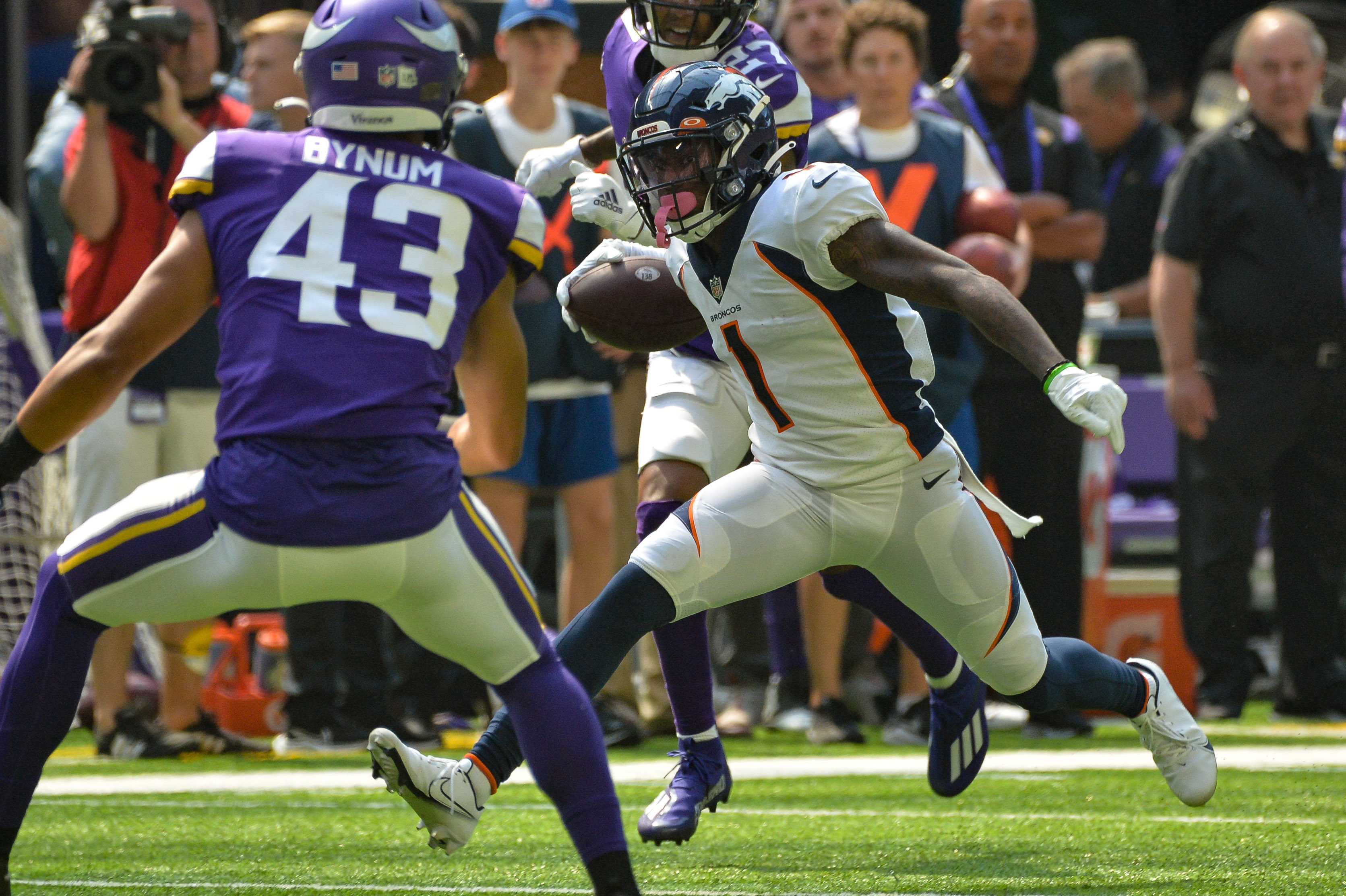 Russell Wilson loves the deep ball, and his proficiency at throwing a beautiful, rainbow-arching bomb downfield with pinpoint accuracy is a large part of what has made him a future Hall-of-Fame quarterback.
Lately, that go-to burner has been D.K. Metcalf, and Metcalf has benefitted greatly from compounding those responsibilities with being the team's X receiver, which isn't the best comparison for Hamler.
However, elite long speed is clearly a shared trait among Wilson's top receivers. Tyler Lockett, Doug Baldwin, D.K. Metcalf, Golden Tate, Paul Richardson and David Moore — six of Wilson's seven leading receivers over the decade he played in Seattle — all finished in at least the 90th percentile in either the 40-yard dash or their 20-yard split.
LET'S GO! What a bomb right into the hands of David Moore! 🙌

Q3: SEA 27, MIN 17 pic.twitter.com/iWYXxcjiba

— Seattle Seahawks (@Seahawks) December 3, 2019
Moore is one that shares some clear similarities with Hamler, as an undersized pass-catcher with rare vertical speed who had to operate as a depth piece in a talented receiving room, and he generated terrific numbers with Wilson. Over three seasons, Moore generated nearly 1,200 yards and 13 receiving touchdowns (only Doug Baldwin, Tyler Lockett, D.K. Metcalf and Jimmy Graham have caught more touchdowns from Wilson, over the course of their careers).
Over three years, those numbers might not seem overly impressive, but if Hamler could replicate that production as a rotational deep-threat, it would open up a lot for the Denver Broncos' offense, by adding a deadly vertical stretch. Also, 400 yards and three touchdowns is nothing to sneeze at for a No. 4 receiver and No. 5 or 6 pass-catching option.
2. Javonte Williams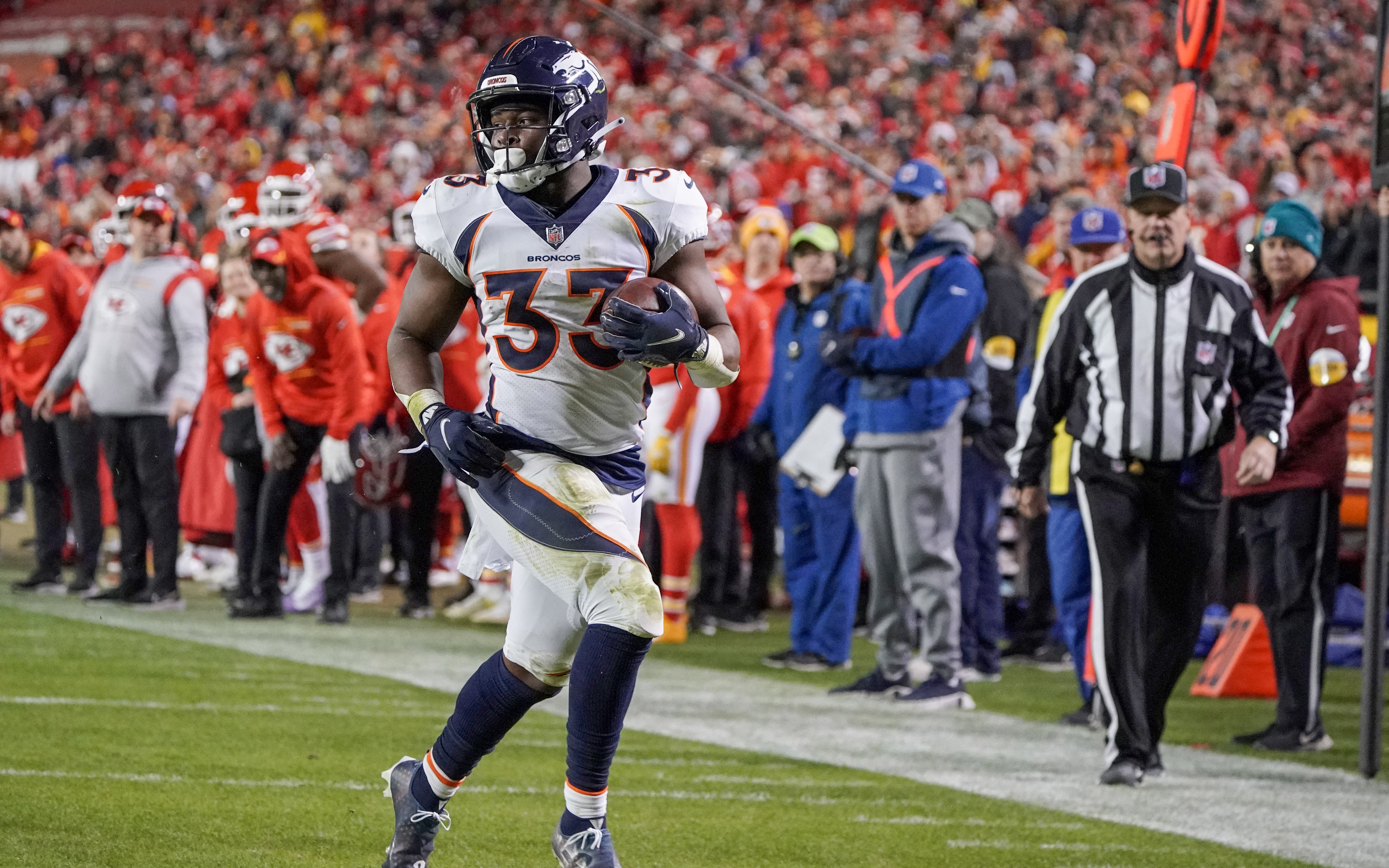 When coming up with this list of potential breakout players, the top things to look for are talent and opportunity, and Javonte Williams has boatloads of both. The ideal Russell Wilson offense should be heavily centered on a bruising, downhill ground attack, as that helps the offense attack the sector of the field Wilson prefers to avoid; and one could make a very strong argument that Williams is already the most imposing and physical back in the league.
Javonte Williams forced a missed tackle on 31% of his attempts this season 😤

That's the most by a RB since Marshawn Lynch in 2014 🤯 pic.twitter.com/IRtXHOtMIV

— PFF (@PFF) February 20, 2022
No one broke tackles like Williams was able to last season, and according to Pro Football Focus, we haven't seen anything like Williams' tackle-breaking ability since Marshawn Lynch was winning NFC Championships with Wilson.
The Denver Broncos have a chance to recreate that pairing, and if they seize that opportunity, it should benefit everyone on the offense.
For starters, Williams will open up a ton for Wilson's deadly vertical passing game. By Denver's Week 17 game against the Los Angeles Chargers, opposing defenses were putting eight-or-more defenders in the box on 50 percent of snaps. Leaving just three defenders out of the box to defend Denver's downfield arsenal is a recipe for Courtland Sutton, Tim Patrick and the rest of the Broncos' pass-catchers to put up monster numbers.
Defenses are smart though, and won't want to give Denver the easy stuff. Williams will not see eight men in the box 50 percent of the time, because defenses can't afford to play Wilson that way. They have to sit back on their heels. Leaving just six defenders in the box, and having your safeties back deep is a recipe for Williams to put up monster numbers, and Broncos Country should expect that exact blueprint to play out come September.
1. Courtland Sutton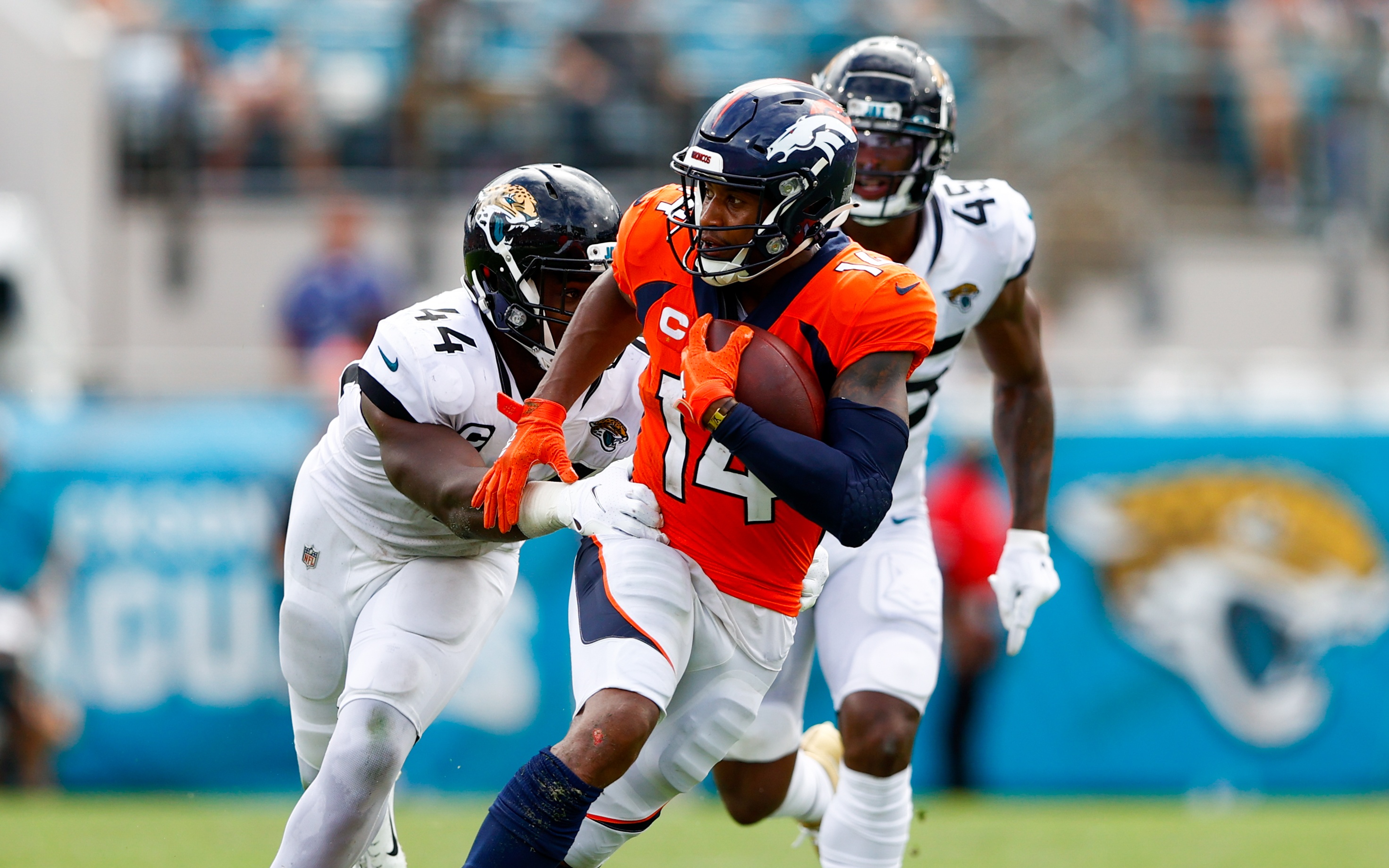 In 2019, Sutton looked like one of the NFL's better young receivers and was primed to be labeled a star. He was a dangerous deep threat with some of the stickiest hands in the league, and the ability to come down with whatever pass was thrown his way, no matter how smothering the coverage he was.
Courtland Sutton is the next best NFL receiver. pic.twitter.com/niOvdqCnrd

— Nick ✊ (@MileHigh_Nick) May 23, 2020
Unfortunately, injuries stopped him from realizing that potential in 2020, as he didn't even play four quarters of football, and then hampered him throughout 2021. Despite now being so far removed from that first breakout season, Broncos Country would be foolish to give up hope on Sutton now, as not all players immediately return to form after rehabbing an ACL injury.
A recent excellent example of this is Cooper Kupp, who returned from an ACL injury in 2019 and showed a noticeable decline in his explosiveness, limiting his catch radius and his ability to create after the catch. The next year though, Kupp was back to himself and turned in his best season to date, despite Jared Goff sputtering throughout the season, and then, in 2021, he finished third in the MVP voting, won Offensive Player of the Year and won Super Bowl MVP.
Now, Sutton is unlikely to reach those heights, but a similar recovery timeline and return to form are well within reason.
That's especially true now that he'll have Wilson throwing him passes.
Sutton can be a vertical field-stretcher for the Denver Broncos, which lines up beautifully with Wilson's propensity to throw the deep ball. Plus, once Wilson throws that ball, Sutton has the physical gifts to make the opposing defender look foolish, and make Wilson right, even when he's wrong.
The first deep completion of Drew Lock's career. The #Broncos come out in a 3X1 set on 3rd and 8.

Chargers in C1 shell & sending heat on right. 45 is the rat.

Lock's primary read is Courtland Sutton and he throws it with anticipation while facing down a rush.

Touchdown. pic.twitter.com/CAMNfisAtx

— Joe Rowles (@JoRo_NFL) February 12, 2020
The only way Sutton could be a better pairing with Wilson would be if he was just a hair faster. That said, although Sutton's 4.54 40-yard speed is fairly pedestrian for the position, his 10-yard split is elite, ranking in the 94th percentile among receivers, so he still has some of the burners Wilson will be looking for.
If Sutton can be his 2019 self this season, it's hard to imagine a Bronco player in a better position to breakout.