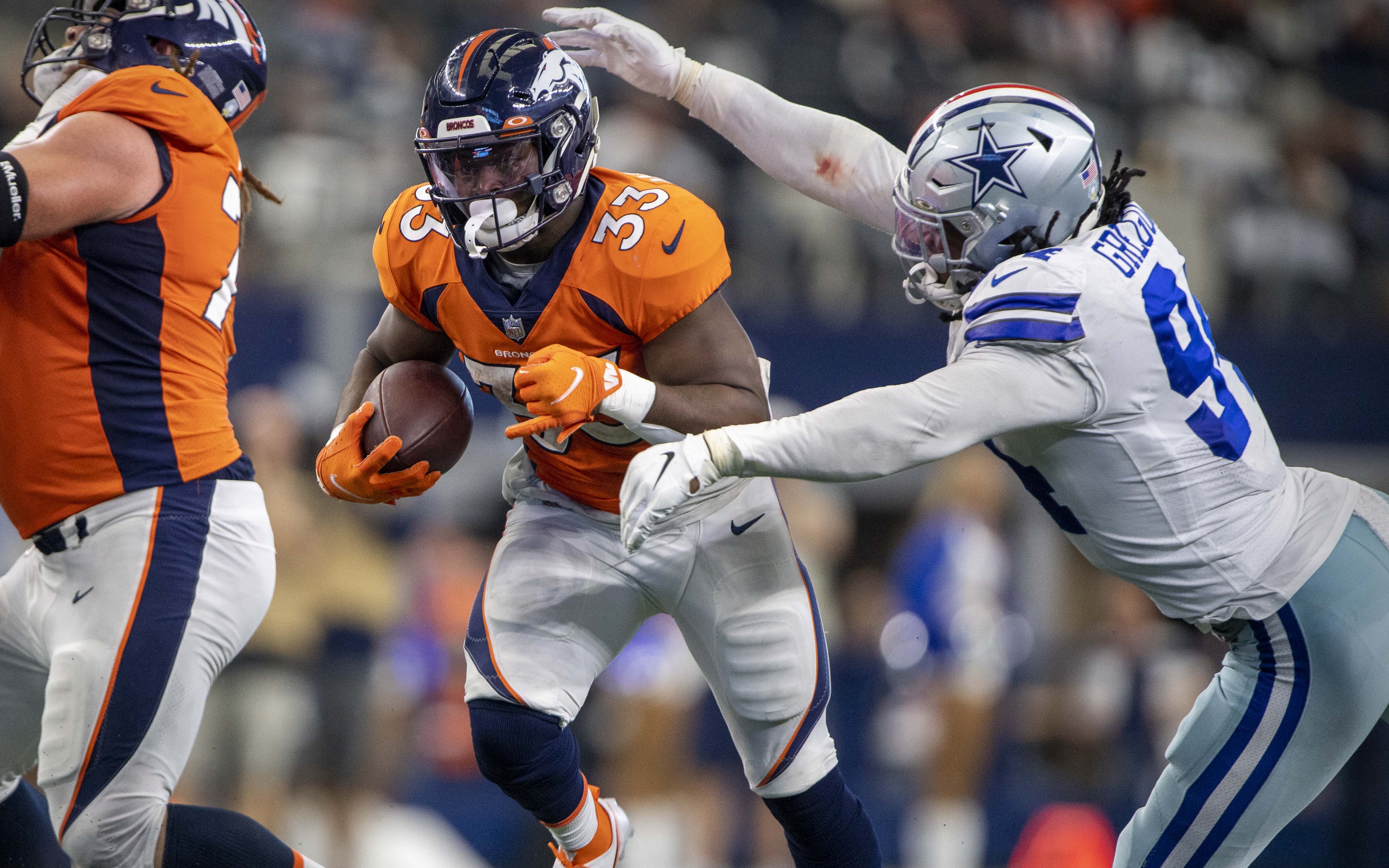 It's a good day in the Mile High City, as superstar center Nikola Jokic is bringing his second consecutive Most Valuable Player of the Year award home to Denver, and Philadelphians aplenty have tears and snot streaming down their face.
As Broncos Country celebrates this accomplishment for their favorite Nugget, it's only fair to wonder if next season could be their turn to revel in glory. With that in mind, what annual awards could we see Broncos players secure in 2022? Let's look.
5. Coach of the Year — Nathaniel Hackett
After being one of the worst teams in football under Vic Fangio's reign, the Broncos are set to be a legitimate contender, and they'll have a new, extremely likable head coach overseeing the turnaround.
That's a fairly perfect recipe for Nathaniel Hackett to win Coach of the Year, but there are a few major hangups in that plan.
The main issue is that the NFL Coach of the Year generally fronts a team that either drastically outperforms pre-season expectations or has one of the league's most dominant records. Considering that the Broncos are expected to finish somewhere around 11-6, these requisites are one and the same, and the path to Denver winning 13-plus games is an extremely difficult one.
Denver's division is loaded, meaning they'll have six brutal matchups guaranteed this year. They also play the NFC West, last season's best division in football, which adds four more extremely difficult games to the schedule.
The Broncos will also play the Tennessee Titans, Indianapolis Colts and Baltimore Ravens this season, none of which will be easy.
Ultimately, even if one assumes Denver doesn't suffer a single upset loss next season, Hackett probably can't afford to go worse than 9-4 over that nightmarish slate if he wants to win Coach of the Year honors, and that's a huge ask for a first-time NFL head coach.
4. Offensive Player of the Year — Javonte Williams
It only happened in flashes last season, but at his 2021 peak, Javonte Williams looked like one of the most dominant offensive forces in the entire league. Analytics that isolate the running back's successes from their environment and see what running backs create on an individual level, like missed tackles forced per attempt, had Williams as one of the best running backs.
Now, his performance tailed off down the stretch, as opponents realized Denver's passing game didn't have to be respected. Suddenly, Williams was seeing eight defenders in the box on nearly every rushing attempt, and nine defenders in the box frequently.
It's impossible to run against fronts like that, and the Broncos' quarterbacks were unable to make defenses pay for that alignment.
That's no longer the case, as few quarterbacks in the league have seen a lower rate of eight-plus man boxes than Russell Wilson, over the past several seasons. With that in mind, Williams and Wilson should help each other, as Wilson will now have a running game that opponents will have to respect — opening up options in the passing game — while Williams will have a quarterback that opponents will have to respect — opening up more opportunities to run.
3. Assistant Coach of the Year — Ejiro Evero
This might be viewed as a weird selection to some, but if Denver's defense is good in 2022, there will be an extremely compelling case to be made in Ejiro Evero's favor.
Plus, there's reason to believe the unit will be good, as there is still an impressive amount of talent on board. We don't know how it will shake out exactly yet, but Caden Sterns, Kareem Jackson and Justin Simmons combine to form an excellent safety trio. Patrick Surtain II appears to be a superstar at cornerback, while Ronald Darby and K'Waun Williams are above-average starters. Inside linebacker — a perceived weakness — has four players rostered that played well in a starting role just last season. The defensive front still has serious boom-or-bust potential, but if it goes the way of booming, Evero will look like a genius.
This defense hasn't made many serious changes and has lost about as much talent as it gained, with both Von Miller and Bryce Callahan no longer around. Yet, outside of trying to fix Denver's pass rush, there was no real need for serious changes, because the unit is still so talented.
Last year's Broncos defense was an underperforming unit. Not only that, but they were underperforming under the watch of legendary defensive mastermind Fangio. If Evero does something Fangio was unable to do in his final year, it would have to make him a trendy candidate.
Plus, as we learn more and more about the Fangio era, it becomes continuously clearer that the players actively disliked Fangio, viewed him as a poor leader, and were disengaged from his coaching for much of the 2021 season. If that behind-the-scenes strife was a large factor in the Broncos' defensive struggles last season, Evero should be able to remedy it and might be able to return Denver's defense to elite play, despite lacking Fangio's pedigree.
2. Most Valuable Player/Comeback Player of the Year — Russell Wilson
The Broncos really only have one player that has a great chance of winning an annual award.
As seen earlier in this article, there's a convincing argument to be made for Williams being in the running for Offensive Player of the Year this season, but he's undeniably a long shot.  Meanwhile, one has to really squint to imagine one of Denver's defenders winning Defensive Player of the Year. The best chance is probably Randy Gregory or Bradley Chubb putting together 17 games of dominance, and even then, it'd be pretty unlikely.
That leaves the newly acquired star quarterback as the favorite to win the coveted player-based awards.
As for why he's the favorite among Denver's players, there's no real need to complicate it. He's a top-end quarterback, who has been vocal in the past about his lack of MVP consideration, and now is surrounded by a gaudy amount of offensive talent. This is a narrative-based award too, and while Matthew Stafford ultimately didn't win it — thanks to a month-long cold snap — the narrative of 'familiar face in a new place' served both him and Tom Brady well in recent MVP races.
Wilson also was injured for a chunk of the 2021 season, making him a potential candidate for the Comeback Player of the Year award, but his injury likely wasn't serious enough for him to garner much serious contention.
As for why Wilson doesn't rank No. 1, there's just a lot more competition for these awards than the one ranked at the top. Patrick Mahomes and Justin Herbert are more compelling MVP candidates in Wilson's own division. Expand one's gaze to the conference, and you have to mention Josh Allen, Lamar Jackson, Joe Burrow, and potentially even Deshaun Watson.
1. Executive of the Year — George Paton
If you had to bet on just one annual award for a Denver Bronco to win, this would comfortably be the odds-on favorite.
There's far more competition for MVP, OPOY, DPOY, and even coach of the year than there is for executive of the year. In the NFL, it's all about the quarterback, and George Paton went from Drew Lock and Teddy Bridgewater to Russell Wilson at quarterback this year. That's how you 'win' the offseason.
The only other team to make a comparable move at the position is the Cleveland Browns, but considering Watson's past transgressions, one would think the NFL might be more hesitant to pat Cleveland on the back than they would with Denver.
Paton also made big moves to shore up the Broncos' most glaring needs, by signing Randy Gregory, D.J. Jones, and K'Waun Williams, and drafting Nik Bonitto and Greg Dulcich.
Winning the award for cultivating the best draft class in his first year as general manager might also boost Paton's chances of being honored as the best executive decision-maker in the NFL.