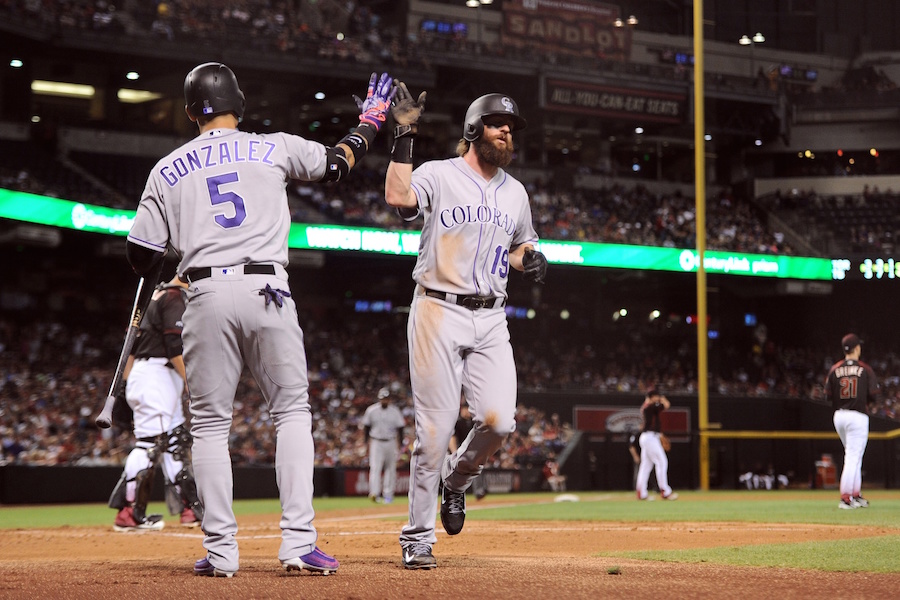 Did Carlos Gonzalez ask for a trade or didn't he? Is Charlie Blackmon on the block too? Most of us tend to believe that where there's smoke there's fire, but who knows? Either way, for the Rockies, trading Gonzalez and Blackmon would be a step in the wrong direction.
If (heavy emphasis on if) the Gonzalez trade rumors are true it'd surprise absolutely no one. The speculation surrounding Gonzalez's desire to play for a winner are three years old. Most people were astonished he wasn't moved right after Troy Tulowitzki was shipped to Toronto. If the rumors are true that begs the question, why now?
The Gonzalez rumors aren't the only head-scratching story developing, as there were accompanying whispers that Charlie Blackmon is being shopped around the league. Moving Blackmon would fall under the category of, huh? He's the best leadoff hitter this team has had since … ever … and he's under team control for another two seasons.
Gonzalez has suffered through some terrible, terrible years in a Rockies uniform, unquestionably. Why would this season finally have broken the camel's back?
These two stories (if true) make no sense for one simple fact. It appears the Colorado Rockies are finally headed in the right direction.
Everyone is quick to criticize Dick Monfort, Jeff Bridich and the entire Rockies organization, but it's only fair to do that if you give praise when praise is due. So far this season praise is due. The Colorado Rockies are turning a corner; they're a team on the verge of pushing for a playoff spot.
Before the season no one imagined that Colorado would only be 3.5 games out of a Wild Card spot on June 26, but they were. If you had told Rockies fans that was going to happen at the beginning of the season they would have been ecstatic. Prior to the return of Tulowitzki on June 27 folks in this town were legitimately wondering if this team was a Wild Card contender. Going 2-9 since June 26 hasn't helped that narrative, but things aren't all gloom and doom heading into the All-Star break.
The Rockies sit at 39-46, 7.5 games out of the final Wild Card spot with three home games left against a beatable Phillies team before they go on break. If they can manage to remain less than 10 games out of the Wild Card chase at the All-Star break that's a huge success. Making up less than 10 games over the course of the last 74 is manageable.
While Colorado's team ERA is still relatively high (5.08), this pitching staff has something they haven't had in years – two starters that can anchor the top of the rotation. Tyler Chatwood is 8-4 and has been great; Jon Gray's performances are starting to match his hype. Since the Rockies drafted Gray they've been saying he's going to be the future of this rotation and he's starting to prove that.
Nolan Arenado is the best all-around player in baseball. Adam Ottavino just returned from Tommy John's surgery. D.J. LeMahieu is hitting .336, which ranks second in the National League (he might be the most underrated player on the roster) and Trevor Story is making a strong case for Rookie of the Year.
The dark cloud hanging over 20th and Blake is starting to lift.
It isn't crazy to imagine the Rockies seriously competing for the playoffs, or the division, in the next couple of years. Under Bridich this organization finally has a clear direction when it comes to drafting and developing pitchers. They have a young core (most of whom are under team control for the foreseeable future) and one of the deepest farm systems in the league. Things are only going to continue to improve.
This is why the rumors surrounding CarGo and Blackmon make little to no sense. They're important cogs for a team that's quietly on the rise. Unless Bridich can acquire a top-tier starting pitcher for both (which is highly unlikely at this point in the season), there is no reason to start breaking up the core of this team.
If (once again that's a big if) CarGo asked for a trade, he has that right but doing so in the middle of the season when Colorado is starting to show improvement is odd. If he wanted out he should have asked the Rockies to move him in the offseason.
As for Blackmon, the Rockies searched for years for a leadoff hitter, dumping the guy two-and-half years after finding him seems like backwards thinking. Unless David Dahl's promotion is a sign he's the future in the outfield, but three hot games in Triple-A should not be the sole justification for shopping an All-Star-caliber player who's currently hitting .303 with 43 RBIs.
Gonzalez has absolutely suffered through some putrid seasons with the Rockies and Bridich has done a great job building this team. Those two, more than anyone else, have to see the fruits of their labor are beginning to pay off.