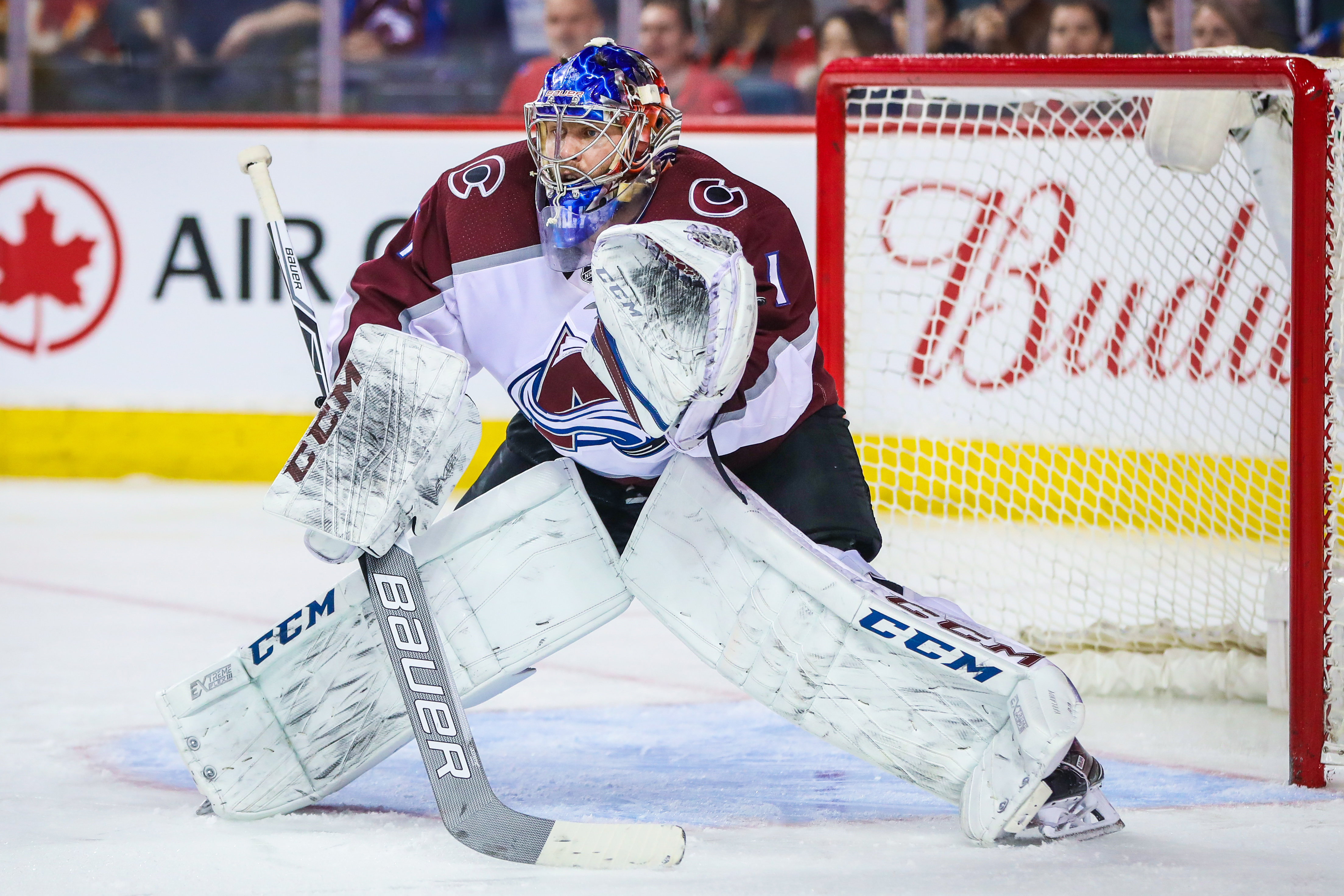 For the fourth time in as many years, the Avalanche will have a new one-two punch when it comes to the netminders. Of course, Semyon Varlamov has had a grasp on the number-one role for years, but for the first time since he arrived in Colorado, he will be legitimately challenged for his starting position.
The Avalanche have noticeably placed more emphasis in their goaltending over the past few seasons by aggressively targeting quality free-agent goalies, drafting four in the last three years, and the hiring of Jussi Parkkila as the goalie coach. In doing so, they now have the best group of goaltenders the organization has ever had heading into a training camp and Avs fans can rest assured that the goaltending won't be an issue this season due to the wide range of options.
Semyon Varlamov
This year's training camp will feature a fully healthy Varlamov for the first time in a while. Yes, his season was cut short last year due to a knee injury that kept him from playing the final stretch of the season, but the severity was low and he heads into camp with a solid offseason of training under his belt. Varlamov's .920 save percentage from last year was his best since the 2014-15 and is higher than his .916 career average, so having him at full health and ready for the season from the get-go should help keep him at the top of his game. If he isn't reaching his full potential there will be someone breathing down his neck, hoping to take his starting role. A little healthy competition should be great for Varlamov and his competitive spirit.
Philipp Grubauer
After getting a sniff at the starting job on last year's Stanley Cup-winning Washington Capitals, Grubauer is hungrier than ever to take over a number-one role. In 35 games he put up a .923 save percentage last year and convinced many NHL experts and even his coaches that he was ready to become a starting goaltender as he was Washington's hot goalie heading in the playoffs and was given the start in the first few games. Having been in the room during the Capitals' Cup run, he knows what a winning locker room looks like and understands what it takes to reach a championship level and can help relinquish any worry if/when he's called upon to start in an important matchup.
Pavel Francouz
In Pavel Francouz the Avalanche may have found an incredibly talented goalie in his prime, poaching him out of the KHL following a statistically dumbfounding couple of seasons. In the last two years, he put up a .953 and a .946 save percentage with a 1.43 and a 1.80 goals against average. If he can replicate something close to those numbers, he too will be pushing for NHL starts and will be looking to make himself seen before he gets too old, making the 28-year-old one of the more exciting acquisitions of the offseason.
Spencer Martin
Spencer Martin has a lot to prove this year. Drafted in 2013, he was the hope for the future of Avalanche goaltending but has yet to really shine through and make some noise as an up-and-comer. His .865 save percentage and 3.10 goals against average last season leaves more to be desired, but he is still only 23 and it may be too early for the Avalanche to hit the 'eject' button on their young goaltending project. He will have to have a stellar season, however, considering that he will be a free agent at the end of the year and there are a few other goalies in the organizational pipeline looking to make their jump to American professional hockey.
Joe Cannata
Cannata backstopped the ECHL champion Colorado Eagles playing in 24 playoff games on the road to the Kelly Cup. He also played in five AHL games with the Rampage in which he allowed only eight goals and posted a .920 save percentage. Now that the Avalanche are done sharing an AHL team its seemed as though Cannata was going to get to slide into a full-time backup role with the Eagles, but the addition of Pavel Francouz seems to have boxed Cannata out. As a professional athlete and competitor, you can count on Cannata being ready to give all he's got to prove himself worthy of some more AHL minutes.