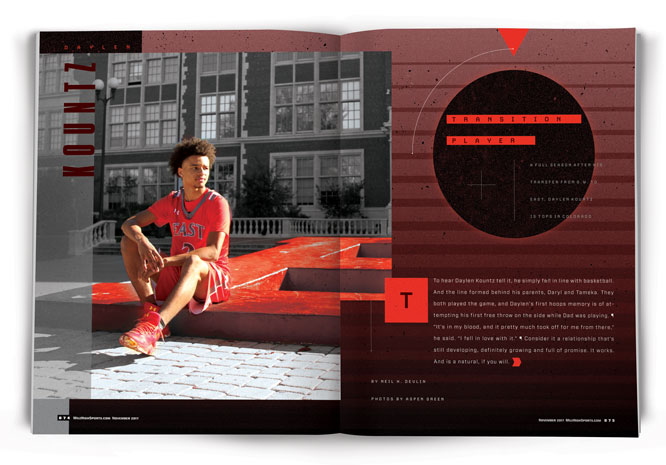 This story originally appeared in Mile High Sports Magazine. Read the full digital edition.
To hear Daylen Kountz tell it, he simply fell in line with basketball. And the line formed behind his parents, Daryl and Tameka. They both played the game, and Daylen's first hoops memory is of attempting his first free throw on the side while Dad was playing.
"It's in my blood, and it pretty much took off for me from there," he said. "I fell in love with it."
Consider it as a relationship that's still developing, definitely growing and full of promise. It works. And is a natural, if you will. Daylen Kountz is the popular choice as best schoolboy player heading into the 2017-18 season, a rangy talent at fabled Denver East High School with reach, skills, a very level head, a 26.4 points per game average as a junior and the promise of more. He's an Angel who's 6-foot-4 and a lithe 178 pounds, left-handed and quite comfortable on the perimeter or going to the basket, and he can play point guard.
In early November, he signed to play for coach Tad Boyle at the University of Colorado in Boulder, just the second prospect revered city figure and Angels coach Rudy Carey has sent to Boulder (the other, guard Dominique Collier, is in his senior season as a Buffalo), and is in the process of enjoying as well as understanding why he's a sucker for the game.
Football and cross country both tried to get hooks into Kountz, but both failed. They didn't have the appeal or allure to entice Kountz.
"Especially since I've gotten a little older," the 17-year-old said, "in basketball, the jumping, the athleticism, just the fun it gives you … the bunch of energy you have and the speed of the game … it's fun."
Plus, color Kountz, originally from Kansas City, Kan., as ravenously hungry to have a monster season – he transferred after his sophomore year from Denver Prep League rival George Washington and had to sit out half of the regular season per state transfer rules.
"I'm encouraged knowing I can play at the start of the season," he said. "I mean, I'm excited that I'm going to Las Vegas for the Tarkanian Classic and I actually get to play in it this time."
Of all of the interesting transfers Colorado has had over the decades – everyone from the legitimate to the now countless who blatantly circumvented the rules and somehow got away with it – Kountz's switch has been on the level while he and his family have refused to hide any of their reasons for trading South Monaco Parkway for City Park Esplanade.
Keep in mind the following: Kountz didn't change because of a lack of playing time or his team was terrible or he wasn't getting enough exposure. And it wasn't as if Kountz was playing with handcuffs because of the Patriots' style of play, as they can get up and down the court with any team in the Rocky Mountains. In fact, he was a starter since his freshman season in an up-tempo offense and the Patriots won two consecutive DPL titles while going undefeated in the city, a combined 16-0.
So what were you thinking, Daylen?
"Here," he said of Denver East, "I liked the school, the education was better, the environment school-wise and the people and culture of the school — there were more activities and things to do outside the school. Everybody goes to the football games and volleyball games."
Of course, Kountz said, it was challenging. He knew there would be questions. He knew he would be labelled as a mercenary and probably a selfish player. He knew he would have to face lots of people who would wonder.
"Tough? It wasn't that tough," he said. "I had some friends close to me; it was a little weird leaving George Washington, but at the same time it was exciting."
Daryl Kountz fully supported the decision and remains more than happy to discuss it.
"I liked George Washington, but I didn't think it had enough culture and that's my own personal opinion," he said. "I just wanted him to get a good high-school experience. You only go around once in it, and I didn't want him to have any regrets. I wanted him to grow and the school to grow with him. [East] has got fresh-food trucks outside and it just seemed like a good place."
A transfer in the middle of his son's prep career, the elder Kountz said, "would give him two years, not one, and to do what he could with it, where he can make the best of it. We gave George Washington two years to see if he wanted to go there for the next two years after that. We wanted him to enjoy his high-school experience. We're not saying George Washington couldn't give it to somebody else. It's just him personally. He flourishes somewhere else.
"It's not a knock on George Washington; we just thought he'd be better here."
If he is, it took awhile. Daylen Kountz, who also has a 3.0 grade-point average, certainly paid the price a year ago. Denver East was 18-8. He sat out the first 11 games but made the most of his 15. His scoring average was second in Class 5A, behind the 28.5 of Fossil Ridge's Braxton Bertolette. He shot 51 percent from the field and 79 from the free-throw line.
Against G.W. in a 99-96 loss that decided the city title – the Pats, who finished state runners-up, enter the season as the three-time defending DPL champion as well as on a 24-game league winning streak – Kountz scored 42 points. He burned Fossil Ridge for 37 in a 16-point victory and helped the Angels to the state quarterfinals, where they lost to eventual state champion Eaglecrest.
"He's good," Carey said. "And he's growing. He's 6-foot-4 now and still growing. I don't know when he'll stop growing."
Better yet, Carey said, "he's a real good kid, a real selfless kid. He has character. There's no change in his temperament. You don't know if he's winning or losing, if it's going bad or good."
Colorado State, Denver, Massachusetts, VCU, Tulsa, Wichita State, Wyoming, Portland, Rider and East Carolina each want Kountz to enroll with them. But CU has won out and there are reasons the Buffs seemed very appealing to him.
"It wasn't an issue," Kountz said. "Wherever I liked or ended up, you can't beat being 30 minutes up the road. If I need anything, I can always travel 30 minutes and come back."
Said Daryl: "And go right back and get back to business."
Business? The younger Kountz is getting a lesson in that side of the game, the commitment that's required. He said he was home just five days in July while playing for his AAU team, the Colorado Hawks.
"You wash clothes, change clothes and leave the next day," he said, while playing with the likes of Rock Canyon guard Sam Masten.
It's just another example, Carey said, "of how serious he is about basketball. Daylen is in attack mode, all the time."
It will come in handy for the Green Valley Ranch resident when classes begin late next summer.
"I have a sense of pride about representing my city up there," he said. "The campus? It's an amazing campus. It's really beautiful, and you can see the mountains from pretty much anywhere on campus; you see them every day when you wake up and go to class."
Journalism will be his major and he's well aware his other job, basketball, will be just as taxing. Kountz seeks out the best competition and the best competition seeks him – it's not unusual for him to get a call about a high-end pick-up game involving college players.
He says he'll have the chance to compete for a position at CU, but first there's the matter of his senior season with the Angels and what it could bring. Carey is 780-197 in his career with nine state championships. Kountz is the type of player who can enhance those numbers and do it in style and with purpose.
"Daylen is a very efficient ball player," Carey said. "He doesn't waste a lot of stuff."
As for expectations, Carey said Kountz "can lead us. When you have a high-end player like that, you have a chance to be a champion."
Kountz understands what is expected of him.
And he embraces it.
Sure, Kountz said, "I'd like to win a championship and be player of the year."