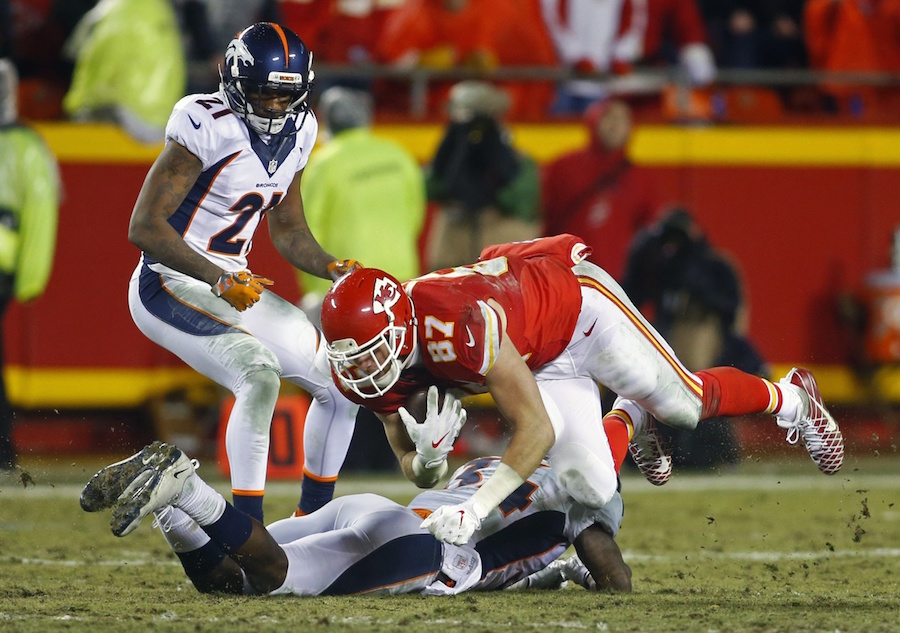 With 255 combined yards, Kansas City's Travis Kelce and Tyreek Hill outgained the entire Denver Broncos offense en route to career days for both and a 33-10 victory that ended Denver's hopes of defending its Super Bowl 50 title.
The Broncos generated just 246 yards of total offense – 63 on the ground and 183 through the air. Trevor Siemian had his worst night as a professional, completing just 39.5 percent of his passes (17-for-43). His 43.1 passer rating was his lowest of the season. He had one interception, on the game's final play. He had two passes of 26 yards, tied for his longest in the game.
Kelce, meanwhile, ripped off 80 yards on a single screen play that went for a touchdown in the first quarter. Hill had a 70-yard touchdown run to open the scoring and put Denver in a hole they would never climb out from.
Kelce's 160 yards were a Kansas City record for a tight end, surpassing Tony Gonzalez. He ended the night with 11 receptions and a touchdown on 12 targets. It was his sixth game of more than 100 yards receiving. His previous career high of 140 yards came against Atlanta earlier this month.
For Hill, the shifty back and returner did not match the pair touchdowns he scored against Denver in Week 12, but he did end the day with 95 yards, good for a career-high so far. Hill, a rookie, averaged 15.8 yards per carry on his six rush attempts.
Denver was without key defenders at pretty much every level during the game. Safety T.J. Ward and linebacker Brandon Marshall were both ruled out before the game, while defensive end Derek Wolfe left the game in the second quarter and did not return to action.  Those three rank first, sixth and seventh in tackles this season for Denver.
The 484 yards Denver surrendered on defense was the largest total they've allowed in two year and the first time they allowed an opponent to eclipse 400 yards during that span.
Here's what the MHS team and some of our favorite follows had to say about Kelce and Hill's big days…
Nice job by Dixon to punt away from Hill. No return on 43 yard punt.. Logic is a wonderful thing. #DENvsKC @DenverChannel

— Troy Renck (@TroyRenck) December 26, 2016
Tyreek Hill. #Broncos know they have to stop him. doing it is a different story. just jaunted 28 yards.. #Speed

— Lionel Bienvenu (@lionelbienvenu) December 26, 2016
Um, not defensive statement the Broncos wanted to make. From the moment Tyreek Hill took corner on Von Miller it was trouble.

— Mark Kiszla (@markkiszla) December 26, 2016
Crowd chanting Tyreek!..Dixon punted to him. Not a good idea. But Coverage was there. Risk-Reward not there to give him ball. @DenverChannel

— Troy Renck (@TroyRenck) December 26, 2016
Touchdown — Tyreek Hill, 70 yards. Kelce knocked Stewart down. Simmons left flailing. Chiefs slashing through Broncos on the ground.

— Andrew Mason (@MaseDenver) December 26, 2016
Tyreek Hill: 3rd player in NFL history w/ 3+ rush TD & 6+ receiving TD in his rookie season, joining Gale Sayers (1965) & Doak Walker (1950)

— NFL Research (@NFLResearch) December 26, 2016
#Broncos allowed 70-yard run by Hill. And an 80-yard pass to Kelce. Both represent longest vs. Denver this season. #DENvsKC @DenverChannel

— Troy Renck (@TroyRenck) December 26, 2016
Stat of the game, #Chiefs Kelce has 4 catches, 106 yards, 1 TD and he's the only pass catcher who's been targeted in the game. #Broncos

— Eric Goodman (@EricGoodman) December 26, 2016
Tyreek Hill has lined up in the backfield 4 times in the first quarter. Prior to today he never lined up more than 3 times as a RB in a game

— Nathan Jahnke (@PFF_NateJahnke) December 26, 2016
Tyreek Hill played in just 14 of 37 first half offensive snaps. That is just 37.8%; would be lowest percentage for him since Week 8.

— Nathan Jahnke (@PFF_NateJahnke) December 26, 2016
Kelce just destroyed Justin Simmons. #Broncos miss TJ Ward big-time.

— Lionel Bienvenu (@lionelbienvenu) December 26, 2016
Travis Kelce has set a #Chiefs record for TE receiving yards. His 158 tonight surpass Tony G, who had 147 in 2000

— Terez A. Paylor (@TerezPaylor) December 26, 2016
Here's what they were saying about playing without Ward, Marshall and Wolfe…
I'm feeling like the @broncos really miss Brandon Marshall. And Danny Trevathan. And Ray Lewis. And Dick Butkus. And… #RunD #broncos

— Les Shapiro (@LesShapiro) December 26, 2016
#Broncos defense continues to struggle against the run. #Chiefs rushed for 59 yards on that opening drive on 5 carries (11.8 ypc)

— Ryan Edwards (@redwardsradio) December 26, 2016
Touchdown — Tyreek Hill, 70 yards. Kelce knocked Stewart down. Simmons left flailing. Chiefs slashing through Broncos on the ground.

— Andrew Mason (@MaseDenver) December 26, 2016
132 yards on eight carries for the Chiefs so far.

— Andrew Mason (@MaseDenver) December 26, 2016
Corey Nelson forces an errant pass by Smith and Justin Simmons picks it off. #Broncos offense in red zone.

— Ronnie K (@RonnieKRadio) December 26, 2016
The 2 #Broncos filling in for Ward and Marshall made their presence known on that huge play

— Mario Vetanze (@MileHighMario) December 26, 2016
Awful defense there. Not enough fight through he blocks, and Kelce just took off … 80 yards, TD.

— Andrew Mason (@MaseDenver) December 26, 2016
For as great as he has been all season, Darian Stewart is having one awful game #Broncos

— Robin Carlin (@robincarlin) December 26, 2016
Kelce just destroyed Justin Simmons. #Broncos miss TJ Ward big-time.

— Lionel Bienvenu (@lionelbienvenu) December 26, 2016