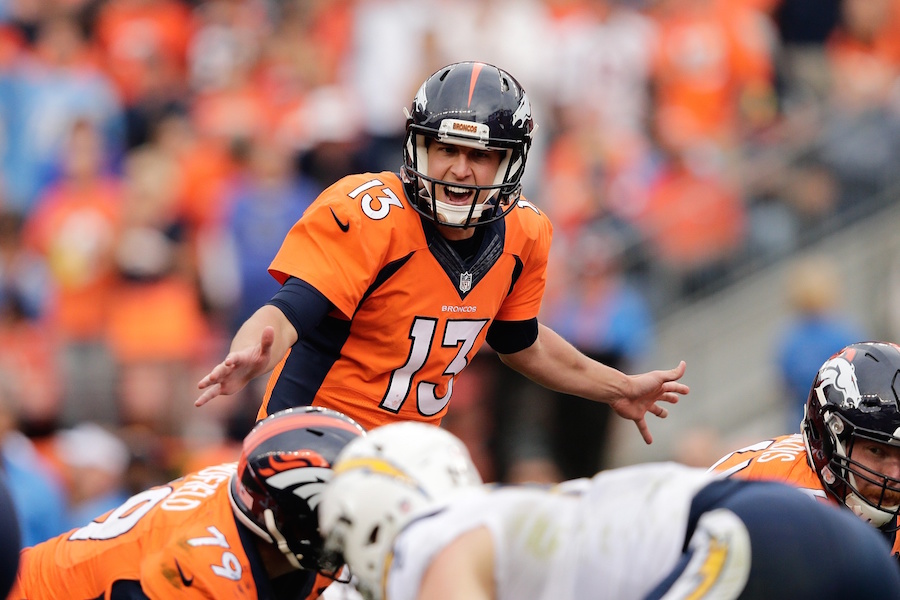 Just one day before Halloween, Sports Authority field was packed with ghosts and goblins, ghouls and fools. A fanged Von Miller mask was passed around and cheerleaders offered their usual creative interpretations, including a gigantic T-Rex who participated in the kick line showing just a little leg – literally, just those two, weird, little legs (or are they arms?).
But perhaps the best costume of all was worn by No. 13. You see, he dressed up as a game-managing, NFL quarterback.
He looked the part, too. Not too big. Not too flashy. Not too athletic. That's why Trevor Siemien's costume was so perfect.
Like T-Rex, the Orange Darth Vader or those three guys who dress up like old, zombie Broncos, however, Siemien's get up is just a costume. It's not real.
That's not what we're to believe. It's not what we've been told. We know, just from observation, that Siemian isn't the next John Elway, Aaron Rodgers or Cam Newton. In Denver, and nationally really, Siemian has been touted as the perfect game-managing quarterback. Great defenses – which is exactly what the Broncos have – only need a game manager under center. Keep the ball. Put up a few points. Don't screw it up.
Look no further than the 2015 Broncos, who won ugly week in and week out. Never once did they resemble the 2013 Broncos who lit up the scoreboard every Sunday, until Super Sunday, when they learned exactly what has and always will win championships – defense. The most recent champs relied on winning the turnover battle and the strength of their historically great defense. They also relied on Peyton Manning, who was well past his prime and incapable of the big plays and big numbers he was once known for. Manning, as ugly as it was at times, managed the game. He had a vast knowledge of the playbook and protection schemes, and, basically, he didn't screw it up. In retrospect, his role was essential to hoisting Lombardi.
While it would be unfair to compare Siemian to Manning in any respect at this point in his young career, it is accurate to say that Siemian has been handed the same role: Manage the game.
As a starter, he's got an impressive record of 6-1. In that regard, Siemian has played the role nearly perfectly. After all, wins are all that really matter.
At the same time, the Broncos are playing with fire. Yesterday's 27-19 win over San Diego provides a perfect example. The score certainly doesn't tell the whole story, and Siemian did anything but safely manage the game.
Before evaluating Siemian's performance as a, let's define what a game manager should be.
Per Wikipedia (because who else would we turn to for such a definition?): A game manager is a quarterback who, despite relatively poor individual statistics such as passing yards and touchdowns, performs well enough to win games. Game managers often benefit from strong defense and rushing offense on their teams. The player is expected to not lose games with interceptions, fumbles, or poor decisions, particularly during important situations near the end of a game. 
The San Francisco Chronicle once wrote: "As consolation … Quarterbacks are called game managers only if they're winning."
I'll add to that just a bit. A good game manager should do his best to keep his defense off the field, as the best way for a great defense to remain great is to also be relatively fresh when it's needed most. And, even if a game manager isn't putting points on the board, he should help to win the field position battle.
By the definitions of both Wiki and the Chronicle, Siemian is, I suppose, a game manager. His statistics aren't great, yet he's somehow winning. Yesterday he was 20-of-38 for 276 yards – not great, not bad. On the flip side, his inability to throw down the field has stifled the run game. Devontae Booker, who was phenomenal against Houston last week, was held to 54 yards on 19 carries. In total, the Broncos only rushed for 57 yards, and (to be fair to Siemian) they did so without starter C.J. Anderson, who's out for the season.
The turnover part of the equation, however, is where Siemian and the Broncos seem to be dodging bullets. Against an uncharacteristically sloppy Philip Rivers, the Broncos D forced  three turnovers (all interceptions), yet Denver still didn't "win" the turnover battle. They had three of their own. Siemian threw one interception and it was returned for a touchdown. He fumbled once (inside the red zone) and Booker fumbled once more while trying to reach the pylon.
The stats don't tell the entire story, though. On at least two occasions, the Chargers dropped two should-have-been interceptions. Some might argue a third. On the year, Siemian has been fairly lucky in that regard, as there are at least a handful of "near interceptions" that never happened.
When it comes to giving the defense a breather from time to time, Siemian came up woefully short yesterday. The Chargers had the ball for 33:08, while Denver maintained possession 26:52 (which included 1:12 of kneel downs). Furthermore, the Broncos offense could barely stay on the field to begin the game. Aside from an opening drive field goal, Denver punted four times, fumbled once and turned the ball over once on downs, effectively ending the first half.
Siemian converted six red zone opportunities into two touchdowns – one rushing, one passing – two field goals and two turnovers. Denver was just 5-15 on third down conversions, and only gained one yard on three plays with 2:31 remaining. It's true that Siemian did not turn the ball over at that time, but the lack of production essentially gave the Chargers two possessions with which to tie the game.
You saw the game. You've read the stats. So now the question must be posed: Did Trevor Siemian "manage" his way to Broncos win, or did the Broncos defense win in spite of their game-managing quarterback?
The answer, like his Halloween costume, is obvious. The solution isn't.