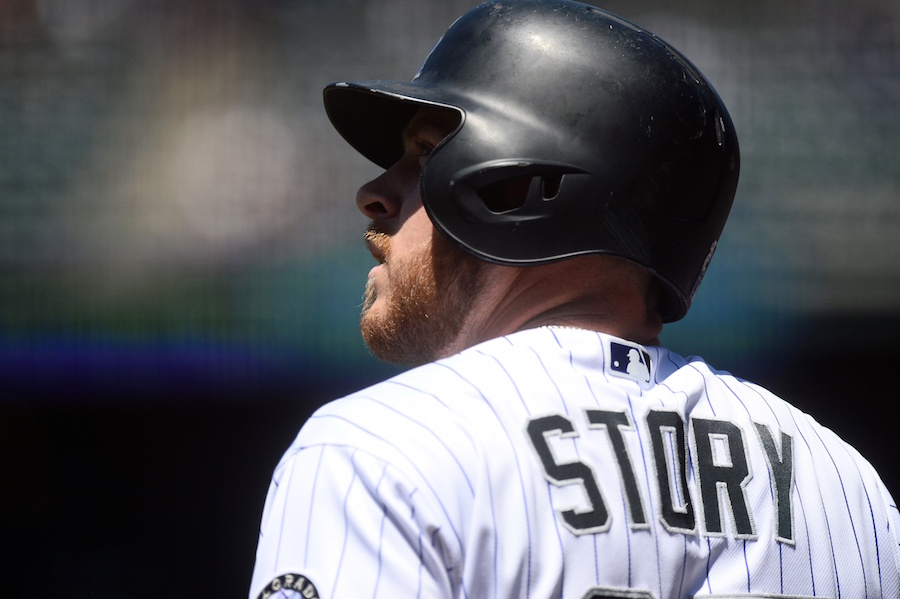 If you're a Rockies fan, you know by now that rookie shortstop Trevor Story was injured during Saturday night's game against the Mets in New York.
Eric Goodman and Les Shapiro from Mile High Sports AM 1340 | FM 104.7 spoke with Story on the day before he was scheduled for a potentially season-ending surgery. While he is disappointed with this injury, he remains optimistic about how his teammates are playing right now.
"It's tough. I've come to the realization that it's going to be awhile," Story said. "But we're still a confident group. We have a lot of confidence in the guys that can step up and make the plays and take the at-bats. Personally, it hurts me that I can't be out there. We still believe we can play well and it showed [Tuesday] night."
The Rockies won the first two games of a three-game series against the Wild Card-leading Los Angeles Dodgers. Story tore a ligament in his left thumb which required surgery. He is expected to miss the rest of the regular reason.
Story was a top contender for the Rookie of the Year award before the injury. He is still currently tied for the National League lead in home runs with teammate Nolan Arenado at 27.
"Personal [awards are] something you can enjoy after the season," stated Story. "You dream about stuff like that, but maybe it wasn't meant to be for me. I think it's going to be tough to win it with two months out. For me, it's all about the team. It would've been cool to see that play out, but we're just worried about doing what we can to get into the postseason."
Story was one of the hottest hitters in the NL before the injury, with eight home runs in July to add to his batting average of .288 for the month.
The Rockies are battling the St. Louis Cardinals, Miami Marlins, New York Mets and Pittsburgh Pirates for the second place spot of the NL Wild Card.
Listen to the full interview with Trevor Story inthe podcast below…
Catch Afternoon Drive with Goodman and Shapiro weekdays from 4p-6p on Mile High Sports AM 1340 | FM 104.7 or stream live any time for the best local coverage of Colorado sports from Denver's biggest sports talk lineup.