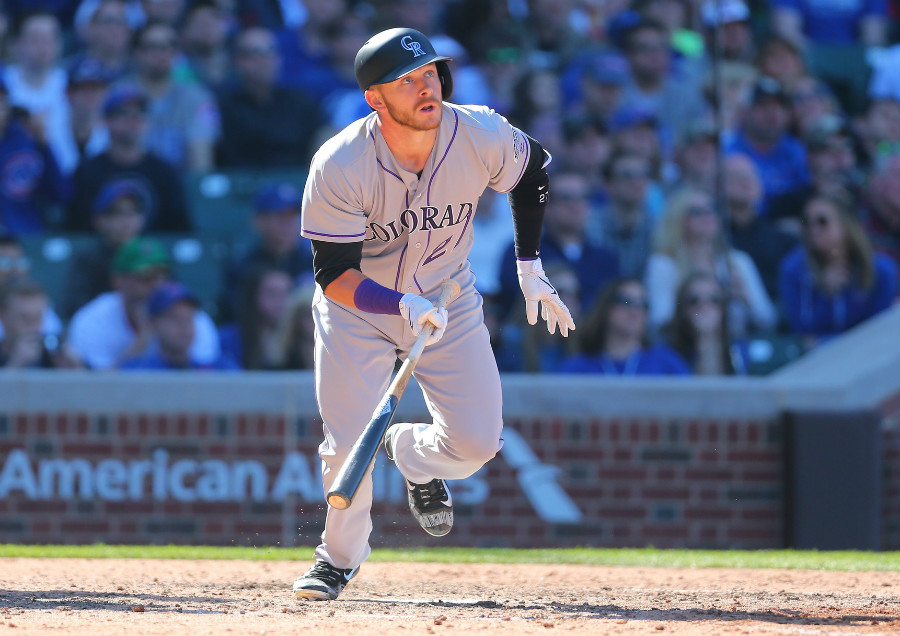 Colorado Rockies rookie Trevor Story still leads the big leagues in dingers; however, his offensive play has been hit or miss in a literal sense.
Story is currently hitting .294, but it seems more like .500: half the time he's going yard and half the time he's striking out — his 22 strikeouts lead the National League. Walt Weiss, though, credits it to the simple fact that he's young and inexperienced.
"Typically with young players, I'm going to look for spots to protect them, and I will do that with Trevor," Weiss told Patrick Saunders of The Denver Post. "I still think Trevor is competing really well, and he's still a dangerous bat at the top of our lineup. That's why I've continued to run him out there."
Weiss then followed up by saying he "doesn't want to make too much" of the amount of strikeouts.
Story has a total of 51 at bats so far this season, with nearly 57 percent of those at bats resulting in either a strikeout or a homerun, meaning that the popular outcome of his at bats are either a stroll around the bases or long walk back to the dugout.
Story, though, isn't focusing too much on it.
"I just try to focus on my preparation. That's my routine and what keeps me grounded and on track. I stay close to my routine," Story told Kevin Henry of Rox Pile. "For me, I just try to hit the ball hard. If it gets in the air and goes out, that's awesome. I hope they (Colorado fans) don't think I'm going to hit one out every time because that's not very realistic."
Story will need to work on hitting line drives in the gap to help boost his batting average and to help put his team in the best position to win games.
The Rockies have their cleanup guys in Carlos Gonzalez and Nolan Arenado behind him, meaning Story should focus on simply getting on base, and the rest will take care of itself.
"He's a pretty sharp kid." said Weiss. "It's not like he's enamored with the home run now; the home runs just happened because he put good swings on the ball … You are going to see him hit the ball to right center and use the big part of the field. That's where he lives."
Story has already amazed the baseball world with his sizzling start; however, he needs to continue to work on hitting to all parts of the field, and cut down on strikeouts in order to become the most effective offensive player he can be.
It is not going to happen overnight, but Weiss and Story believe he can add significant contribution to an already stacked Rockies lineup.