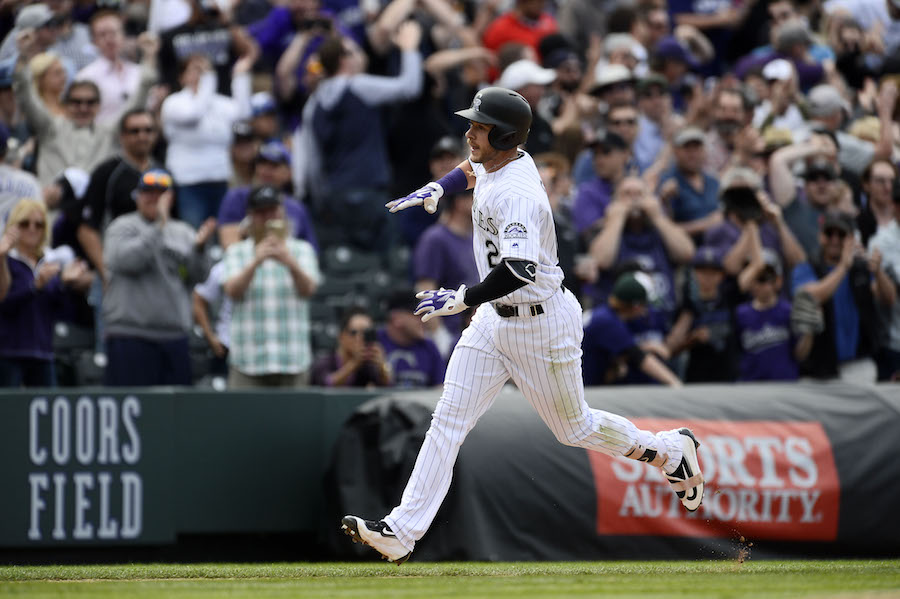 I feel like I am writing the same headline every week. Oh wait, I am. Trevor Story is a really good baseball player, everyone, and truth be told, I love writing about him.
For me, being in my first year of Rockies coverage, I've been able to relate to Story, who is in his first year in the big leagues.
From the moment the kid stepped into the batter's box, he's shown the potential to be great, and then some. His swing is powerful, his vision is ever improving, and he plays the game the right way.
His ability to put baseball fans in a state of awe with his towering shots is exactly what the game needs; Story's name should be right up there with every other one of the MLB's young, rising superstars, and that's exciting.
His record-breaking start was just the beginning; his ability to deal with adversity and persevere to the tune of 27 home runs by July 24 is remarkable.
Simply put, Story is having one of the best, most-impressive rookie seasons in baseball history.
"It seems like he's rewriting the record books every couple of weeks," manager Walt Weiss said in reference to Story's unbelievable rookie season. "It's been a dream season thus far."
As it stands, Story is on pace to have the greatest season for a rookie shortstop ever. With 27 home runs through the team's first 97 games, he's already just three shy of Nomar Garciaparra's rookie shortstop home run record, which was set back in 1997.
In fact, the 23 year old leads the National League in home runs (with two more bombs than his teammate Nolan Arenado) and ranks inside the top 10 in slugging percentage and RBIs for all of baseball.
Sure, it's fun to watch Carlos Gonzalez and Nolan Arenado play on a day-in-day-out basis, but watching Story break and set records is what keeps the fans coming back for more and more.
Story is making the game fun to watch, and in the process, he's helping get the Colorado Rockies back in the national spotlight.
He's got the heart, the dedication, and the love for the game to blossom into the next great shortstop in baseball. This magical rookie season is just the start.