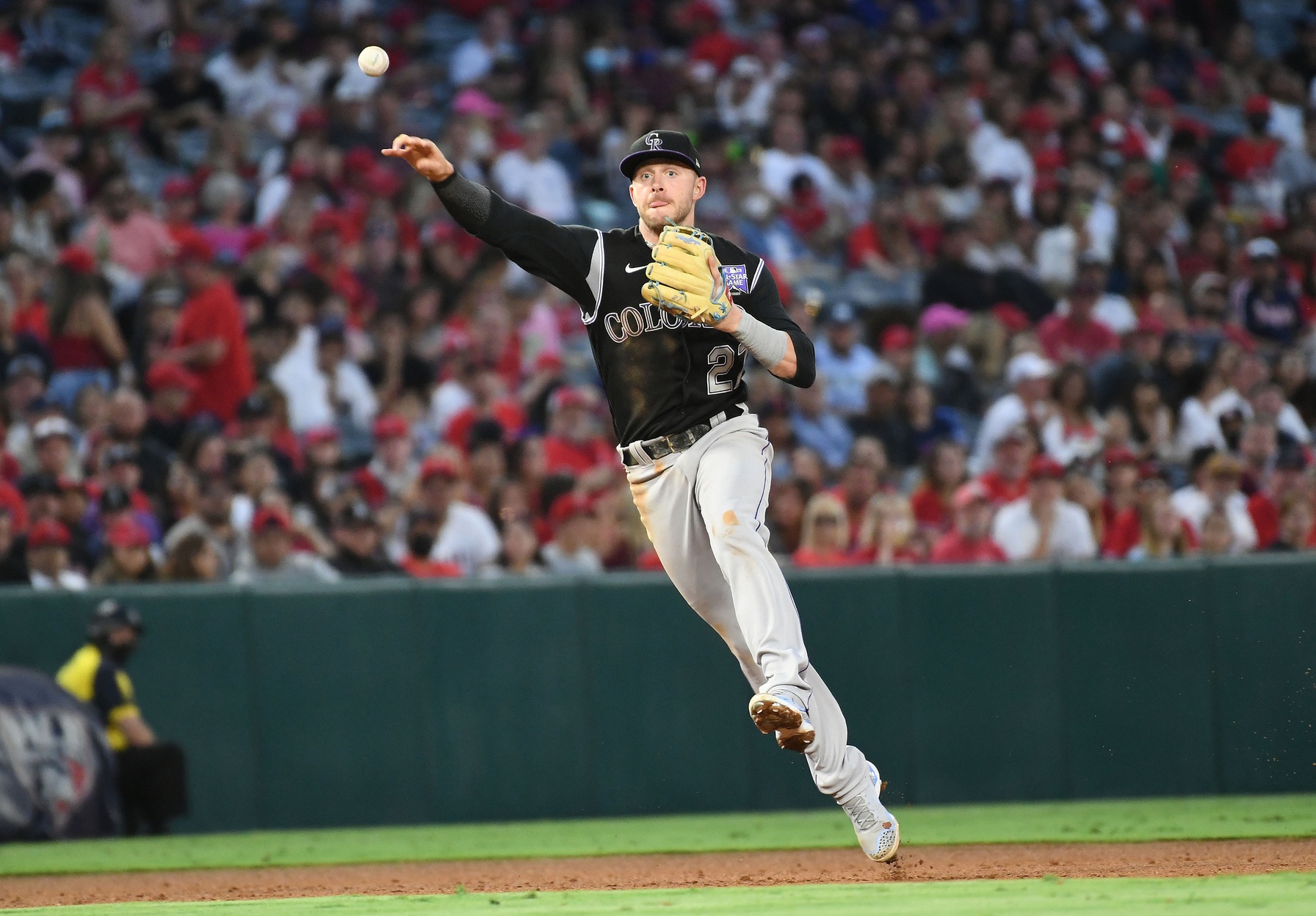 Colorado Rockies shortstop and impending free-agent Trevor Story is a prime candidate to be moved prior to the July 30 trade deadline even as the club continues to publicly downplay the possibility of deal.
Story, 28, has been the subject of a pair of interesting reports over the last couple of days. The San Diego Padres, who on Sunday acquired All-Star second baseman Adam Frazier from the Pittsburgh Pirates, reportedly discussed a scenario in which they'd acquire Story for the purpose of playing him in center field. Story is a far better defensive shortstop than Fernando Tatis Jr., the Padres' incumbent at the position, but such a scenario speaks to the athleticism of Story, who is one of baseball's best sprinters and overall baserunners.
The New York Yankees, who also fancy Story as a center fielder, were the latest team to inquire about Story and even made an offer, according to MLB Network's Jon Heyman. The general feeling, though, is that the Rockies aren't sure if they want to trade Story, so there doesn't appear to be any traction, as Heyman reports. The Milwaukee Brewers recently checked in with the Rockies about the availability of their star shortstop, Heyman adds, as have the Chicago White Sox.
Rockies interim general manager Bill Schmidt told Patrick Saunders of the Denver Post in an interview two weeks ago that the Rockies "are not a farm system for other people," indicating there's a chance Story—and other players, such as Jon Gray, Mychal Givens, and C.J. Cron—could stay put. The Rockies have also told teams that staff ace Germán Márquez, who is under a team-friendly contract through 2024, is not available.
Each of the teams interested in Story, as well as the Rockies, likely had to take a deep breath in the top of the fourth inning on Monday when the shortstop took a 97 mph fastball from Los Angeles Angels phenom Shohei Ohtani off of his left hand. Story yelled loud enough for fans all over the ballpark to hear and writhed in pain for a few minutes, but he ultimately stayed in the game.
Story isn't producing to his usual clip offensively, hitting .242/.313/.425 in 358 plate appearances entering Monday. He's been his normal solid self in the field and on the basepaths, though, and getting away from the Coors Effect might do him some good.