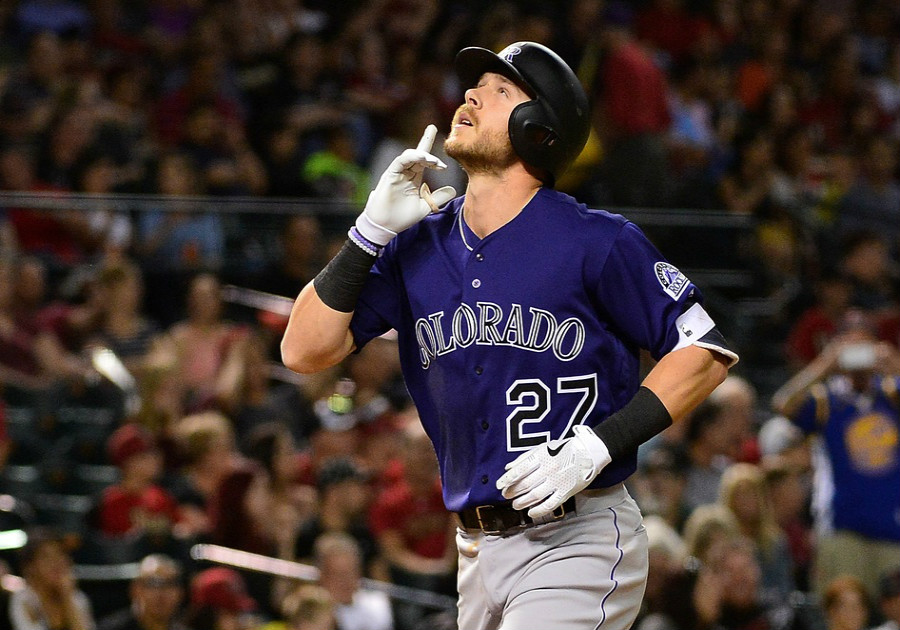 What an amazing month it was for Colorado Rockies shortstop Trevor Story. A month filled with many strolls around the bases has officially come to a close.
Story burst onto the scene as a rookie, currently tied with teammate Nolan Arenado for league lead in home runs (10).
Come the end of the month, Story tied Jose Abreu's record for most homeruns by a rookie in April. A few off-days here and there limited the opportunities Story had to break the record, but it does not mean much to him. He's focused on winning baseball games, not breaking records.
ICYMI: More hiSTORY!

Last night Trevor Story tied the @MLB rookie record for home runs in April.https://t.co/fiRM0X9mIS

— Colorado Rockies (@Rockies) April 30, 2016
As a whole, Story finished April with a batting average of .261, 10 homeruns and 20 RBIs, showing he can hit both for power and contact.
Really, the only alarming part of Story's game was the amount of times he struck out. He's been K'd 37 times this season, second most in all of baseball. If that's the one negative in this rookie's other-worldly start, though, I think Rockies fans will take it.
The offensive and defensive potential is through the roof with this kid, and if he continues to work on his defensive game and cut down on the strikeouts, the sky is the limit.
He is a fan favorite and is well on his way to solidifying himself as the face of the Colorado franchise alongside Arenado and Gonzalez.
There are a lot of different ways the Rockies can continue to develop the kid; however, if the month of April showed anything, it showed that the kid is the real deal.
Story does strike out a lot, but he does make a lot of contact, and when he makes contact, the ball flies.
Over the course of his first month, Story has put together a number of solid and lengthy at bats, driving up pitch counts and exposing himself to different scenarios.
He's still learning the ins and outs of the game, but the fact that he has shown so much success early is an extremely positive sign.
If all goes well, we'll be watching this kid for a long time coming.