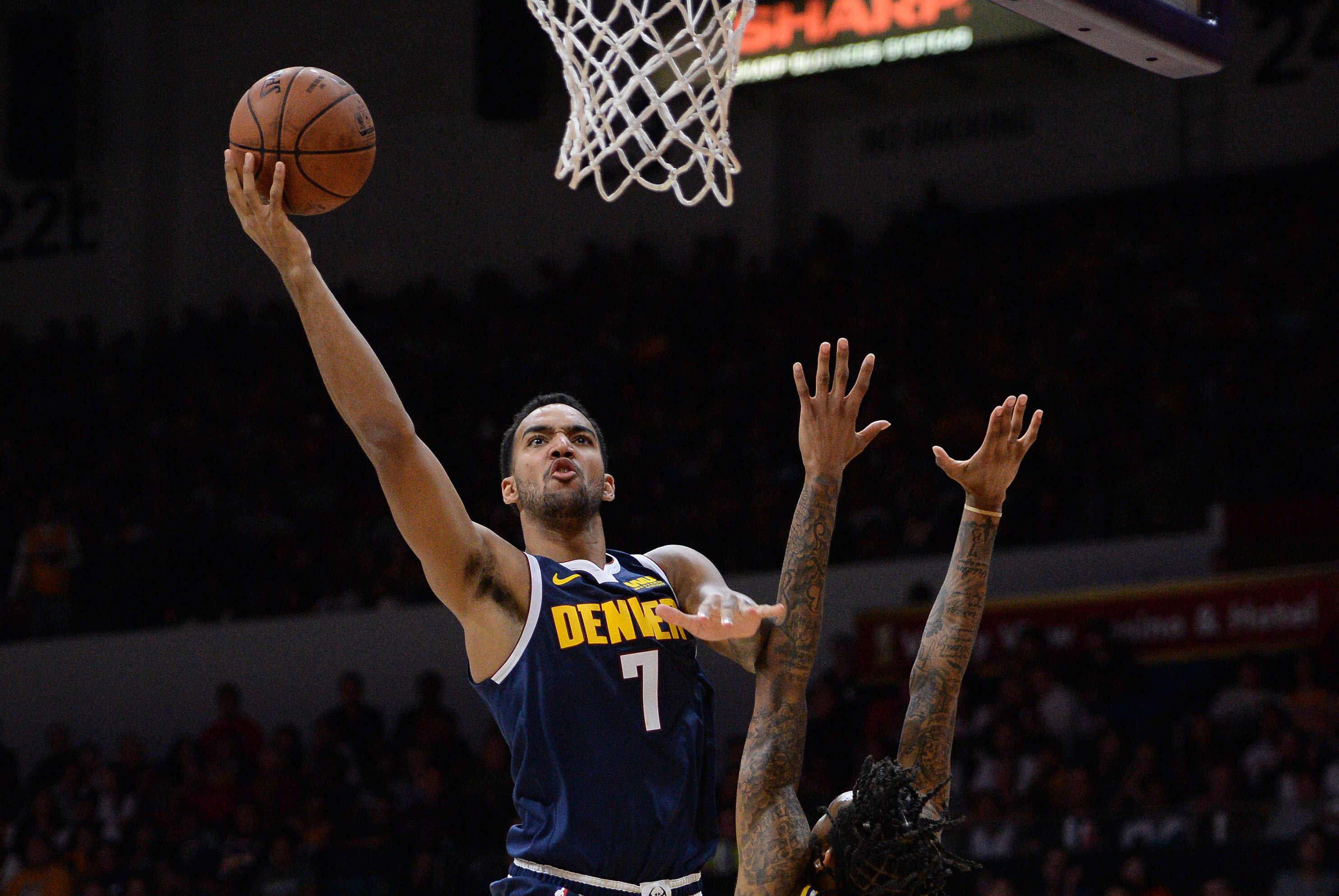 The Denver Nuggets bench unit struggled throughout the majority of last year, but looking ahead to the 2018-19 season, it seems as if Denver has the ability not to just improve their second unit, but weaponize it. That transformation starts with the ascension of Trey Lyles.
Lyles is arguably the most dynamic offensive threat of the Nuggets reserve players and, if Nuggets head coach Michael Malone can actualize his talent, Denver has a recipe to create one of the better bench units in the National Basketball Association. That is why Malone and president of basketball operations Tim Connelly have spoken about the potential for Lyles to not just play as a power forward or center, but at small forward as well.
When Lyles gets more consistent minutes, he produces at a high level. Last year, when Lyles played 20-or-more minutes, he averaged 14.6 points, 6.4 rebounds, and 1.7 assists per game while shooting a scalding hot 51.2 percent from the field and 41.3 percent from three-point distance. That is why Denver is looking to play him more at small forward this year. It allows Lyles to get into a rhythm, which is something that he values greatly.
"When you know that you are getting a certain amount of minutes, it helps you out a lot from a mindset state to being able to go onto the floor and know when you are going in and when you are coming out," Lyles told Mile High Sports at media day. "It helps out a lot for a player."
Now that Lyles is getting more playing time, his confidence is growing at a rapid rate. Throughout training camp, Lyles has been used in a plethora of different ways as the Nuggets coaching staff continues to look for avenues to unlock his skill set even more. Because of the extra reps that Lyles has been receiving, he has found rhythm and it has shown in the first two preseason games of the year. So far, Lyles is averaging 13 points, six rebounds, and five assists in 20.3 minutes per game and he has looked much more assertive than in years past.
"I feel confident in being able to go off the bounce, post up, or shoot," Lyles said after beating the Los Angeles Lakers in Staples Center. "It doesn't matter. I can score from anywhere on the floor. I am really just trying to take what the defense gives me at that moment."
Lyles is a dynamic offensive talent and now that he is getting even more comfortable, his skill set is beginning to shine like never before. Lyles can score from anywhere on the floor while also creating for his teammates. He can hit catch-and-shoot three-pointers with ease, which is important because the rest of his offensive game blossoms once he begins hitting shots from three-point distance. Once his shot starts to fall, defenders have to close out harder on him. That is when Lyles is able to attack closeouts and create plays off the dribble using his athleticism and above-average handles. Once the defense collapses on him as he drives into the paint, Lyles has the court vision to make plays for others and operate as a facilitator. If defenses try to switch when defending him, he can take smaller defenders into the post and bully them, but if he has a bigger and slower opponent on him, he can use his shooting ability and quickness to still produce. For every defensive scheme thrown at Lyles, he has at least one skill that he can use to exploit whoever is defending him. That is what makes Lyles such an ideal fit for Denver off of the bench.
"I am just being aggressive I think," Lyles said. "I am looking for my shot early which causes the defense to collapse towards me which leaves my teammates open. I have good enough court vision to find them."
Now, after one year with the Nuggets and a full training camp, Denver's coaching staff and his teammates are taking notice of how skilled Lyles is and how helpful he can be when on the floor.
"He is so skilled with the ball," Malone said. "He is a guy who can shoot the three. If they run him off, he can make the play off the bounce and he finds guys. We play through our bigs quite a bit, and Trey is a very, very skilled offensive player. I think he can play a lot of different positions for us."
"I was really comfortable playing with him last year and I thought we had some really good connecting plays in moments last year and we are just building on that," Mason Plumlee said in regards to Lyles. "He draws a lot of attention with his iso game and you've seen a lot of passes out there too."
"It is big time," Morris said when asked about what playing with a weapon like Lyles is like. "He can stretch the floor and then that is going to force them to switch. He can get the switch or I can get it back and attack the big. We can make plays on that end. With Trey at the stretch four, it is hard to guard for sure."
Lyles is accepting the pressure of being the catalyst of the Nuggets bench unit. He understands how important he is to helping Denver get back to the playoffs for the first time in five years. He has shouldered that responsibility and fully comprehends how direly needed a strong bench is for the Nuggets.
"It is really important," Lyles reiterated to Mile High Sports when asked about the importance of having a strong bench unit. "Our starting group is so powerful that when they come off, we have to make sure that we are right there and able to pick up where they left off. If one night they are not having the greatest night, we need to have that energy coming off the bench that we can sustain throughout the whole game until they come back in."
That is what Lyles has worked so hard throughout the offseason to get ready for the 2018-19 Nuggets season. He knows that there is the potential for him to fill a large role this year and he trained for that exact scenario. For the first time in Lyles' career, there is a clear path to him finally seeing consisting playing time. That was his goal entering the offseason, and it remains his goal now.
"For myself, I just want to show that I am capable, like I did last year, but more consistent with the minutes and stuff like that," Lyles told Mile High Sports. "Just show that I am one of the guys that can be relied on for this team."
Lyles can barley contain his enthusiasm headed into the 2018-19 season. After struggling through two years with the Jazz and another inconsistent season with Denver, this is finally the year where Lyles can see a light at the end of the tunnel and he is as motivated as ever to reach his goals.
"My excitement for this season is probably 100 times what it was last year and I am looking forward to it," Lyles told Mile High Sports.