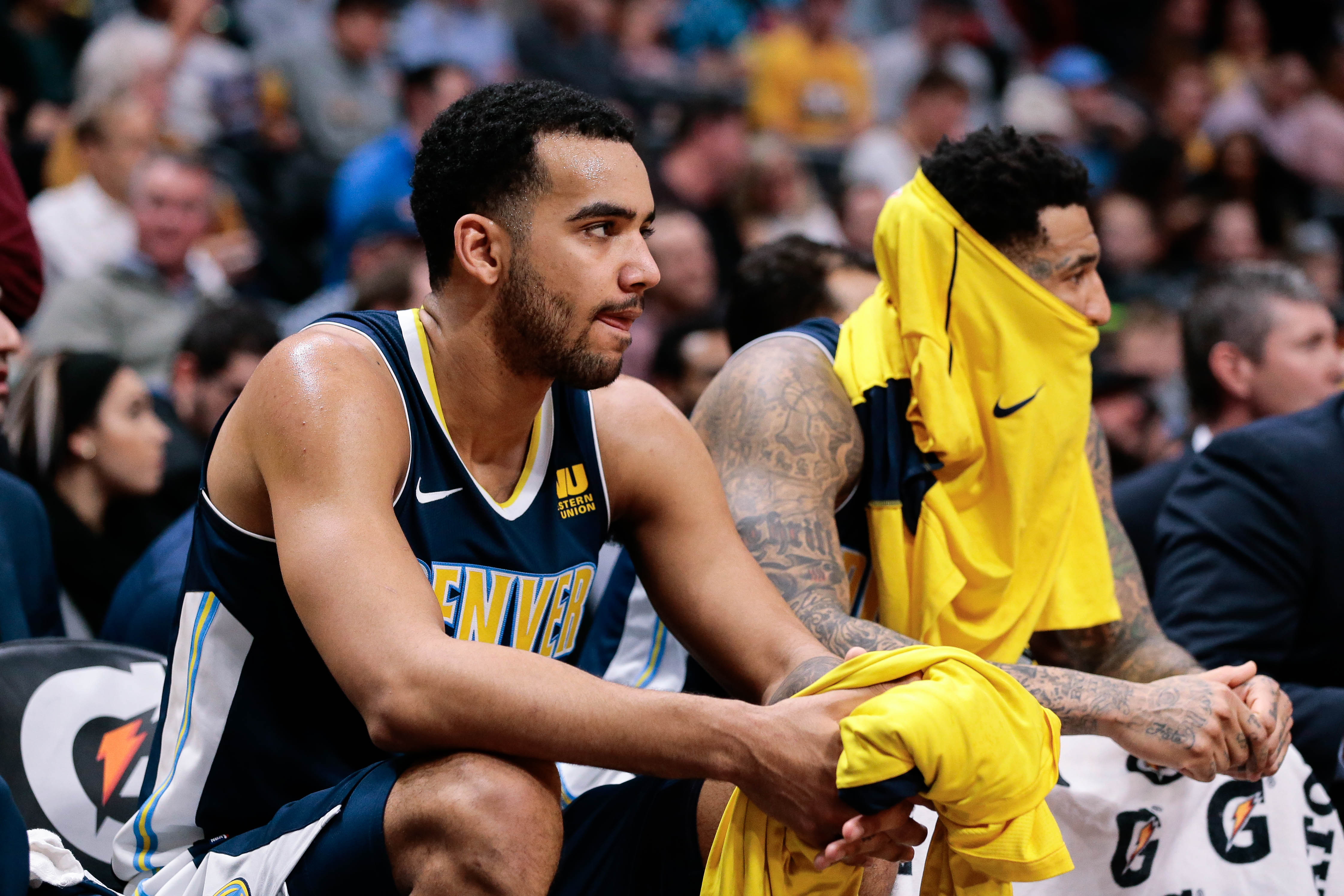 Trey Lyles just finished up a season that cannot be described by one singular adjective. Instead, it was some chaotic concoction of career-best, unpredictable, surprisingly productive, streaky, and inconsistent.
"Personally, it was up and down," Lyles explained during his exit interview. "From not playing, to playing a lot, to playing a little bit, to not playing at all. That is how it goes, but this summer I am just looking forward to getting better and making sure that next year I am paying all the time."
Lyles' minutes were as up and down as any player in all of the National Basketball Association. Just look at how his minutes and points per game fluctuated from month to month along with this three-point shooting percentage when compared to his overall field goal percentage.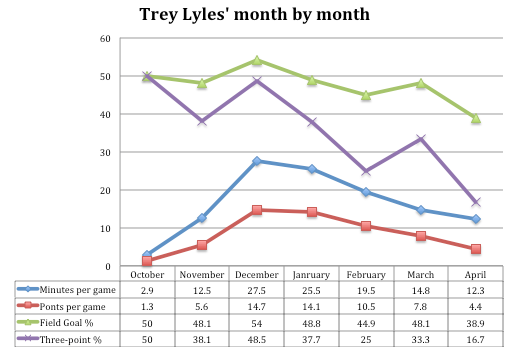 Lyles has never had the luxury of consistent playing time. He struggled to find the court going back to the first couple years of his NBA career as a member of the Utah Jazz when he dealt with injuries, veterans playing ahead of him, and a short leash when he made the typical mistakes a young player makes. In 2017-18, Lyles was finally able to receive more playing time then he has in any other year, but the outcome was still the same; erratic playing time and a lack of rhythm between his stints on the hardwood.
The one difference this year? Nuggets' head coach Michael Malone was clear, concise, and transparent throughout the entire process with Lyles. He made a point to take time to talk with Lyles and that was a massive reason as to why Lyles was able to stay ready even when he was still on the bench.
"Coach was always openly fluidly talking to me," Lyles said when explaining the chaotic year he had in terms of playing time. "We had a great relationship so I appreciated that from him. He was very upfront with it."
Lyles started the year fighting with Kenneth Faried for the few spare minutes for one of the six different power forwards on the Nuggets' roster and knew that he would have to battle for playing time from the beginning. Then, once Paul Millsap had to have his wrist surgically repaired, Lyles had his opportunity to finally prove that he can produce. In the 44 games that Millsap missed, Lyles averaged 24.6 minutes per game and produced 13 points, six rebounds, and 1.5 assists while shooting 49.8 percent from the field and a terrific 40.1 percent from three-point distance.
"I think I showed everybody that this was my best year so far without a doubt," Lyles said confidently. "I felt and still really feel comfortable on this team and I am looking forward to next season."
Now, Lyles has one goal in mind; find any and all ways to secure himself a consistent spot in Malone's rotation next season. That is where all of the motivation for Lyles comes from. You can tell from talking to him that the only thing on his mind is finally shaking the stigma that he may be more of a bust than a serviceable NBA player. Nobody expects big things from Lyles, but that does not mean that there isn't a fountain of untapped potential just waiting to be revealed. Lyles knows he has a significant amount of development left with plenty of growth to be had and he is more than willing to work for it.
"Everything. I am not perfect at anything," Lyles said when asked what he is planning on working on during the offseason.
Lyles then continued his answer with what his largest source of motivation is.
"I really want to improve in ways that make coach have to keep me on the floor," Lyles explained.
That is not to say that Lyles does not have other means of motivation. Just like everyone else on the Nuggets' 2017-18 roster, the way that the season ended left a bitter taste in Lyles' mouth. The loss in the de facto playoff game on the final day of the regular season to the Minnesota Timberwolves has also helped light Lyles' inner fire.
"I think we were the closest that we have been all year in our last seven or eight games. I think it showed on the court in our hustle and our ability to come back from deficits," Lyles explained. "I think next year guys will realize that we need to be on it from the jump. We cannot lose games that we should not lose and I think next year is going to be a total 360."
Saying that Lyles is ready to take the next step in his development is a massive understatement. Lyles is gearing up for what could be his most important offseason of his career. Lyles knows what his goals are — make the playoffs and be a consistent contributor — and left the Nuggets' media with one final vow before departing into the offseason.
"I am a competitor and I want to play," Lyles said. "Coach has his rotation and stuff like that, but next time will be different."