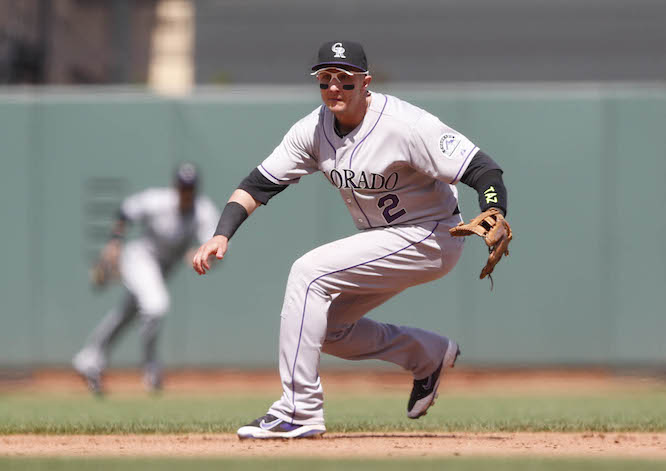 Former Colorado Rockies shortstop Troy Tulowitzki is set to make his return to Coors Field Monday night, marking the first time back in Denver since being traded away to the Toronto Blue Jays.
People are wondering what kind of reception he will get from the fans, but what should not go unnoticed is how great of a player he was during his time with the Rockies.
Kent Erickson and Benny Bash of The Big Show joined Joe Williams on the Irv and Joe Show on Mile High Sports AM 1340 | FM 104.7 to look forward to the three-game series with the Blue Jays and debate whether or not Tulowitzki is the greatest Rockie ever.
"Troy was a special person because he bridged a gap from the past and a connection to that great team that went up against Boston. He deserves a moment," Bash says.

Tulowitzki definitely deserves a spot amongst the all time greats in Rockies history that include: Andres Galarraga, Matt Holliday, Todd Helton, and Larry Walker. But Benny made it clear who he thinks is the greatest player to don the purple pinstripes.
"[Larry Walker] is the greatest Colorado Rockie we've ever had here," Bash states, emphatically. "He might be the only five-tool player the Rockies have had, Tulowitzki is close."
Numbers don't lie, and if you stack up the numbers each player produced it would have to go in favor of Walker.
Walker played 10 years with the Rockies and over that time he had a batting average of .334 with 258 home runs, 848 RBIs, and 1,361 hits. Tulowitzki on the other hand played (parts of) the same amount of years but batted .299 with 188 home runs, 657 RBIs, and 1,165 hits. Tulowitzki was a five-time All-Star compared to Walker's four
The only thing Tulowitzki has on Walker is postseason success and being able to lead the Rockies to the World Series back in 2007. Regardless, Tulowitzki deserves to be in the conversation as one of the all time best in Rockies history.
Listen to the full discussion, including whether or not the guys think fans will and should boo Tulowitzki, in the podcast below…
Catch the Irv and Joe Show every weekday from 1p-2p on Mile High Sports AM 1340 | FM 104.7 or stream live any time for the best local coverage of Colorado sports from Denver's biggest sports talk lineup.