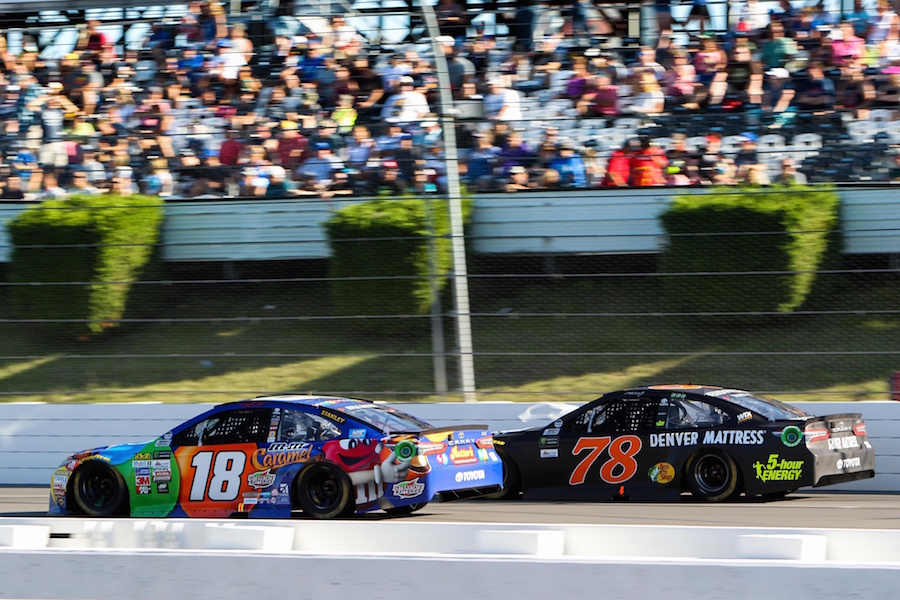 It was another top-10 outing for Furniture Row Racing with Martin Truex Jr. bringing home a third-place finish and teammate Erik Jones posting an eighth-place result in Sunday's NASCAR Cup Series race at Pocono Raceway.
Truex, who battled winner Kyle Busch for the majority of the race, lost valuable track position when his No. 78 Furniture Row/Denver Mattress Toyota got stuck in traffic after making a green flag pit stop on Lap 127 of 160. Before making the pit stop – which was his final one of the day – he was the race leader.
"We obviously lost the lead there when it cycled back around," said Truex. "Then we just kind of got hung up in lap traffic a couple times. Got hung up once with a guy pitting and lost second to the 4 car (Kevin Harvick)."
Truex, who qualified second earlier in the day, ran a strong race. He was basically positioned in the top three for the majority of the race and led twice for 31 laps.
"Nothing spectacular but definitely a solid weekend," noted Truex. "Really a good job by everybody on the team, especially the two new tire changers (John Royer and Kip Wolfmeier) who had to fill in today. I thought they did an excellent job.
"We had two good practice sessions, qualified second and finished third. We kind of battled a little bit back and forth with the handling of the car. But everybody did a really good job of staying in it. I think Kyle had the best car today."
Truex finished second in the first stage, picking up nine championship points. He was enjoying a comfortable lead in the second stage but with two laps remaining in the stage he was called to pit road for a four-tire stop. It was strategic move that other teams also employed to get track position for the final 60-lap segment.
"The thought was if we didn't pit there, we probably weren't going to have a shot at winning the race," explained Truex. "That was the gamble and it was our mindset before the race. We figured if we felt like we were good enough to possibly win the race, we'd have to pit before the end of that second stage."
Though he might have lost out on 10 points for not winning the second stage, Truex's lead in the driver standings increased by 37 points.. He leads second place Kyle Larson by 85 points with five Cup races remaining in the regular season. The driver who leads the standings at the conclusion of the 26-race regular season will pocket an additional 15 playoff points.
Rookie Erik Jones finished eighth, his sixth top-10 of the season and second straight top 10 at Pocono (he finished 3rd in the June Pocono race).
Strategy and perseverance under pressure again paid off for Jones and the No. 77 Sirius/XM Toyota team despite a loose handling race car and an equipment failure on pit road.
Jones was loose throughout the first two-thirds of the race. He finished 13th in the first 50-lap stage. In the second stage, crew chief Chris Gayle called Jones to pit road with just a couple laps remaining while running 8th. He was also playing the strategy game but unfortunately the front-tire changer's gun jammed, slowing the stop and forcing Jones back to pit road for a loose lug nut.
That put the No.77 team in 24th position to start the final stage. Jones worked his way up to 12th with 40 laps to go. Gayle kept his driver out while many of the leaders began to pit under green. Jones ran second with 20 to go before making that final stop. He dropped to 11th but picked up three positions to take the checkered flag in 8th.
"It was okay, just up and down," said Jones. Just needed track position most of the day. We had a loose wheel and that put us way behind. Just had to work back from that. The SiriusXM Camry had good speed, but just the handling wasn't great all day – rear grip really. We made some adjustments throughout the day and just have to keep working at it."
The Overton's 400 top-10 finishing order was: Kyle Busch, Kevin Harvick, Martin Truex, Denny Hamlin, Brad Keselowski, Clint Bowyer, Daniel Suarez, Erik Jones, Matt Kenseth and Chase Elliott.
There were 16 lead changes among nine drivers and five cautions for 21 laps.
The next race is Sunday Aug. 6 at the Watkins Glen (N.Y.) International road course.