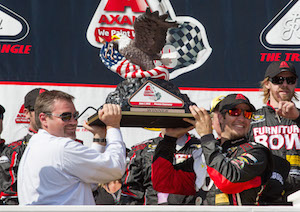 It had been 217 combined races since Martin Truex Jr. or Denver-based Furniture Row Racing had experienced the sweet sense of victory that only a checkered flag in a NASCAR Sprint Cup Series race can provide. After Sunday's victory at Pocono Raceway, they're convinced it won't be that long again before both sides are back in the winner's circle.
Martin Truex, Jr. crosses the finish line in the Denver Mattress Chevrolet at Pocono Racew… http://t.co/PrP5v5BjjI pic.twitter.com/0dqDqNzctK

— Furniture Row Racing (@FR78Racing) June 7, 2015
Despite not running a victory lap since 2013 for Truex and 2011 for Furniture Row Racing, the team has been having a very successful 2015 and currently sits seconding the standings, trailing only defending champ Kevin Harvick.
Truex currently ranks second in average finish at 7.9 and is the only driver, along with Harvick, to record 13 top-ten finishes to this point in the season, according to ESPN. Sunday's win was the fourth consecutive race in which the No. 78 car has led the most laps, being in front of the pack for 97 of 160 including that all-important last lap.
As the Sprint Cup Series season picks up steam, Truex feels confident about his team's chances.
"Right now they're as good as anyone's out there," Truex said after the race. "Look what we've done the last four weeks. We've went head-to-head with the big guys, the 48 and the 4 (Jimmie Johnson and Harvick), who have been the guys to beat for a year and a half. The 48 has been the guy to beat for seven, eight years. We've been right there with them, toe-to-toe. I think we're still growing. We're still getting better. I'm just excited to be a part of it, to see what we can do. I know we're going to work hard, as hard or harder than anybody out there. It's pretty cool to see what a single-car team from Denver is doing, and it's awesome to be a part of that."
In an interesting connection, Kurt Busch, Furniture Row's last driver before Truex, was on the pole Sunday at Pocono. Busch left Furniture Row for Stewart-Hass Racing after the 2013 season after posting 11 top-fives and 16 top-tens.
Truex led only one lap during all of 2014, posting just one top-five and five top-tens. Now, the team appears primed to make a run at the Sprint Cup – a rare opportunity for a single-car team.