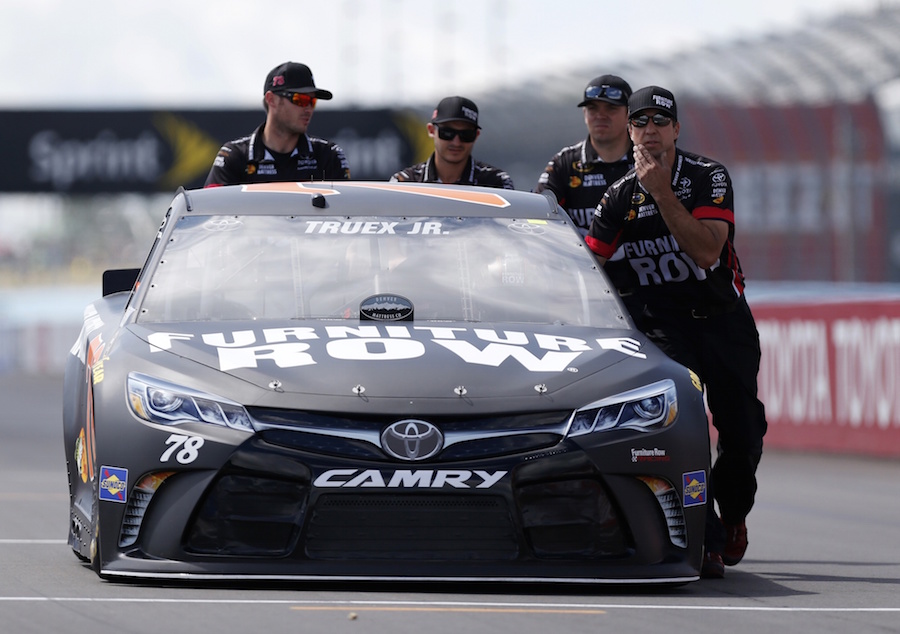 An errant move by another driver slowed Martin Truex Jr. on his qualifying lap Saturday, and the end result for the Furniture Row Racing driver was a 14th-place starting position for Sunday's Sprint Cup Series road race at Watkins Glen International in central New York.
"We were looking to win the pole after being the fastest yesterday during qualifying trim practice," said Truex. "I am on my money lap today and then out of nowhere the No. 17 (Ricky Stenhouse Jr.) exits pit road and gets in my way. I had no choice but to slow in order to miss him. That cost us a lot of time and a chance to advance to the pole shootout round of 12. I don't understand what the 17 (Ricky Stenhouse Jr.) was thinking. He was just leaving pit road and wasn't in a hurry to get anywhere. It doesn't make a whole lot of sense why he would've done what he did except for the fact that he just wasn't paying attention. It's a shame. We still almost made the final round. I don't know what you can do about it. Our car is fabulous and the guys have done a great job all weekend."
Truex, who will start Sunday's 90 lapper on the outside of Row 7, recorded an elapsed time/speed of 70.578 seconds at 124.968 miles per hour.
The qualifying session format called for two rounds with the 12 fastest from the first round advancing to the final round.
The pole winner was Carl Edwards (69.689 at 126.562). Rounding out the top-12 in order were: Kyle Larson, Tony Stewart, Matt Kenseth, Kyle Busch, Denny Hamlin, Joey Logano, Ryan Newman, AJ Allmendinger, Jamie McMurray, Michael McDowell and Brad Keselowski.