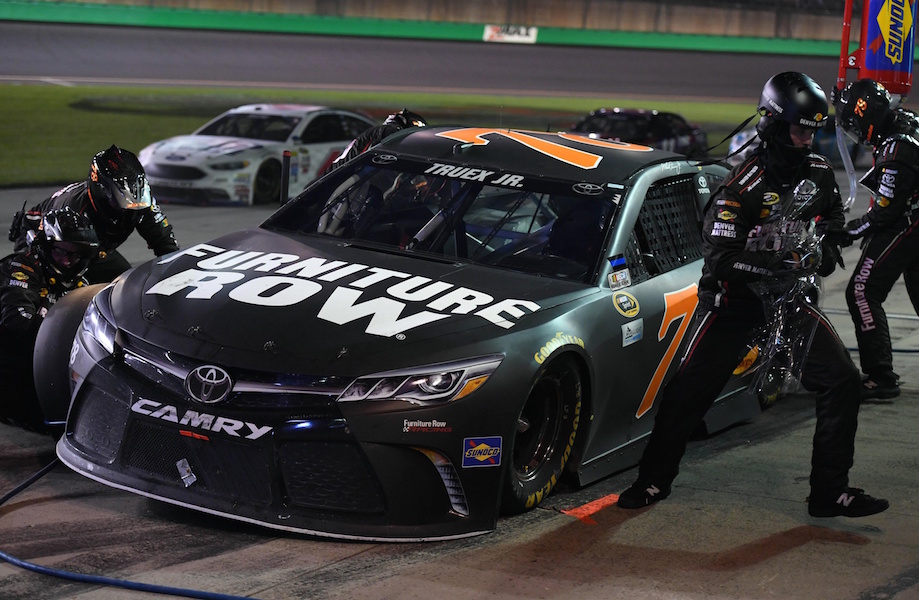 Martin Truex Jr. qualified second and his Furniture Row Racing teammate Erik Jones qualified 10th for Sunday's Bojangles' Southern 500 at Darlington Raceway.
Truex Jr. will line up his No. 78 Bass Pro Shops/TRACKER Boats 40th Anniversary Toyota on the outside of Row 1 after a pole-round lap of 27.771 seconds at 177.077 mph on the 1.333-mile egg-shaped oval. His lap was 0.102-of-a-second slower than pole winner Kevin Harvick's lap of 27.669 at 177.730.
It was the seventh time in 25 races this season that Truex Jr. has qualified in the No. 2 position. The Southern 500 qualifying effort lowers his qualifying position average to a series-best 7.0.
"That was definitely a good, successful qualifying session for us," said Truex Jr. "We thought we were off a little bit the first round then just kept working on the car and kind of adjusted the driving style a little throughout all three rounds and we ended up second. So seems like we've been second a lot this year and it's been a good number for us and hopefully it'll be a good one tomorrow night."
Jones will line up the No. 77 5-hour ENERGY Toyota on the outside of Row 5 after a pole-round lap of 28.036 at 175.403. It's the 11th time the NASCAR Cup Series rookie has qualified in the Top 10 and comes on the heels of his first series pole two weeks ago at Bristol (Tenn.) Motor Speedway.
"We were too free in the first round and the second round it was really good – I was really happy with it," said Jones. "Just didn't make quite a big enough adjustment for the last round, so still a top-10 starting spot. Plenty of time to get through 500 miles, so we'll be just fine."
After Harvick and Truex, Jr., the balance of the top-12 qualifiers, in order, were: Kyle Busch, Kyle Larson, Jamie McMurray, Brad Keselowski, Kurt Busch, Joey Logano, Denny Hamlin, Jones, Matt Kenseth and Ryan Blaney.
Sunday's Bojangles' Southern 500 is scheduled to air live beginning at 4 p.m. MT (6 p.m. ET) on NBCSN, SiriusXM NASCAR Radio Channel 90 and MRN.