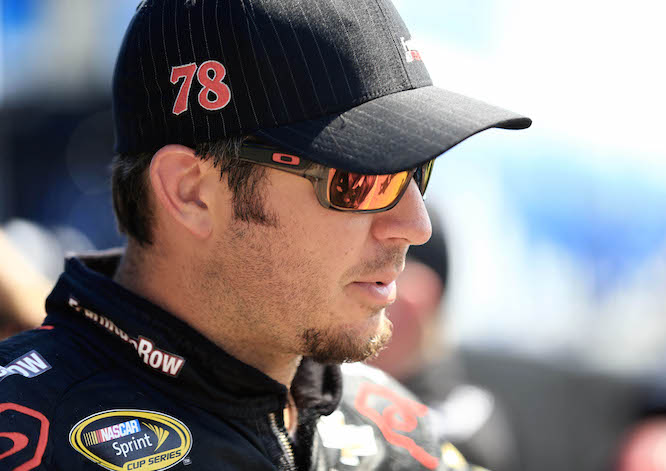 Martin Truex Jr. moved up 19 places in the field at Michigan International Speedway on Sunday, the biggest improvement of any top-ten finisher, to secure a third place finish and regain a spot within the top five in the NASCAR Sprint Cup standings.
Truex and the Furniture Row Racing team finally saw a series of bad breaks that has stretched out over nearly a month come to an end. The team earned a valuable 41 points with the finish, good enough to leapfrog Brad Keselowski and knock six-time Sprint Cup champion Jimmy Johnson back into sixth place. Truex is now 29 points behind third-place Dale Earnhardt Jr., 63 points behind Joey Logano in second position, and 111 points behind leader Kevin Harvick who picked up two points on Truex in Michigan, finishing second.
Matt Kenseth dominated at Michigan, starting in the pole position and leading 146 of 200 laps, but it was Truex who might have had the most impressive race. After looking impressive in practice laps pacing Saturday's scorchingly hot 55-minute final practice with a lap of 37.553 seconds at 191.729 miles per hour, according to FOX Sports. High temperatures on Friday and Saturday prevented many teams from running at the speeds they had hoped to attain, thus pushing Truex back in the pack. His top speed in the final practice was a full three seconds slower than the fast lap Kevin Harvick put up in the morning's opening sessions Saturday.
Nevertheless, Truex and his team had a great race when it mattered. Truex told FOX Sports he fought track position all day.
"I felt like we were maybe as good as the 20 (Kenseth) — close at least," said Truex. "It would have been nice to see if we could have fought it out with him."
Truex is is great position heading into the Chase for the Sprint Cup, which kicks off in just over a month. The Furniture Row team will go for its second win on the season on Saturday under the lights at Bristol Motor Speedway.