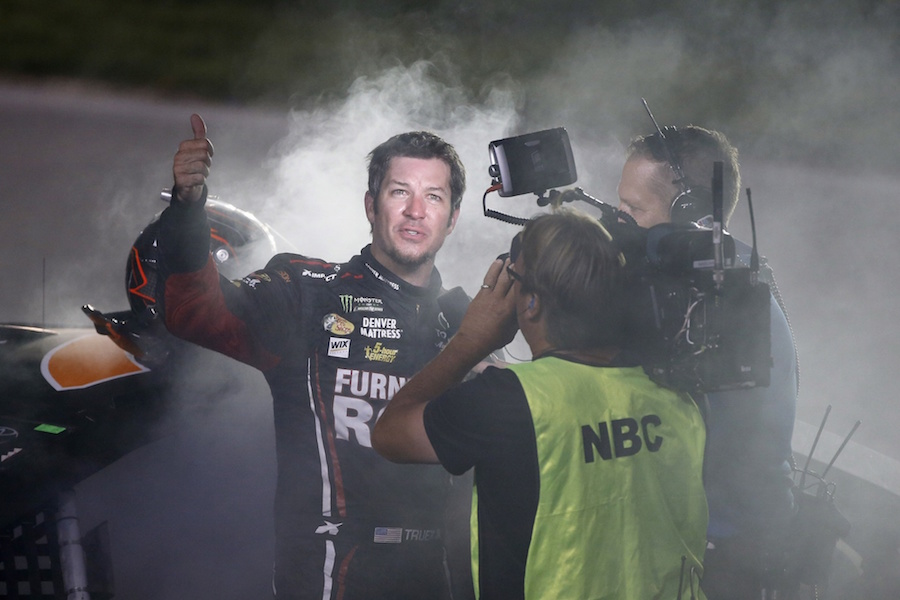 After scoring his third win of the season in Kentucky last Saturday, an elated Martin Truex Jr. mentioned that his Furniture Row Racing team is overdue at New Hampshire Motor Speedway, site of Sunday's Overton's 301 NASCAR Cup Series race.
The Furniture Row Racing driver has been part of a winning family tradition at the New England 1-mile oval by scoring wins in the NASCAR Xfinity Series and the K&N Pro Series. His father (Martin Truex) won in the former Busch East Series and brother (Ryan) scored victories in the K&N Pro Series.
But what has eluded Truex Jr. is a Cup victory at the adopted Truex family home track.  He came close twice last year. In the summer race he led five times for 123 laps and challenged for the lead until a broken shifter late in the race relegated him to a 16th-place finish.
In the fall race, he led a race high of 141 laps and was running a close second to Matt Kenseth with 14 laps remaining. But when two ensuing cautions were called Truex couldn't get up to speed on worn out tires and settled for a seventh-place finish.
"They say you have to lose them before you win them, and if that's the case then we are due in New Hampshire," said Truex. "That track will always be a special place for the Truex family, and I would like to add to it with a victory on Sunday in our No. 78 WIX Filters Toyota."
With the debut of the WIX Filters paint scheme on Truex's Camry, the Furniture Row Racing driver enters the New Hampshire race as the hottest driver on the circuit.
His dominating performance of a 15-second lead in Kentucky was just another indication of the kind of season Truex is enjoying.
His 13 stage wins is nine more than the nearest competitor. He leads in playoff bonus points with 28 and is tied with Jimmie Johnson for most overall wins at three. Truex also leads the series in laps led (1,115), average running positon (8.3), fastest laps (626), and driver rating (105.9).
Truex moved into first place in the overall driver point standings after NASCAR assessed a 35-point penalty late Wednesday to Kyle Larson's No. 42 team for a rear brake cooling assembly that didn't meet standards during last Saturday's race in Kentucky. Truex, who trailed Larson by one point after winning in Kentucky, now leads Larson by 34 points.
"Yeah, it feels good to have those bonus points," said Truex. "We're going to try to get as many as we can. We know they're going to be important. We could have used a handful of them last year to get through Talladega, so we'll try to keep racking them up."
When asked after the Kentucky win about the team's success this season, crew chief Cole Pearn and Truex expressed their opinions.
Pearn, who has guided Truex to eight Cup wins, said the team's qualifying effort has played a big role. Take away the two Daytona starts of 35th and 25th, Truex's average starting position is 5.1.
Truex had a more in-depth take on the team's success.
"Without the right team, without the right people around you, it's hard to be successful, so I'm very thankful for the guys I have and what we have going on right now," said Truex. "Heck, I've been on the other side of it. Five years ago, I thought my career was over. I've been fortunate to have an awesome bunch of people around me from top to bottom. You can have all the money in the world and all the best equipment, and if you don't have the right guys together and the right driver together, it's not going to be successful."