Troy Tulowitzki said he would prove his worth for the All-Star game on the field. The four-time All-Star remains on the outside looking in for the 2015 Midsummer Classic, despite leading shortstops in numerous offensive categories and ranking in the top five in the National League in batting.
On Tuesday Tulowitzki had multiple opportunities against the Los Angeles Angels to put his play where his mouth is, delivering on one of those but stranding multiple baserunners elsewhere.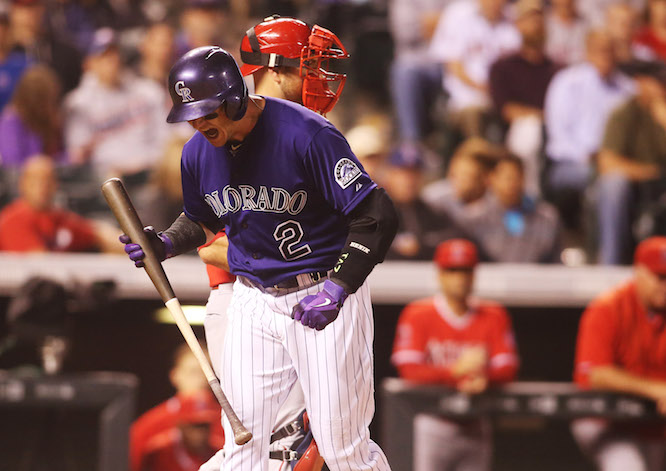 Tulowitzki extended his Major League-leading hitting streak to 19 games with an RBI single in the sixth, but he failed to deliver multiple times with runners on base in a very lopsided game that saw the Angels belt four home runs in the first three innings.
Already down 3-0 in the bottom of the first, Tulowitzki grounded into an inning-ending double play after newly-minted All-Star D.J. LeMahieu lined a single to right field. Tulowitzki popped out to second to lead off the fourth inning.
His sixth inning RBI single extended not only his hitting streak, but also his consecutive games on-base streak, which now stands at 34 games.
Tulowitzki's best chance to show his worth came in the eighth inning when he came to the plate with two on and one out. Though down 10-2 at the time, Colorado had finally chased starter Andrew Heaney from the game and held on to a slim hope for some late-inning magic at Coors Field. Instead, Tulowitzki struck out swinging after being up 0-2 in the count. Visibly upset, Tulowitzki left the batters box cursing himself for failing to deliver in the clutch.
Nolan Arenado sent a fly ball to right field to end the threat and any real hope of a comeback.
All-Stars Mike Trout and Albert Pujols were among the Angels that homered off Rockies starter Chad Bettis, who allowed 1o earned runs in 2.1 innings pitched – his worst outing of the year by far. Former Rockie Chris Iannetta and Matt Joyce also homered.
Colorado faces Los Angeles Wednesday, hoping to salvage at least one win from the interleague series with the Angels. Colorado is currently 0-3 against L.A.
Chris Rusin (3-3) faces Matt Shoemaker (4-7), first pitch is 6:40 p.m. MDT from Coors Field.