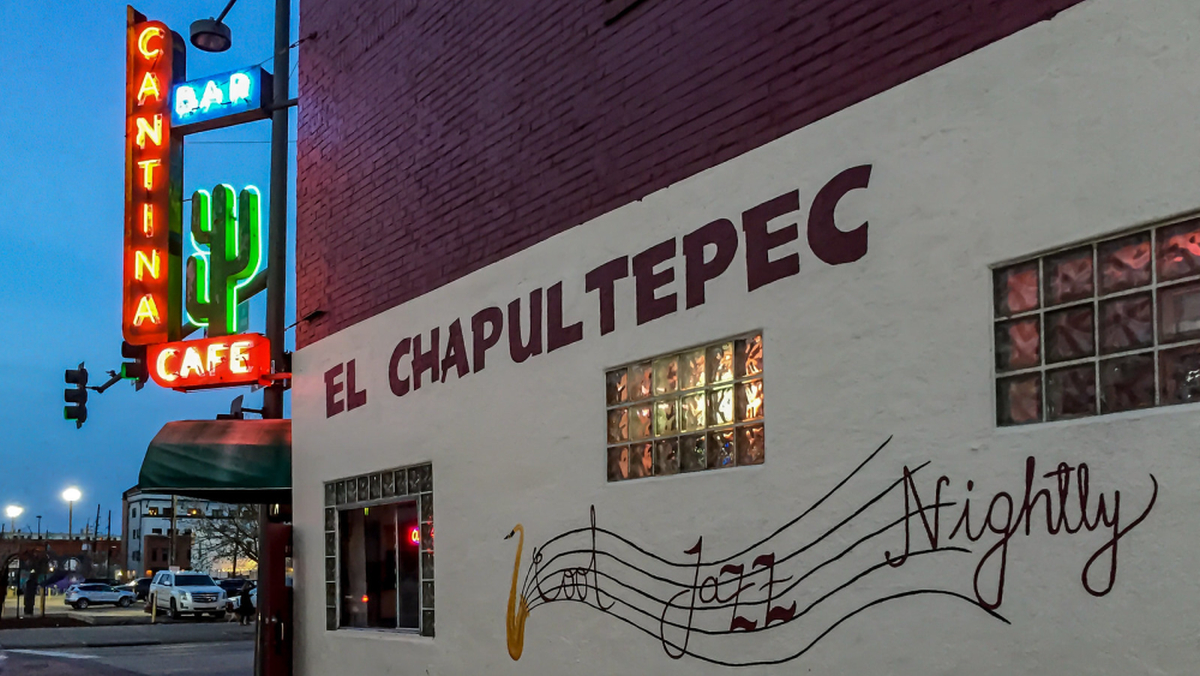 (Photo courtesy of KUVO)
Chances are you walked past El Chapultepec on your way to Coors Field. Sitting just a baseball's throw away from the main entrance of where the Rockies play, the Pec was one of the last old school Denver institutions that had withstood the ravages of an ever-changing city. And with its closure, another piece of Denver history fades away like the Rockies playoff hopes in late June.
El Chapultepec was around for 87 years. Way longer than Ian Desmond's contract, and another signal that the Denver we once knew is no more. Jack Kerouac hung out there. Bill Clinton jammed on its tiny stage while he was running for President. Countless musicians and celebrities enjoyed this hidden gem which would end up sitting right at ground zero of a lower downtown Denver renaissance. But as Coors Field made that once rough-hewn part of town flourish, places like the Pec lost their power year by year.
Nothing stays the same forever. And sports fans have lost their fair share too.
If you stomped on the metal flooring in the stands at old Mile High you remember how loud it got and how it just isn't quite the same at the new place. Empower Field at Mile High is very nice and when you walk up the east side of the stadium, the view of downtown is superb. But with new stadiums come new corporate seating and the vibe just isn't the same. Of course the Broncos have now won a Super Bowl while at its new home, but can you imagine the noise at the old Mile High when the Broncos beat the Pats in the 2015 AFC title game? Memories relegated to the dustbin of history.
I saw some Rockies games at Mile High but the only memory I have of going there is taking a few people to a game with my family's season tickets. I got really high in the parking lot and realized the tickets were for the next day. We said screw it, and went forward anyway. Lucky for us, the ticketing systems not being as sophisticated as they have now, was just a half blind old lady who took a glance at them and waved us in. We sat way up top where it was empty to avoid getting found out. Simpler times.
I saw U2 play at Mcnichols arena in 1985. And the Who in 96. You don't have to tell me I'm old. I know. I never saw the Nuggets play there but I did see the Avs in their first season and the Denver Grizzlies the year prior to the Avs arrival. It was old school and a crucial slice of Denver history. Maybe Ball Arena (RIP Pepsi Center), now old enough to drink, has that same allure for people who first went there when they were kids, but it's hard to compare the two when one still seems brand new.
I watched Coors Field being built and the neighborhood around it change. I used to park for work in a lot that I think is still there, and I'd eat my lunch in my truck and watch the progress. I had no idea the ballpark would change Denver like it did, and I'm mostly grateful for it. But I miss the days of ample parking, cheap drinks and wide open streets. I'm not one to lament change. I embrace and expect change. And the ballpark neighborhood has gone from a place you wouldn't wander too far 25 years ago (maybe that hasn't changed?), to a vibrant remora to Coors Field's shark. It's always agreeable to have something stay the same and for the most part the neighborhood has kept a lot of the original structures which has retained some of the flavor. The heinous condos constructed just beyond the stadium are another story.
Luckily the building that houses El Chapultepec was designated a historic landmark so the structure and its recognizable cactus sign will remain. So even when Dick Monfort buys it and adds on three stories to make it a Cubs/Cardinals/Brewers sports bar to welcome transplant fans, you can at least walk by and remember what it was like when things didn't fully suck.
You know what doesn't suck? Gambling on football. Let's go. Here's my picks for this weekend:
Titans @ Jags +7
The Titans smoked the Colts and then got smoked by the Browns the next week so who knows what team is showing up this week. What I do know is the Jags, despite their record showing them as bad, hang in with most of their opponents. It worked last week, so take the Jags and the points. Derrick Henry had an off game last week, so if any props bets about his rushing totals look good, hop on it.
Cowboys @ Cincy -3.5 o/u 42.5
The Cowboys and Zeke Elliott looked better than they have in weeks but then they just kind of checked out when it mattered. I don't think they do that against a Bengals team that is trotting out Ryan Finley who couldn't take the job from Brandon Allen. If they don't win by the 3.5, you can officially leave them of your Christmas card list.
Super Parlay:
Seahawks (-715), Bucs (-295), Packers (-400), Cowboys (-190), Saints (-305)
The Seahawks drag this down a bit but the Cowboys make up for it as it settles in with nice +288 odds.
Chargers v Atlanta ML +125 o/u 49.5
The Chargers seem bad but they are not. They're a good team that I think is coached poorly which is hard to overcome. But they got absolutely embarrassed last week by the kind of bad Patriots so I think they play with some pride this week and take out an equally mediocre Falcons team. It should also be high scoring so parlay that with the over and you've got a recipe for a good time.
Broncos @ Carolina +3.5 o/u 46
No Mcaffrey, no problem, right? The Broncos played the Chiefs pretty tough and Teddy Bridgewater is no Pat Mahomes. The Broncos should at least keep this close if not win. And I like the over hitting as well.