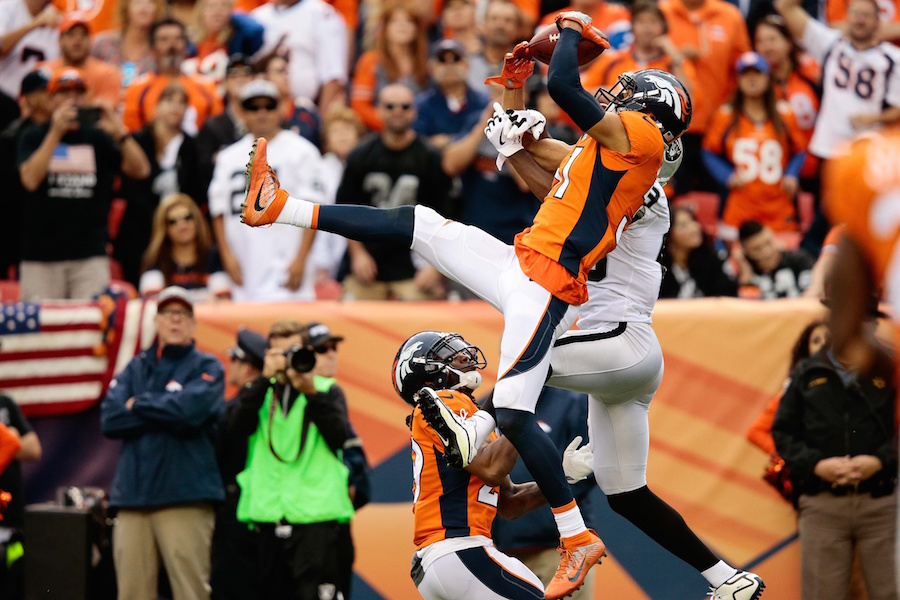 The otherwise-dominant Broncos defense is having issues creating turnovers, and with them, opportunities for their scuffling offense.
After six games, the 'No-Fly Zone' has only managed to intercept four balls and have no fumble recoveries. When added together with turnovers the Broncos' offense have surrendered, the team sits at a minus-eight differential, putting them 29th in the league in both total takeaways and differential.
The Broncos' defense also haven't recovered a single fumble, making them one of three teams to have not done so this season.
"We have to create turnovers," said linebacker Von Miller. "We obviously have to get turnovers and we have to create a short field for our offense. We have to make plays. We have playmakers all across the field, and we have to get them to make plays on defense to put our offense in a better position."
The lack of turnovers is definitely not the biggest contributor to the team's offensive struggles, but being unable to take the ball away has definitely lowered the Broncos' chances at winning. In fact, the Broncos have lost every game this season in which the defense hasn't gotten a turnover.
"The problem is a tough problem to solve, because there are so many ways to get turnovers, and we are not getting any of them," Miller said.
The Broncos have had two straight golden opportunities to correct the issue, facing Giants quarterback Eli Manning and Chargers quarterback Philip Rivers. Both quarterbacks have given up five interceptions this season, putting them both in the top 10 for giveaways.
However, the Broncos allowed both opportunities to slip by, snaring no interceptions in either game. Now, the Broncos have to face Chiefs quarterback Alex Smith, Eagles quarterback Carson Wentz, and Patriots quarterback Tom Brady, who combine for five interceptions total, placing all three near the top of the list when it comes to protecting the ball.
"Once they were up, they just played super-safe, and it's hard for us to be good at what we're good at," said linebacker Shaquil Barrett. "We're good at getting turnovers [and] sacking the quarterback, [and] we can't do any of that if they're playing safe."
The Broncos are far off pace from the 2016 season when it comes to turnovers. At their current rate, the Broncos would only manage between 10 and 11 turnovers this season, which is underwhelming compared to 2016, when Denver managed 27 turnovers, good enough for seventh in the league.
The Broncos are going to have to find a way to force interceptions or fumbles against three of the top quarterbacks in the league, especially if they want a shot at winning one of those games. The Broncos start facing those tough quarterbacks by facing Smith and the first-place Chiefs on Monday night in Kansas City.