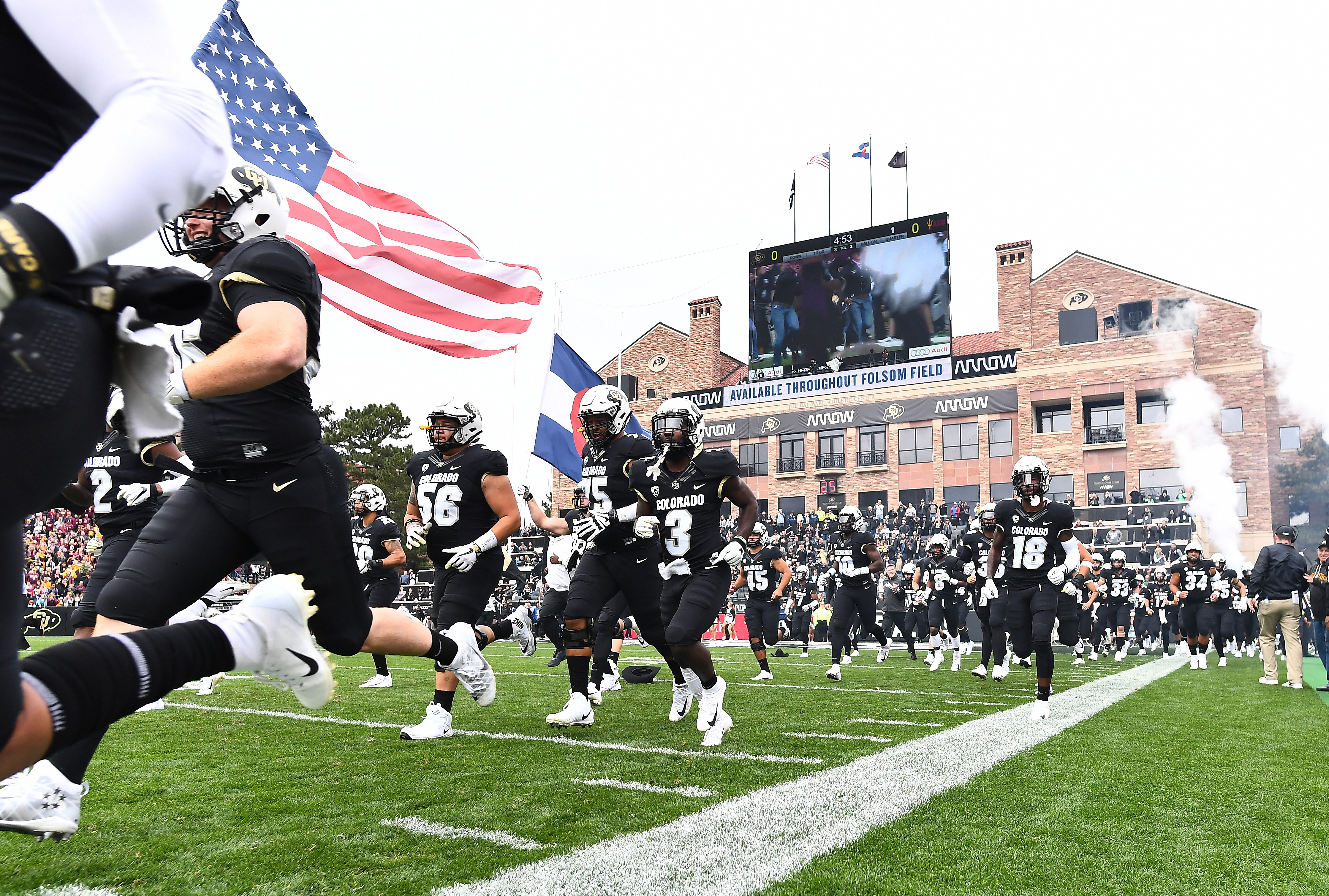 The news late Tuesday night that Mel Tucker would be taking the head coaching job at Michigan State came as a surprise to many. This morning, University of Colorado athletic director Rick George confirmed that Tucker would resign effective immediately.
And now the work begins to replace him.
Our search for our next head coach has begun. We're excited about our current team and we are confident our program is on a trajectory to compete at the highest level. #GoBuffs https://t.co/HC2akBzoEy

— Rick George (@RickGeorgeCU) February 12, 2020
There is some continuity in the coaching staff that extends past Tucker's year as head coach. Darren Chiaverini has been coaching at Colorado since 2016 and has been very vocal in his commitment to the program. His energy and positive attitude are no doubt a huge asset in the recruiting process.
The Pride and Tradition of the Colorado Buffaloes will not be entrusted to the timid or the weak!! Shoulder to Shoulder we will fight for our brothers next to us!! Buff Nation stay strong and stay together 💯🔥🔥🔥🔥🔥🔥🔥🔥🔥🔥🔥🔥🔥

— Darrin Chiaverini (@CoachChev6) February 12, 2020
"Stay strong and stay together" – from the assistant head coach before 5:00 AM on a Wednesday in the offseason.
Came to Boulder Colorado when I was 17 years old!! There is not a better University in the country than the University of Colorado!! We are building something Buff Nation will be proud of!! To our 2020 class and our current players stand Shoulder to Shoulder and know we're Rising

— Darrin Chiaverini (@CoachChev6) February 12, 2020
His importance to the program is recognized by many, with one former Buff and Bronco, Matt McChesney, calling for Chiaverini to be promoted to the head coaching position.
PROMOTE @CoachChev6 TO HC RIGHT NOW @CUBuffsFootball @RickGeorgeCU! It's time!

— CoachMcChesney • FB Development • CFBRecruiting (@SixZeroAcademy) February 12, 2020
Chiaverini then was promoted to interim head coach while the next more permanent head coach is searched for.
Darian Hagan has been a member of the CU football staff for a total of 15 years. Five years twice as a running backs coach under different head coaches and also in player personnel and player development director roles. Hagan was also a key player in the late 1980s for the Buffaloes.
Colorado Legends: Darian Hagan ⏪

True Athlete. Coach. CU through & through.

We take a look back at @DarianLH3's career as a Buff. pic.twitter.com/nozuqxoXTf

— Colorado Buffaloes Football (@CUBuffsFootball) February 11, 2020
As the situation breathes and the dust settles, Rick George will have a tough decision to make at a point in the offseason when most coaching vacancies are already filled. Still, there is no lack of faith in the AD to bring a quality group of candidates in to pick the next head coach.
Buffs fans, the only silver lining is that Rick George knows how to get it done. This man is good at his job! https://t.co/1euyjHs08R

— Tyler Polumbus (@Tyler_Polumbus) February 12, 2020
It's really about the players though, isn't it? This is about the teenagers and young adults making a difficult decision about where to spend the next several years of their lives. Or the players who have already seen one coach leave in Mike MacIntyre, and now another come and go in just one season.
There is a feeling of betrayal among these student athletes, whether they signed a week ago, a year ago, whenever.
Running back Jaren Mangham was quick to share his thoughts.
I stopped believing in a mans words a long time ago… not gone change my goals and aspirations #GodBless #GoBuffs

— Mang🖤 (@JarenMangham) February 12, 2020
Highly recruited incoming freshman Ashaad Clayton, who may be joining Mangham in the backfield in this year or the next, added:
I hate being lied to..

— ً (@shaad210) February 12, 2020
Another recent signee, Texas safety Christian Gonzalez, reaffirmed his commitment.
Im not going anywhere else…

— Christian Gonzalez (@chrisgonzo28) February 12, 2020
Texas raised outside linebacker Devin Grant did the same.
I'm still commited to the program @CUBuffsFootball ! #skobuffs

— smooth operator 🎸 (@Devingrant028) February 12, 2020
As did defensive lineman Jordan Berry from California.
I'm still 110 % committed

— jordanberry40 (@jordanberry40) February 12, 2020
Texas receiver Keith Miller also.
Did all that preachin bout being solid, then you changed… I'm still on the same mission 💯 Time to get Folsom rocking 100x harder !!

— KM3 (@KeithMillerIII) February 12, 2020
Colorado native and redshirt freshman offensive lineman Jake Wiley took the news in stride.
Not the first time a coach quit on me, gotta ride with my brothers🐃💯

— Jake Wiley💰 (@Jake_Wiley14) February 12, 2020
Junior college transfer Jaylen Striker kept with the theme of his new teammates and had little to say, in a sort of disbelief.
I'm Hurt….

— Jaylen Striker (@NgStrike3) February 12, 2020
The main issue many players took with the whole situation was the way Mel Tucker handled it. They felt betrayed and lied to.
He really set down with me and my mom and granny did he really just lie to us !

— jordanberry40 (@jordanberry40) February 12, 2020
I hate !!!!! when people lie to me but more so my son !!!!!!

— shenae berry (@BerryShenae) February 12, 2020
Especially when you look me in the eye https://t.co/xs8MWWa089

— ً (@shaad210) February 12, 2020
I'm Typically The One To Stay Positive, But We Really Don't Deserve This Shit

— Mekhi C. Blackmon (@KhiBlackmon) February 12, 2020
Blackmon, an upperclassmen cornerback, is right. They don't deserve it. Tucker even said something not too long ago about the whole farce that is the transfer portal.
"No transfer portal in the real world"

— Mang🖤 (@JarenMangham) February 12, 2020
A major argument about the NCAA rules right now is that coaches can freely move between schools without adverse effects, but student athletes wishing to change schools have to sit out a year.
Yet, the NCAA is concerned about player transfers and "poaching." Tucker was under a multi-year contract, and at Colorado for just one year. So, tortious interference with contract is okay, but player transfers are not. Amazing. https://t.co/PGCMmzxhtu

— Jay Bilas (@JayBilas) February 12, 2020
Former Buffaloes and current NFL players shared their thoughts also. Such as Raiders CB Ken Crawley.
— Ken Crawley (@RIPGADGETT) February 12, 2020
Broncos breakout running back Phillip Lindsay still close to Boulder and present at many athletic events, not just football games feels for his fellow Buffs.
Respect is given when you put words to action. Consistency and Commitment is all these young ball players want. #wow

— Phillip Lindsay (@I_CU_boy) February 12, 2020
Support and school pride ring loudly in Packers' offensive lineman David Bakhtiari's response.
"The pride and tradition of the Colorado Buffaloes WILL NOT be entrusted to the TIMID or weak." #GoBuffs

— David Bakhtiari (@DavidBakhtiari) February 12, 2020
Drew Pearson, Superbowl XII champion and member of the Cowboys ring of honor, recently had a fiery reaction when he was snubbed for the Pro Football Hall of Fame. Obviously he didn't let the heat all out then as he had this to say.
MEL TUCKER IS A CON MAN! He recruited my grandson to go to CU said he wasn't going anywhere then ups and leaves. Sat there and lied to my face he wasn't going anywhere!
So I want to beat him up today on social media.
What else can I do?

— Drew Pearson (@88DrewPearson) February 12, 2020
With all the negative, however, a calming voice of reason and the model of upperclassmen leadership came in the shape of KD Nixon. After withdrawing his name from the 2020 NFL Draft to return for his senior season at Colorado, Nixon is a key returning starter with youth all around him on offense and in the locker room as a whole.
@Coach_mtucker love you my guy! I appreciate you fr! Michigan state y'all got a great 1! https://t.co/BiBZ006WgN

— KD Superstar Nixon (@Superstarnixon) February 12, 2020
A professional and positive response from a player who will lead this team into a new day with other seniors Nate Landman, Derrion Rakestraw, and Mustafa Johnson on defense and Kary Kutsch on the offensive line.
The jolting end to his tenure: a team meeting that excluded Tucker.
CU canceled player workouts this morning for a team meeting at 8 am #cubuffs

— Brian Howell (@BrianHowell33) February 12, 2020
All of the #CUBuffs' coaches are present at the team meeting, except for Mel Tucker.

— Adam Munsterteiger (@adamcm777) February 12, 2020
And apparently Colorado never even had a chance to counter.
Rick George and the #CUBuffs were prepared to make a counter offer to Mel Tucker this morning. But Tucker's agent did not give them the opportunity to, before agreeing to become Michigan State's new coach.

— Adam Munsterteiger (@adamcm777) February 12, 2020
Other reactions around twitter:
BREAKING: #CU coach Mel Tucker has agreed in principle to become the new head coach at #MichiganState, per sources. After Tucker turned down initial interest, MSU power brokers came back repeatedly to Tucker's reps w/ an offer that was impossible to ignore https://t.co/qjOH0qKirQ

— Bruce Feldman (@BruceFeldmanCFB) February 12, 2020
Bummed for CU fans that Mel Tucker is leaving. He's a high energy guy that can recruit. But…Michigan State boosters & the administration stepped up. Win for the BIG 10. The PAC 12 TV contract continues to be a huge liability. Unless you have a Phil Knight —tough 2 compete

— Colin Cowherd (@ColinCowherd) February 12, 2020
Colorado fans arent mad Mel Tucker got paid, or even left. They understand the economics of it.

They're mad he was doing the booster dinner hours AFTER signing w/ Mich St.

They're mad he made it a point to do a media tour claiming his commitment to CU, that he turned MSU down

— Benjamin Allbright (@AllbrightNFL) February 12, 2020
Per source, Mel Tucker's interest in the MSU job "never waned" and communication between the two sides was open during the entire process, including after Tucker announced his commitment to CU.

"He wanted it bad."

— Ryan Koenigsberg (@RyanKoenigsberg) February 12, 2020
You can not fault Mel Tucker for taking an extremely lucrative and more high profile job offer. You can also believe it was pretty shitty the way he handled it publicly (with his media blitz) and with his players. Both things can be true.

— Lindsay Jones (@bylindsayhjones) February 12, 2020
Forget Colorado St Week 1…. Put Michigan St😂

— KM3 (@KeithMillerIII) February 12, 2020
Which guy are you more disgusted with this morning, Jeff Bridich or Mel Tucker?

Best responses will be read on the show today with me and @LesShapiro

Listen on @MileHighSports 104.7 FM or watch us on https://t.co/ngikiTUnPZ

— Eric Goodman (@EricGoodman) February 12, 2020
— Mekhi C. Blackmon (@KhiBlackmon) February 12, 2020
Soooooo, he won't be at the Nuggets game tonight? https://t.co/imUow0eede

— Vic Lombardi (@VicLombardi) February 12, 2020
No, but he's telling everyone he'll be there… https://t.co/oLnzclPq4T

— Les Shapiro (@LesShapiro) February 12, 2020
Met you Coach some years back.. Can't imagine a better or more capable man to transition to the Head job! Know you've been grinding all this time for you opportunity! You're a Buff through and through! #ChiaveriniForHeadCoach

— Kenny Boyer (@coach_kboyer) February 12, 2020
For players and parents upset with what happened just know us fans got y'alls back 💯#SkoBuffs pic.twitter.com/0CuKQNFI3F

— SkoBuffs Nation 🏈⛰ (@SkoBuffsNation) February 12, 2020
In Colorado sports, not sure I have seen worse display of leadership and accountability in a single day than what played out with #Rockies Jeff Bridich and former CU coach Mel Tucker. Remarkably bad on so many levels. #Denver7

— Troy Renck (@TroyRenck) February 12, 2020
What Mel Tucker really said….

While I'm flattered to be the HC of @CUBuffsFootball I am an OPPORTUNIST every minute of the day. I am only COMMITTED to me, myself and I. #TheBuild of my wallet. #itsjustbusiness https://t.co/esNI37lwIp

— Mike Pritchard (@mipritchard) February 12, 2020
"There Is No Transfer Portal In The Real World" -Mel Tucker, 4 Months Before Transferring Jobshttps://t.co/SgzggcWVHQ pic.twitter.com/0GNQ4S8XLO

— Barstool Sports (@barstoolsports) February 12, 2020