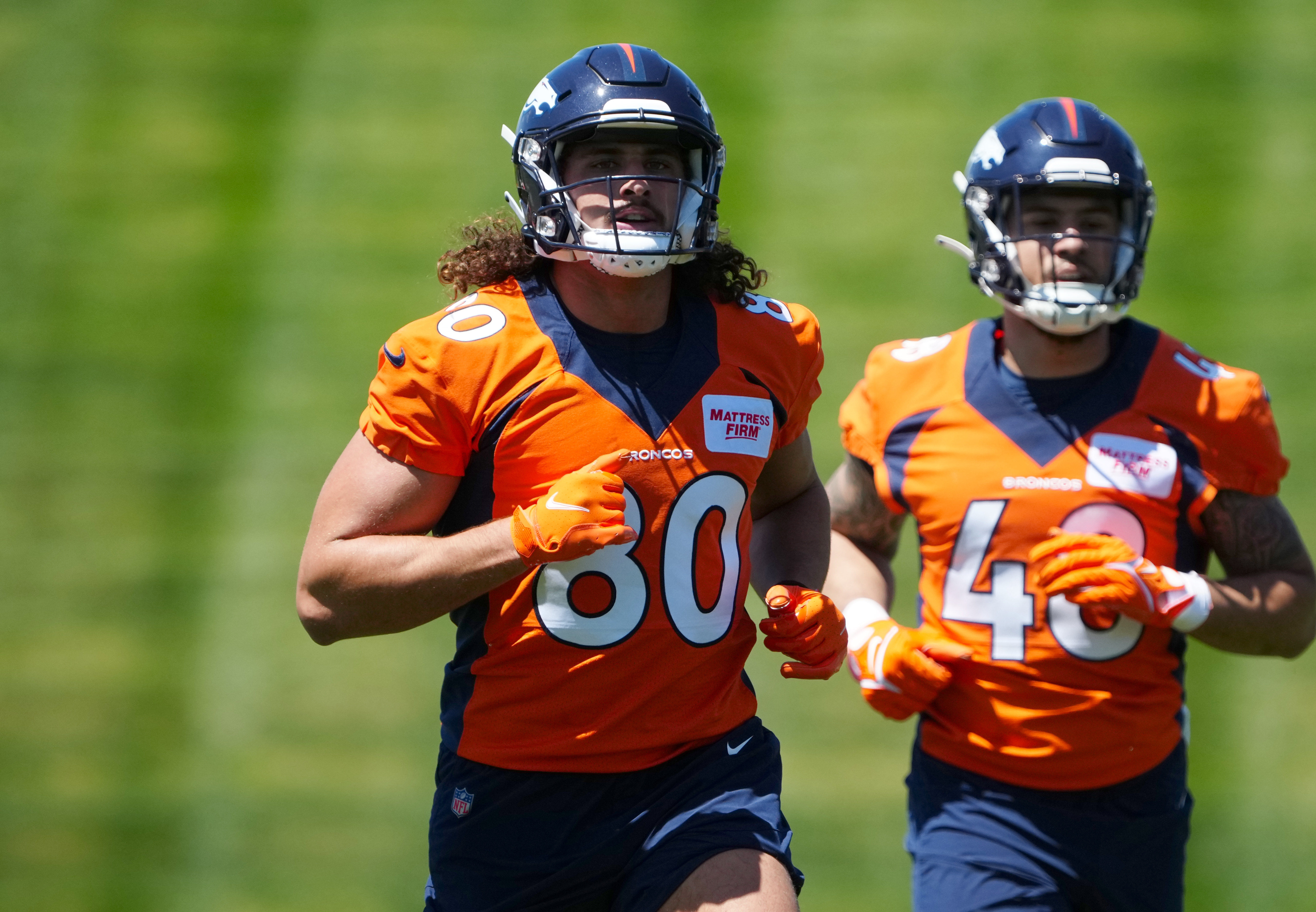 George Paton has already proven himself to be a terrific drafter by winning the award for cultivating the best draft class in the NFL, during his first year on the job.
However, replicating that feat will be much more difficult this season, considering how much less draft capital the Denver Broncos had to work with this year. In spite of this though, NFL.com's Chad Reuter still projects two of Denver's rookies to make the NFL's All-Rookie team in 2022.
Reuter projects Greg Dulcich to be honored as the league's top rookie tight end, and Montrell Washington to be recognized as the league's top rookie return man.
"The Broncos averaged just 16.2 yards per kickoff return (last in the NFL) and 8.2 yards per punt return (19th) in 2021," Reuter wrote. "Washington's ability to attack coverage units after fielding a kickoff (returned one for a touchdown at Samford last year) or punt (four returned for TD in his career with the Bulldogs) will bring the excitement that Denver's special teams units have sorely lacked."
Denver's special teams woes will surprise no one in Broncos Country, and Washington could help transform them into a solid unit. So far, at OTAs and minicamp, Washington has been very impressive and his high-tier athleticism is apparent.
Dulcich's inclusion on Reuter's list is more surprising, considering the fact that Russell Wilson hasn't used tight ends much in his career. However, Reuter believes Dulcich's red zone production will lead to him getting the nod.
"The Broncos have a talented collection of wide receivers for quarterback Russell Wilson to find downfield in Courtland Sutton, Tim Patrick and Jerry Jeudy," Reuter wrote. "However, Dulcich has a chance to see a lot of snaps as either a starter or the running mate of Albert Okwuegbunam at tight end. The former Bruins star could become a safety valve and red-zone threat for Wilson. Remember when Jimmy Graham had 16 TDs in his final two seasons in Seattle (2016-17)?"
Dulcich does project to being a quality redzone weapon, but Jimmy Graham was the undisputed top tight end on his team and was an established veteran at that point in his career. Expecting a rookie to replicate that feels somewhat unrealistic.
That said, there aren't many rookie tight ends in situations that will spoonfeed touches, so Dulcich could easily end up earning All-Rookie team honors