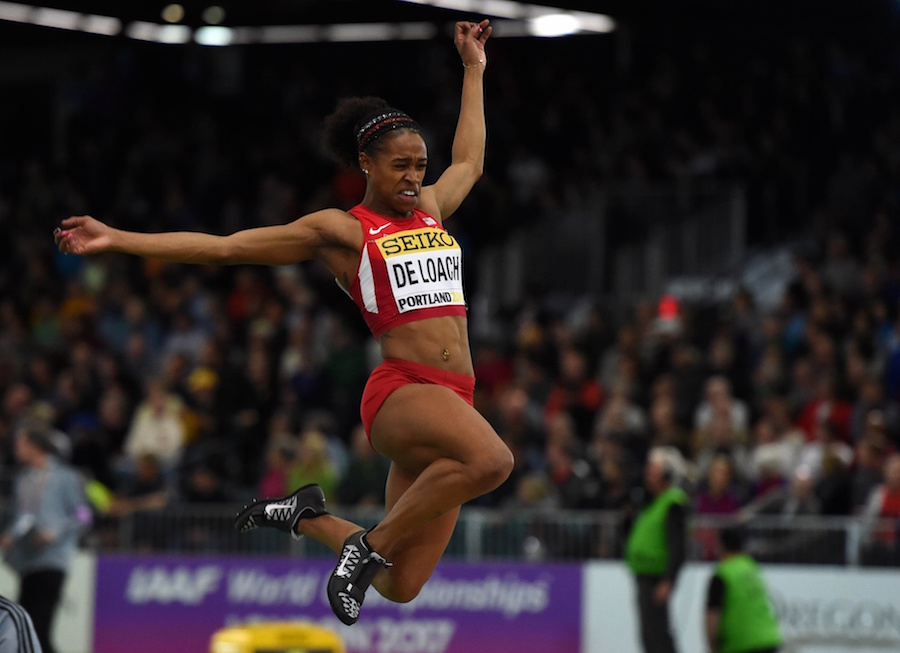 Read this story at CSURams.com
Colorado State has two alumni that will be competing in the 2016 Olympics in Rio de Janeiro. Janay DeLoach will again represent the United States in track and field and Andy Ogide will play for Nigeria in basketball. There will be a sendoff for DeLoach, who still resides in Fort Collins, on Friday, Aug. 5 at 6 p.m., in Old Town Square.
DeLoach will make her second Olympic appearance in the long jump, having won a bronze medal in the 2012 Games in London. Currently a volunteer assistant coach for CSU track and field, she earned her spot on the squad at the Olympic Trials in Eugene, Oregon on July 2. She posted a distance of 6.93 meters (22 feet, 7.5 inches) on her last jump, landing her the third spot on the team. DeLoach's personal bests are 7.03 meters and 6.99 meters indoor. DeLoach will go through qualifications on Tue., Aug. 16 with the finals on Wed., Aug. 17.
DeLoach's career is nothing shy of impressive. She is among the most decorated track athletes in CSU history, garnering four All-America honors and four Mountain West long jump titles in her collegiate career that wrapped up in 2008. She earned the silver medal in the 2012 World Indoor Championships while winning three Diamond League meets and one National Outdoor and three National Indoor Track and Field titles. She also has been a World Championships and World Indoor Championships finalist twice each.
During her time at CSU, DeLoach had a double-degree in psychology and human development and family studies. After her undergrad, she went on to get her master's degree in occupational therapy in Fort Collins. 
Born in Tallahassee, Fla., Ogide will compete in his first Olympics in Rio for his parents' native Nigeria. The country qualified for the Games by winning the 2015 African Basketball Championship and is making their second consecutive appearance after competing for the first time in 2012. Playing in Group B, Nigeria will open the 2016 compeition against Argentina on Sun., Aug. 7. The group also includes Lithuania, Spain, Croatia and Brazil.
Ogide started his basketball career at the University of Mississippi but transferred to CSU in 2008, playing three seasons for the Rams. During his last year in Fort Collins in 2010-11, the 6-9, 245-pound forward scored 549 points, currently the ninth-highest single-season total in Rams' history. He earned First Team All-Mountain West Conference and Second Team NABC All-District honors for his efforts. 
Since his graduation, Ogide has spent time playing basketball in Spain, Russia and France, most recently with Hapoel Migdal HaEmek Basketball Club in Israel.
Including Ogide and DeLoach, former CSU athletes will have competed in a combined 22 Olympic games, including every summer Olympic Games the U.S. has participated in since 1972 (complete list of former CSU student-athletes that have competed in the Olympics). Ogide and DeLoach join current CSU student Ben Pinkelman, who was selected for the U.S. rugby team, in Rio, August 5-21 (his story available here).