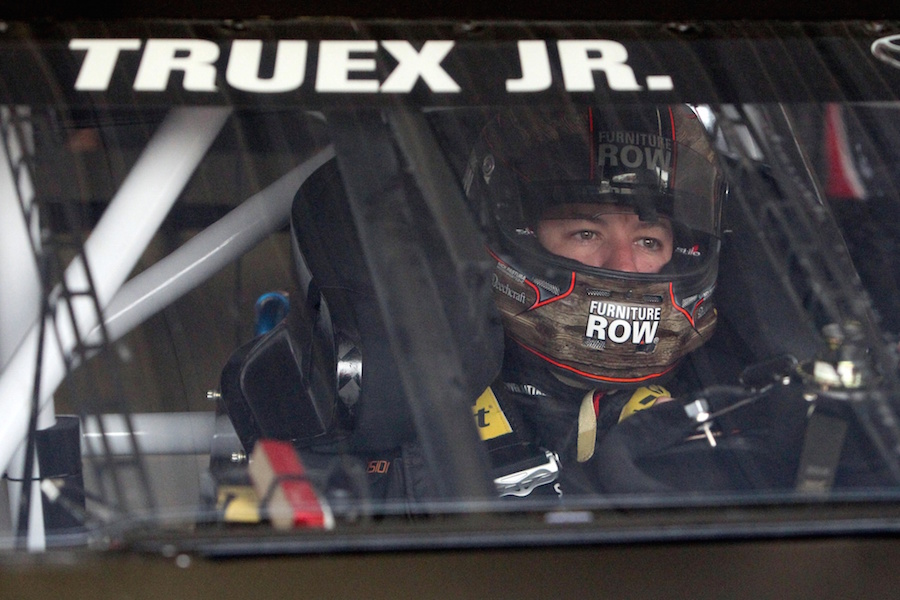 Martin Truex Jr.'s chance for a rare double-double – winning back-to-back weeks while at the same time winning an event in back-to-back years – was foiled by a rogue lug nut. A separate early pit road incident also helped keep Martin Truex Jr. from any opportunity of defending his Pocono title in Monday's rain-delayed Axalta 400.
Truex, who was coming off a record-breaking victory in last week's NASCAR Sprint Cup Series race at Charlotte Motor Speedway, fought back to post a 19th-place finish at Pocono Raceway's 2.5-mile triangular track, the site of his first win for Furniture Row Racing one year ago.
The first incident that halted Truex's momentum came following a caution on Lap 15 of 160. Running in 12th place, Truex came down pit road for two right-side tires and it appeared he was going to leave pit road in the top-five.
But as he started to exit his pit stall, his right-front fender took a severe hit by the No. 83 car (Matt DiBenedetto), which also pushed Truex into the wall with more damage to the left-side of his No. 78 Furniture Row/Denver Mattress Toyota.
The incident forced Truex back to pit road for repairs. When the race restarted he was positioned in last place.
Truex battled back and was running 16th when a caution came out on Lap 117. Once again he came down pit road for two right-side tires and it appeared that he was going to restart somewhere in the top five.
But as soon as Truex got back on the track his right-rear tire blew. The unimaginable culprit was a flying lug nut from the old tire that landed behind the wheel, shearing off the tire's inner stem valve.
"It was a fluke, but that's the way it goes sometimes," said Truex. "We weren't great, but had a shot at a much better finish than 19th. It was not the weekend we obviously wanted, but you just have to take what is given to you and move on."
The next race is Sunday, June 12 at Michigan International Speedway.