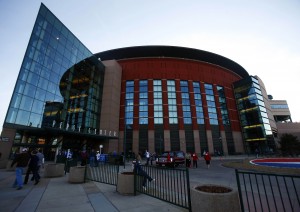 Pepsi Center has been a barren place as of late, as Nuggets and the Avalanche fans have been noticeably absent. And who can blame them? Both teams are heading down the backstretch of disappointing seasons, with seemingly not much left to play for in the final month or two.
But not so fast, there are still a few reasons to head to The Can and knock back a couple of $6 beers.
It looks like the Denver Nuggets are playing their best basketball of the season. Or more importantly, it looks like they care again. They just knocked off the best team in the East, the Atlanta Hawks, and tonight they get a chance to knock off the best team in the West, the Golden State Warriors.
On the Avs front, Patrick Roy has maintained that the Avalanche will continue to fight for every last point. In the face of some adversity, Colorado is scrapping until the bitter end, which is hard not to like.
And Rush is coming to town! No seriously, Rush is still playing live music.
Here are the best reasons to head to the Pepsi Center this spring.
1. Tonight, Nuggets vs. Warriors – Since taking over as head coach, Melvin Hunt has instilled a spoiler mentality in a roster that needed something to play for. The Warriors present the Nuggets with the opportunity to beat the two best teams in the NBA in three nights. Plus, Steph Curry is A-MAZING in person.
2. March 18-24, Garth Brooks – Diehard country bumpkins and novice country music fans unite as the thunder rolls into town for an astounding nine shows in seven days. Brooks provides a little something for everyone. I'm crossing my fingers he closes every show with an eight-minute version of Rodeo.
3. March 29, Mammoth vs. Stealth – On the 29th, the Mammoth will retire the jersey of Gavin Prout. This six-time team captain helped lead the team to their only Champions Cup in 2006 and is the franchise all-time points leader. Prout is a lacrosse legend and hanging his jersey in the rafters is a can't-miss event and well-deserved honor.
4. April 7, Avalanche vs. Predators – When the Avalanche return to closeout the season, they'll have three games against playoff opponents. It'll be interesting to see what role Roy's boys are playing; will they still be fighting for a playoff spot or be playing spoiler? If the Avs sneak into the playoffs, this very well could be their first-round matchup. Also, Seth Jones will be in town.
5. April 9, Avalanche vs. Jets – Winnipeg is one of the three teams Colorado needs to jump to secure the final wild card playoff spot. This matchup could end up determining who's golfing in mid-April and who's chasing Lord Stanley's Cup.
6. April 10, Nuggets vs. Mavericks – Rondo, Dirk and Tyson Chandler will all be fighting to improve their playoff seed with hopes of avoiding Golden State in the first round. Ty Lawson, Danilo Gallinari and Wilson Chandler will be doing their best to insure Rick Carlisle's team won't have the luxury.
7. April 11, Avalanche vs. Blackhawks – Even without Patrick Kane, Chicago has one of the NHL's most-exciting teams. Plus, Colorado fans need to scoop up all of the tickets to spare us from Blackhawks chants at the Pepsi Center. Can we all agree Chicago sports fans are the worst?
8. April 12, Nuggets vs. Kings – George Karl's return to Denver… 'nuff said. Will the boo-birds be out in full force? Love him or hate him, this is a game all Nuggets fans should have circled on their calendars.
9. June 11, Rush concert – Outside of hockey, I'd rarely suggest rushing (yep, I did it) to the Pepsi Center to cheer for a bunch of Canadians. But in this case, I'll make an exception. This is the perfect time to dust off the '80s gear in the back of your closet and re-live the glory years.
At this point, the Nuggets and the Avalanche have nothing to lose, which will make for an exciting end to the season. With unanswered questions still to be addressed (including what a country bumpkin is), there's still fun to be had at Pepsi Center. Well, at least enough distractions to get everyone to those 70-degree days on the Party Deck.