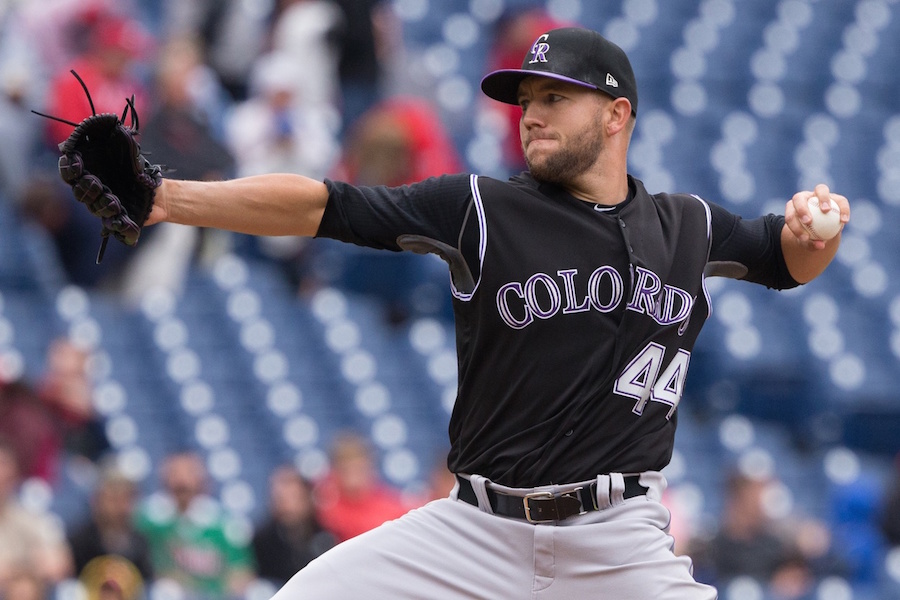 Tyler Anderson put together arguably his best outing of the year, but it all went for naught. The Colorado Rockies dropped the series finale with the Phillies, 2-1, in extra innings Thursday. With the loss, Colorado concludes it's season-long 10-game road trip at 7-3. It's only the third time in club history they've finished 7-3 or better on a road trip.
Anderson went seven-plus strong innings, allowing just one run on a solo home run to Tommy Joseph in the bottom of the seventh inning to tie the game at one. It wasn't the last time Joseph would hurt the Rockies on the afternoon. With one on and one out, Joseph singled home Michael Saunders in the bottom of the 11th to snap Colorado's four-game win streak. Scott Oberg took the loss, his first of the season. Between Oberg's 11th inning and Anderson's seventh, Adam Ottavino, Chris Rusin and Jake McGee combined for three scoreless innings to give the Rockies a chance. Anderson pitched to one batter in the eighth – surrendering a leadoff double to Cesar Hernandez. Anderson improved his ERA to 5.40, striking out seven and walking two.
After generating 23 runs over the first three games of the series, the Colorado bats couldn't produce on Thursday. The Rockies managed 10 hits in the game, but stranded nine runners and were a combined 0-for-7 with runners in scoring position. Trevor Story provided Colorado's only offense with a solo home run in the fourth inning off Vince Velasquez. Phillies manager Pete Mackanin used seven pitchers in the game; Jeanmar Gomez earned the win by pitching a scoreless ninth. Carlos Gonzalez and Charlie Blackmon stayed hot, each knocking a pair of hits in the loss.
Colorado falls to 31-18 with the loss, 1.5 games ahead of the Diamondbacks and 3.0 games ahead of the Dodgers. Both Arizona and Los Angeles can make up ground Thursday night. The Rockies now return home to face the St. Louis Cardinals for a three-game series, then host the Mariners for two as part of a home-and-home set.