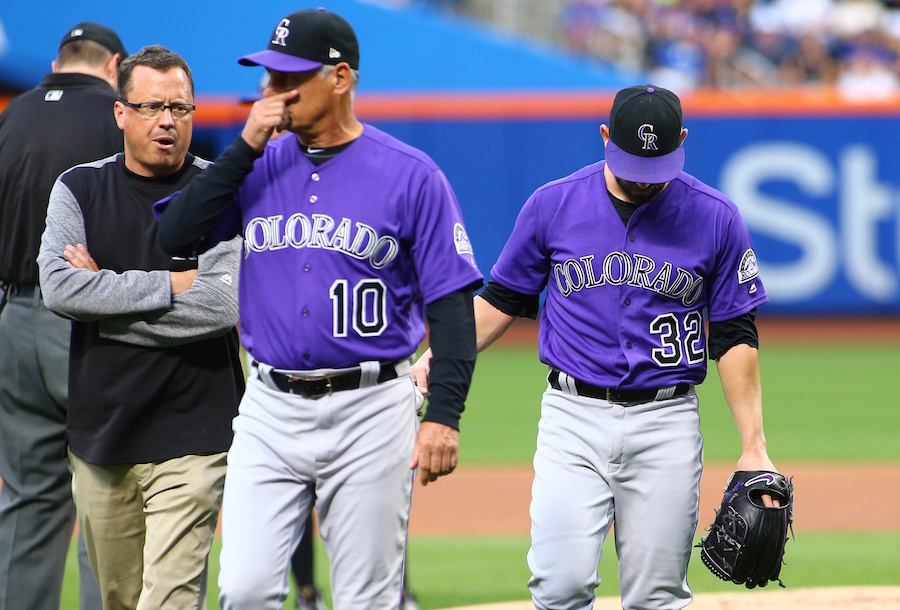 The Colorado Rockies called upon pitcher Tyler Chatwood in the second game of a three-game series against the New York Mets to open the second half of the season. Chatwood would not last even in an inning.
After getting obliterated by New York on Friday, 14-2, the Rockies looked to Chatwood to reverse their fortunes.
From the get-go, Chatwood was clearly off his game. He walked the first batter he faced on four pitches, and would walk three of the five batters he faced.
With one out in the first, after surrendering a three-run home run to Jay Bruce, manager Bud Black and the team's trainer paid a visit to the mound.
That visit resulted in a trip back to the dugout for Chatwood who was done after recording just one out and throwing 19 pitches, with only five called strikes.
Chatwood was pulled due to a calf strain that he suffered during his warmups prior to first pitch.
"When I was warming up for the game I felt something," Chatwood said following Colorado's 9-3 loss. "I couldn't get the ball down. I couldn't push off of it (calf), so that's essentially using all arm which isn't ideal for a guy who has had two Tommy John's."
It is unknown if Chatwood will have to be placed on the DL at this point in time.