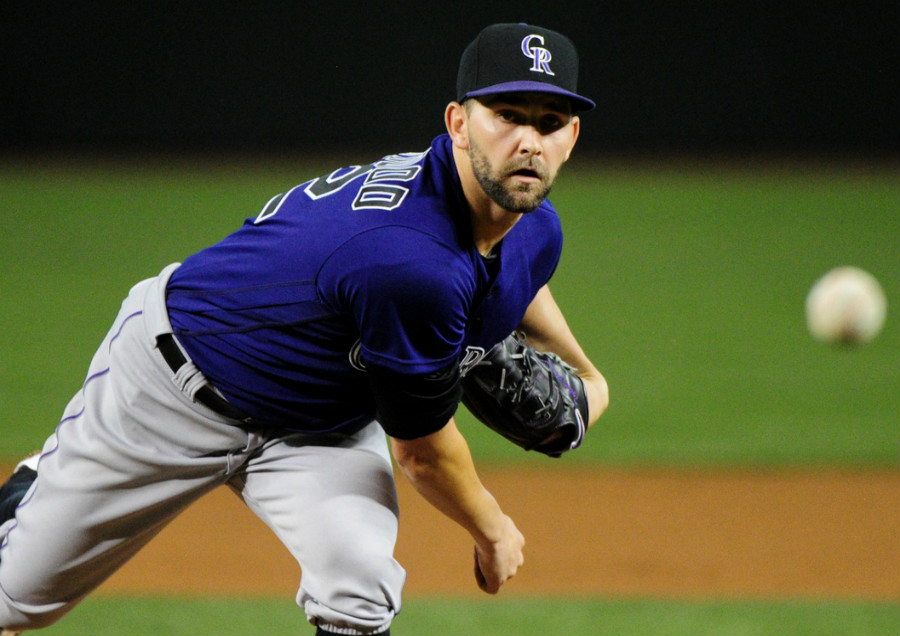 The Colorado Rockies managed to knock off the San Diego Padres Wednesday afternoon, as Tyler Chatwood officially established himself as the Rockies' "Road Warrior."
For the first time since 2013, Chatwood threw eight innings, and he dominated, allowing no runs on three hits, a walk and seven strikeouts.
Chatwood has had an amazing start to his season, and an even better one on the road, owning a record of 4-0 with an ERA of 0.33 away from Coors field.
The freakishly good numbers are an extreme positive in the eyes of Rockies fans, especially since the squad has been putrid on the road in years past.
"I was just trying to go out there and get outs and keep us in the game for as long as I could," Chatwood said, via Rox Pile. "Luckily I was able to do that today and the offense came through and scored some runs. It was a big win for us."
Chatwood prevented the Padres from sweeping the series.
Everything has been clicking for Chatwod this season, and Tony Wolters talked about what he has seen out of Chatty.
"All four of his pitches were lights out. He had control of them," Wolters said. "He never got any patterns. He's just a competitor out there. If you're catching back there, you'll see his face and you'll be kinda scared of him. He has that mentality and that swagger on the mound that's intimidating for hitters. He uses that for his advantage. I'm really proud of him."
Chatwood, at least for now, has firmly solidified himself as the ace of this Colorado Rockies staff.
"When you think about the last couple of years for 'Chatty,' this makes it even better," manager Walt Weiss told Patrick Saunders of The Denver Post. "We always know what to expect from him, as far as his talent and the aggressiveness when he pitches. It was fun to watch."
Chatwood is 4-2 with an ERA 2.15, ranking 14th among active pitchers in ERA.