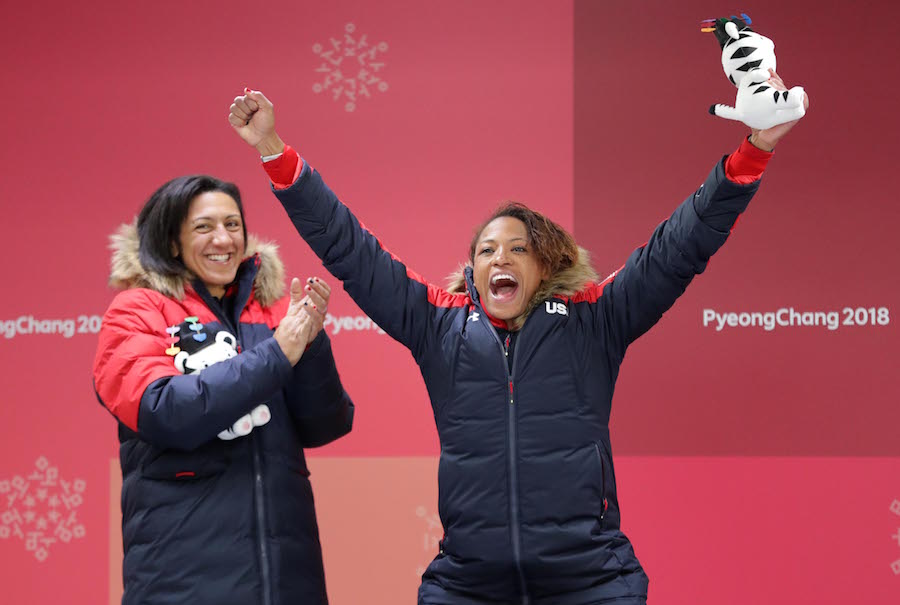 This week Denver resident Lauren Gibbs competed in her first Olympic Games at 33 years old. That alone is a noteworthy accomplishment in a modern Olympic environment that favors the young (Silverthorne's Red Gerard won the United States' first medal of the 2018 Winter Games at just 17).
To put a cherry on top, Gibbs and her women's bobsled partner, Elana Meyers Taylor, won a silver medal. After four heats in the finals, the duo had a cumulative result of 3:22:52 just 0:07 seconds behind first-place Germany. They also set a course record at the Olympic Sliding Centre with a 50.46 time in their third heat run.
While most Olympic athletes these days begin training in their sport at very young ages (some even before school age), Gibbs arrived at her sport well into her adult life. Gibbs, one of 31 Colorado-based Olympians, didn't always have aspirations of competing in Olympic bobsled. Up until 2014, she had never even touched a bobsled; rather, she played volleyball at the collegiate level at Brown University. While in school Gibbs studied business, which is the career path she followed despite always dreaming of being a professional athlete.
In 2014 her story changed. The 9-to-5 work day just wasn't for her. "I was making the money I wanted to make, but I just wasn't happy" she said in an interview with USA Today in November 2017. Jill Potter, one of Gibbs' close friend introduced her to Meyers Taylor, a rugby teammate of Potter's. After meeting Meyers Taylor, Gibbs was inspired to try bobsled. So, she quit her job and went to the prospective athletes combine in Colorado Springs.
One year later she made the team and oddly enough became teammates with Meyers Taylor, now a three-time bobsled Olympic medalist. This is how the 2018 silver medalists began their journey to competing in the 2018 Winter Olympic Games.
Having never stepped foot on the icy tracks or touching the cool steel of a bobsled before 2014, Gibbs took an unusual road to become an Olympic athlete. She is a great example of why we love sports and why the Olympics are so impactful. A women with a dream could not be stopped, as she fulfilled her goal of becoming a professional athlete. Not just that, she raced her way to a silver medal in her very first Olympic games.