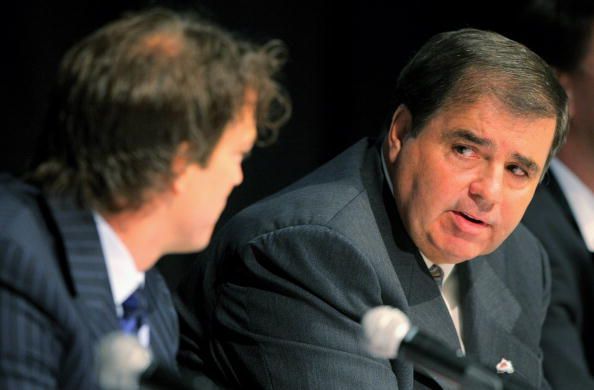 Sadly, on Sunday, former general manager of the Colorado Avalanche Pierre Lacroix passed away at the age of 72. Complications from COVID-19 sounded the final horn for one of the great men in the game of hockey and in Colorado sports history. The year 2020 has claimed some of the best, and Lacroix falls high on that list.
There's always something that feels strange about writing a eulogy about a man you didn't know. And I didn't know Pierre Lacroix.
But I know what he did. I know what left us. I know that I have an undeniable sense of gratitude toward him. I know that the sports landscape in Denver, Colo. was changed forever when he arrived, heading up the charge for Denver's newest team pro sports team – the Colorado Avalanche.
I recall going to the Avalanche's Opening Night, not knowing all that much about the team or the even the sport, really. And it seemed like the time between that 3-2 win over the Red Wings and Game 4 of the Stanley Cup Finals that season, was a mere blink of an eye. In reality, it was an eight-month statement made by Lacroix. In essence, it said: "This is what a champion looks like. And this champion is here to stay."
Lacroix, a relative stranger at that point, had built and delivered the one thing Colorado had never experienced at the professional level – a major sports championship.
But this was different than "renting" a title. This was real. And even though the Avs were the new kids on the block, that Stanley Cup sure felt like it was ours. That's because Lacroix did and said things in a way that was meaningful. Lacroix was the new neighbor that showed up with freshly baked cookies on day one, and the relationship only grew from there. The Avalanche were no flash in the pan. They delivered, and we embraced them. And then they delivered some more.
Lacroix did things that other sports GMs seemingly didn't do – at least not like he did. He assembled a roster of the game's brightest stars. And then he kept them. He was tough, often making the kind of decisions no GM wants to make, but you never – ever – heard a bad word about Lacroix. He was a true gentleman in a barbaric sport. His teams played with honor and dignity, all while beating the pants off the opponent. The impeccable culture that surrounded the Avalanche – a testament to both Lacroix and the type of players he sought – was like nothing we'd ever seen.
"Pierre was a visionary and a true leader," Joe Sakic, who played for Lacroix and who now serves in the same capacity for the Avalanche, said in a statement. "From the moment he took over as GM, he established a winning culture that spread throughout the organization. As players, we knew he would do everything he could to help the team achieve that goal of hoisting the Stanley Cup.  Pierre was instrumental in not only building the Avalanche into a championship team but also in the growth of hockey in Colorado.  His footprint is everywhere in this hockey community."
Nothing could be more accurate. Before the Avalanche arrived, kids in Colorado played soccer and football and basketball and baseball. Today, they haven't forgotten those games, but they've added ice hockey to continuous route driven by their parents' minivan. It wasn't just that Lacroix gave us a Stanley Cup champion; he introduced us to the game in its grandest form and showed us how to love it.
Over the years – Lacroix served as the GM from 1994 to 2006, and as the team president from 2006 to 2013 – we learned that anything and everything Lacroix did was genuine. He was not flashy; he handled himself and his team with a consistency that was both palpable and admirable. Under Lacroix, the Avalanche always had a shot. His teams reached the Western Conference finals a whopping six times in their first seven seasons in Colorado.
And all the on-ice winning was just Lacroix the competitor and businessman. He was more than that. Much more.
"Pierre had a unique zest for life that uplifted anyone who knew him. He treated everyone like they were a part of his family and was always available to anyone who needed his guidance," offered Stan Kroenke, owner of the Avalanche.
Added Sakic: "I'll always remember him as not only a great GM but an even better person."
Lacroix made it a point to build hockey rinks for kids all over the state. He treated media, no matter how the team was doing, with respect. He famously moved the opening round games of the 1999 playoffs from Denver to San Jose out of sensitivity for the victims of the Columbine shootings. He didn't just talk about being a member of his new community, he was a member, and showed it all the time.
Pierre Lacroix died yesterday, but what he left will live on forever. I didn't know the man, but it's impossible not to appreciate him.
***
Editor's Note: Mile High Sports scribe Terry Frei covered Lacroix from Day 1. Frei, who truly did know Lacroix, wrote an excellent piece here.