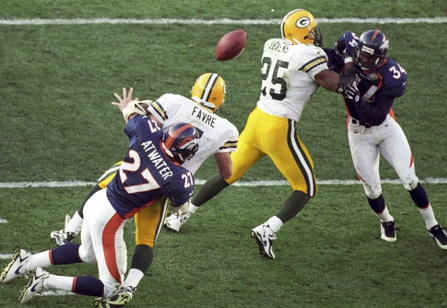 Nearly 15 years ago, I attended John Elway's Hall of Fame induction ceremony in Canton, Ohio with 20,000 other Broncos fans, in a sensational moment of celebration.
Finally, after 45 years of existence, the Denver Broncos had their first-ever inductee in to the Professional Football Hall of Fame, in Elway.
Elway was transcendent. As former Commissioner Paul Tagliabue called him, Elway was an ambassador for the game of football. He was not only the greatest player in the history of Broncos football, the Duke of Denver was arguably the greatest player in NFL history at the time of his retirement.
He was a two-time NFL MVP, started five Super Bowls — which was a record when he retired — and won two of them, was a dual-threat quarterback and did literally everything in his power to win games, personified by his "Helicopter Play" in Super Bowl XXXII.
Elway was a no-doubt, first-ballot Hall of Famer. Even the east coast biased HOF Selection Committee couldn't keep Elway out in 2004. But, the crazy part was that Elway, during his inception speech, called for more Broncos to be inducted into the hallowed halls.
Since Elway went in, the committee has finally opened their eyes to one of the most important franchises in NFL history, the Denver Broncos.
Gary Zimmerman got in in 2008, then Floyd Little finally was enshrined in 2010 as a Senior Candidate, then it was Shannon Sharpe's turn in 2011 and after a long time of waiting, Terrell Davis was deservedly given his bronze bust in 2017. There are a few others — Brian Dawkins and Tony Dorsett — who merely finished their historic careers with the Broncos, but, in actuality, Denver has only five Hall of Famers currently.
That's a travesty. The Broncos — who have played in a second-most eight Super Bowls during their 48 years of play in the NFL —  have been severely underrepresented for decades, and even with the four inductees in the last decade, Denver is still way behind other franchises.
To put it into perspective, the Baltimore Ravens — who became a team only in 1996 — also have five Hall of Famers. The Atlanta Falcons and Seattle Seahawks each have eight in the Hall, and combined have one Super Bowl win in only four appearances.
The list of should-be Hall of Famers who played in the Broncos' orange and blue is long. From Randy Gradishar to Rick Upchurch. From Karl Mecklenburg to Steve Atwater. Rich Jackson, Tom Nalen and Louis Wright are deserving; will they get a nod?
This year, three former Broncos — two players and an owner — should make the Hall of Fame. But, if history has taught us anything, it's that likely only one will actually get in this year from Denver's franchise.
If Champ Bailey's not a first-ballot Hall of Famer, who is? However, Atwater's legendary status has been overlooked for far too long, and after Dawkins got in — and John Lynch may this year — we must be reminded that Atwater was that scary, hard-hitting safety before those two came after him.
And, without a doubt, Pat Bowlen is deserving to be in the Hall of Fame. Bowlen's Broncos have won more than nearly every other team in the four American professional sports since he became owner in 1984. They've gone to the Super Bowl seven times under Bowlen's ownership, won three NFL Championships, and before last season, enjoyed more playoff appearances than losing seasons with him in charge.
In fact, Bowlen's "Super Bowl or Bust" approach — while celebrating every, single member of the organization — has been more apparent since he had to step away due to his battle with Alzheimer's. While children from his two different marriages fight for control of the team, we were reminded how a strong-willed owner like Bowlen would have stepped in and fired Vance Joseph in late December rather than waiting for the season to end.
On Wednesday, Roger Goodell commented on the situation, saying he may be involved in the ownership dispute, adding, "I think, this week, the best thing we can do is focus on Pat and his contributions and his candidacy to become a new member of the Hall of Fame."
Here, here!
Bowlen is a sure-fire Hall of Famer, not only for the way the Broncos won, but for his wheelings and dealings as a part of 15 committees while as the team's owner, including being a chief member who helped negotiate television deals in the 90s which skyrocketed the league's popularity.
Bowlen is a candidate as a "contributor" as is Gil Brandt, and there are currently 14 owners as part of 24 contributors currently in the Pro Football Hall of Fame.
Bowlen must get into the Hall this year, but so should both Bailey and the "Smilin' Assassin."
Bailey wasn't just dominant during his 15-year career, he was almost certainly the greatest cornerback in the game during the 2000s. During his first two years in Denver, Champ intercepted 18 passes, scored on three of them, defended 44 passes while forcing and recovering a fumble. By the time his career ended in 2013, Bailey's 203 passes defended were the most in NFL history.
He was the very definition of lock-down cornerback, feared by quarterbacks for his sharp mind and incredible athletic abilities.
If I were a betting man, I'd say Bowlen gets in this year, Champ next year and Atwater…at some point.
But that brings us quickly to Atwater, who's been awaiting his call to Canton for many years. The "Smilin' Assassin" was just that, a hard-hitting, ruthless safety who punished receivers and running backs all the same, while wearing a huge smile on his face because he loved the game of football.
Atwater was an eight-time Pro Bowler, two time All-Pro, finished with 24 interceptions, six forced fumbles and five sacks. But, it was how he impacted the game as a tackler which made him special.
His hit on the "Nigerian Nightmare" Christian Okoye basically ended the running back's career and became the most legendary hit of Atwater's career. But, the superb safety was also the defensive MVP of Super Bowl XXXII, coming up with multiple huge hits, including forcing Brett Favre to fumble.
One of the hardest hitters of all time.

RT if you think @SteveAtwater27 should be in the Hall of Fame. #NFLHonors @Broncos pic.twitter.com/Edx2yV5Ywm

— NFL Throwback (@nflthrowback) January 30, 2019
Simply, all three — Bowlen, Bailey and Atwater — deserve to be presented with a bronze bust in 2019. On Saturday, when the league announces the 2019 Hall of Fame Class, they should all three be included, but if history is an indicator, Denver fans will be disappointed once again.