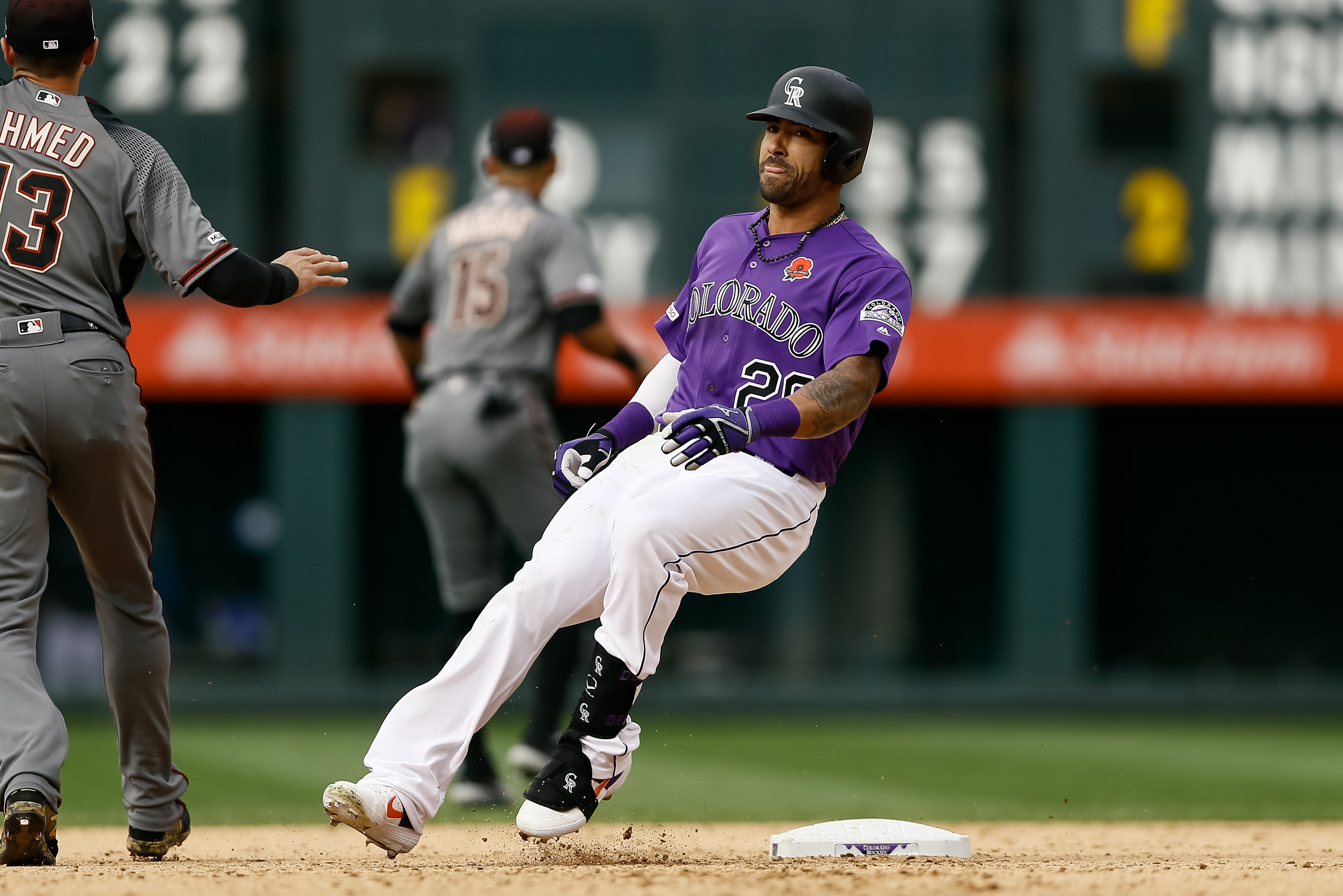 It took 11 innings to decide the Colorado Rockies' Memorial Day victory versus the Arizona Diamondbacks.
Winning by a score of 4-3, the Rockies managed a late-game rally backed by clutch performances from a couple of unsung heroes.
Although Nolan Arenado was the one to tie the game with a two-RBI single, Ian Desmond and Raimel Tapia lifted the Rockies to victory in extra innings to improve the club to 3-1 on their current 10-game homestand.
Desmond and Tapia are not typically known for their heroics but have been key contributors since the Rockies returned home from their latest road trip.
Monday's rally in the 11th started with a one-out double from Desmond that was mere inches away from being the game-winning home run.
With the table set, a hitless Tapia ended it, slashing the game-winning RBI single on the first pitch of his at-bat.
Just think of it this way: The other team has pulled their starter, it's wide open, all you gotta do is taaaap it in.#Rockies x @BankofAmerica pic.twitter.com/cjtwdb6wPW

— Colorado Rockies (@Rockies) May 28, 2019
The ending was a Kodak moment for both players.
Desmond's performance followed with praise and cheers, something the 33-year-old veteran has not been accustomed to since joining the organization.
"It's great," Desmond said. "It's fun to have the fans cheering for me. [Sunday] was the first time since I've been here where I really felt like, 'Man, they believe.'"
Desmond signed a lucrative five-year, $70 million contract in 2016 and his performance has been underwhelming through the first two-plus years of the deal.
Initially signed to play first base, Desmond's tenure in Colorado got off to a rough start following an injury in his first Spring Training with the team.
From there, things only seemed to get worse. He was shifted from infield to the outfield prior to this season and wound up playing a platoon-type role following a slow start out of the gate this year.
Fans have been clamoring for Bud Black to bench him and the front office to dump him. Desmond is easily the most disliked player on the Rockies roster.
That said, his Memorial Day performance may start to change that narrative. Although he is hitting a mere .232 this season, it is a significant improvement compared to his .196 mark in April.
Through the last 10 games, Desmond has started to thrive, hitting .323 with five doubles. The recent play could be his best stretch offensively in a Rockies' uniform, and it's coming at the right time considering the club's underwhelming performance this season.
Tapia has also started to make a name for himself. With Charle Blackmon currently on the injured list with a strained right calf, Tapia has assumed the role of Rockies' leadoff hitter.
Tapia has been sharp in his new role, earning hits in four consecutive games out of the leadoff position, including Monday's game-winning base knock.
"I feel confident," Tapia said. "I know in the right situation that I can put on a good swing and make things happen."
He has become a core component of the Rockies outfield since the start of May, starting in 17 of the Rockies' 22 games played in the month. The speedster is hitting .289 (35-for-121) and has hit safely in 22 of past 25 starts since April 16th.
Tony Wolters has also played a significant role in the Rockies' recent success, driving in the game-winning run in Sunday's ballgame.
Wolters is having a great season, hitting .296 with 10 doubles. He has already surpassed his hit total from last season and his batting average is much improved compared to the .170 mark he posted last year.
An early-season injury to Chris Iannetta allowed Wolters to absorb most of the playing time behind the plate for Colorado. His improved play has resulted in him moving towards becoming the club's primary catcher.
Colorado currently sits with a record of 25-27 and have continued to creep closer to a .500 record this season. The Rockies are in the midst of their season-long 10-game homestand, having lost just one game so far.
While the Rockies typical stars have continued to shine, supporting players like Desmond, Tapia and Wolters have helped right the ship in recent games and have put Colorado in a strong position moving forward.
"We talked about this at the beginning of the year," Desmond said. "This team has a lot of grit. We're grinding. We were grinding at the beginning of the year, and we talked about how that was going to benefit us down the stretch and it's benefiting us these last few games."