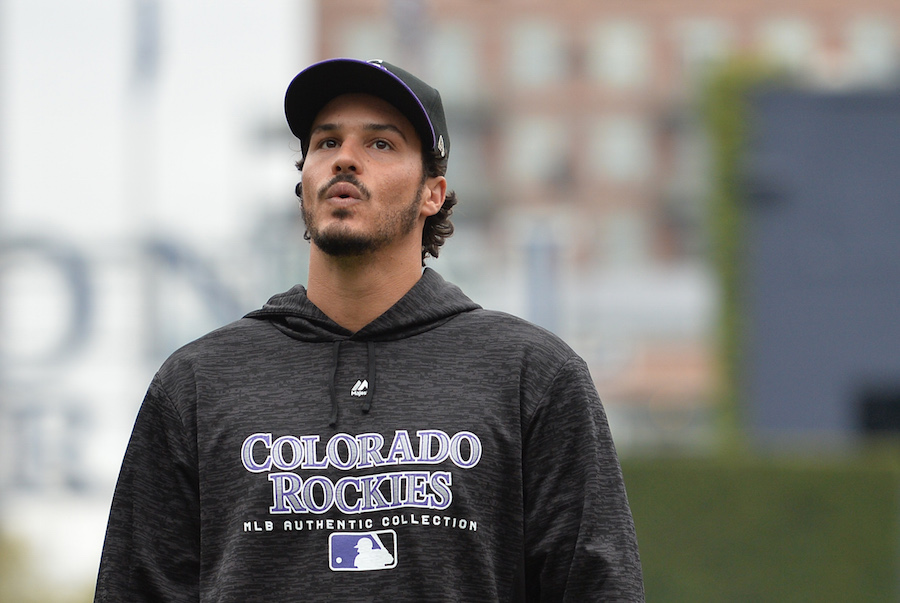 The All-Star break signals the unofficial first half of the baseball season coming to a close, and for many a time to reflect back on the year so far and where the Colorado Rockies stand next to the lofty expectations that were set for them in April.
Colorado has closed well in July, winning seven of their last 10 and look to close against the Seattle Mariners before the break.
The Mile High Sports Radio team was polled on the Rockies first half of the season and if they're disappointed in the team, or satisfied with the season so far.
Shawn Drotar – Co-Host of Morning's at 5280. Weekdays 7-9am
I'm a bit disappointed in the first half, honestly. Ian Desmond continues to look like a disastrous signing, and while I have more faith in Wade Davis and Bryan Shaw, they haven't lived up to expectations, either… and don't even get me started on Jon Gray!
Fortunately for the Rockies, Nolan Arenado continues his Hall-of-Fame trajectory, and Kyle Freeland has become the team's best (and most resilient) pitcher. Freeland's mental toughness has stood out all season long. But, by far, the most pleasant surprise is Trevor Story's evolution. Just when it appeared that Story would remain an all-or-nothing hitter for his career, something clicked in June. Story now makes better and smarter contact without sacrificing any of his prodigious power; he's earned his All-Star status, and he's leapt over Charlie Blackmon to become the Rockies' second-best player thus far. Nobody saw that coming.
Sean Walsh – Co-host of Walsh and Notaro. Weekdays 2-4pm
This team is a little better than I thought they would be at this point. I'm not disappointed, nor satisfied at this point. Rockies' fans need to learn to ride the wave with this team because they provide so many ups and downs.
Arenado, Story, Freeland and Ottavino have been the best players on this team to this point — but Shaw, McGee, Gray and Iannetta have been disappointing. The jury is still out on Desmond and Marquez, both who started off the season on the wrong foot, but seemingly are coming around.
Eric Goodman – Co-Host of Afternoon Drive with Goodman and Shapiro. Weekdays 4-6pm
The Rockies have been marred by inconsistency which explains why they hover around the .500 mark. They've gotten five All-Star performances from Arenado, Blackmon, Story, Freeland, and Ottovino, but with the good, has come the bad with disappointing performances by Gray, Shaw, and McGee, and for a good part of the season — Desmond.
This team might be one of the most talented in franchise history, but failing to string together enough complete games with pitching and offense has put them in no-man's land heading into the trade deadline.
Les Shapiro – Co-Host of Afternoon Drive with Goodman and Shapiro. Weekdays 4-6pm
How can you not be disappointed with the Rockies first half performance? Yes, they're still in contention, but they've had every opportunity to take control of the NL West.
Most of the off season money was spent on the bullpen and it (other than Ottavino and Davis) has performed horribly. The only position player consistently performing to his ability/contract is Nolan Arenado (with Story making headway). So, yes, more disappointed than pleased.
Ronnie K – Producer of Afternoon Drive with Goodman and Shapiro. Weekdays 4-6pm
The Colorado Rockies have slightly underperformed as the All-Star break hits, but to say they've been disappointing when the Rockies are in striking distance for the division title seems harsh. Colorado has narrowed their run-differential drastically as the team begins to push over the .500 mark. One thing is for sure. Their strong finish in July sets them up to be buyers at the deadline and push for their first ever back-to-back years of making the postseason.
Coach Les – Host of The Coach Les Show. Weekdays 6-8pm
I expected a better first half of the season based on the developing pitching and the way they finished last season, but things could be worse, so overall I'm happy with the team.
The player I'm surprised with most is Trevor Story, he's having a very solid season so far.
Connor Cape – Co-Host of The Connor Cape Show. Tuesday through Thursday 8-10pm
Can't say I'm disappointed in what the Colorado Rockies have done so far, it's about where I expected. A tick above .500 and not far from 4th place where I predicted them to finish.
I've been bummed by the play from Charlie Blackmon. He gets a contract extension and goes from posting career highs, to a -0.9 WAR at the All-Star break.
Geoff Girsh – Co-Host of Home Grown Sports. Tuesday through Thursdays 10-12am
I've really enjoyed watching the Rockies this season. While there have been lows, there have also been many highs. I love the fight in this team.  
Nolan's leadership is starting to come to true form and Carlos Gonzalez feels due to catch fire. Story and Desmond have provided a lot of pop lately and the starting pitchers are beginning to come around, throwing  like they did last year in April and May.
Most of all, the calm 'cool as a cucumber' style of Buddy Black is refreshing.
Erik Trujillo – Contributor to Mile High Sports.
Overall, I'm happy with the team over the first half. I'm not disappointed, nor surprised. The team has come together and they're competitive.
Trevor Story has been a surprise. After all the criticism he received over the first two months of the season, he's shown patience and consistency to still produce enough to make the All-Star team.
Aside from the lack of production from Ian Desmond, I'm really disappointed with the lack of aggressiveness from management. The fans want a winner and now. Hoping on prospects to flourish may be a rabbit hole worth not going down. Be aggressive go make some moves and become a contender.
Logan Hesselius – Producer at Mile High Sports
I'm disappointed with the Rockies as a whole. Inconsistency has been the theme for the team throughout, and having a losing record at Coors Field is downright disappointing.
Noel Cuevas has been the most surprising player for sure, flexible and great utility outfielder. Bryan Shaw is no-doubt the most disappointing player with his pitching out of the bullpen.
Rich Kurtzman – Editor at Mile High Sports
Overall, the first half has been a disappointment and instead of growing from previous years, they've consistently hovered around .500.
Lately, we've seen the Rockies at their best, pitching and hitting well in the same games. If they can continue that play, they'll push for a wild card spot.