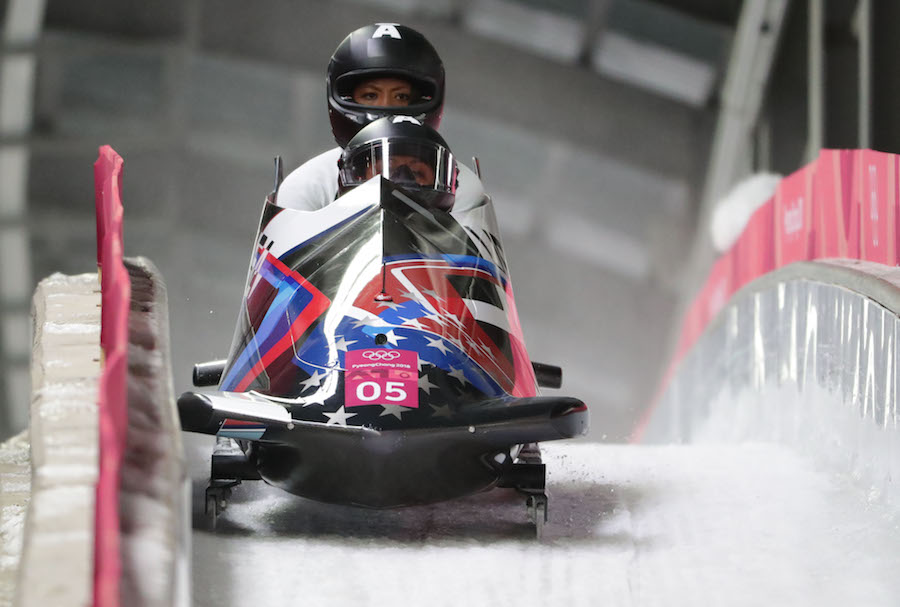 The U.S. team of Elana Meyers Taylor and Lauren Gibbs are halfway to their goal of earning a medal in the women's bobsled competition at the 2018 Winter Games in PyeongChang, South Korea.
Through two heats at the Olympic Sliding Centre, Meyers Taylor (Douglasville, Ga.) and Gibbs (Denver, Colo.), are in second place in the cumulative standings, trailing a German team by 0.07 seconds. The duo set a track record in their first run with a blistering time of 50.52 down the 1.376-kilometer course. Meyers Taylor broke her own course record, set in 2017 with Lolo Jones.
Mariama Jamanka and Lisa Buckwitz were nearly as good, finishing just 0.02 seconds behind the USA-1 sled on the first run. The Germans were 0.09 seconds better on the second and final run of the night.
This is Meyers Taylor's third Olympic Games. She pushed a U.S. sled to a bronze medal in 2010 in Vancouver and piloted one to silver in Sochi in 2014.
Gibbs, meanwhile, had not set foot in a bobsled until after the Sochi Games. The former track and volleyball athlete took up the sport only recently and is now just two runs away from a medal.
Together the three have won three medals so far in the 2017-18 World Cup season: Silver in Lake Placid (11/17), silver in Winterberg (12/17) and bronze in Koenigssee (1/18). They also posted the fastest time during training runs at this year's Olympics.
The final two runs are scheduled for late Wednesday in PyeongChang, early morning in the U.S.