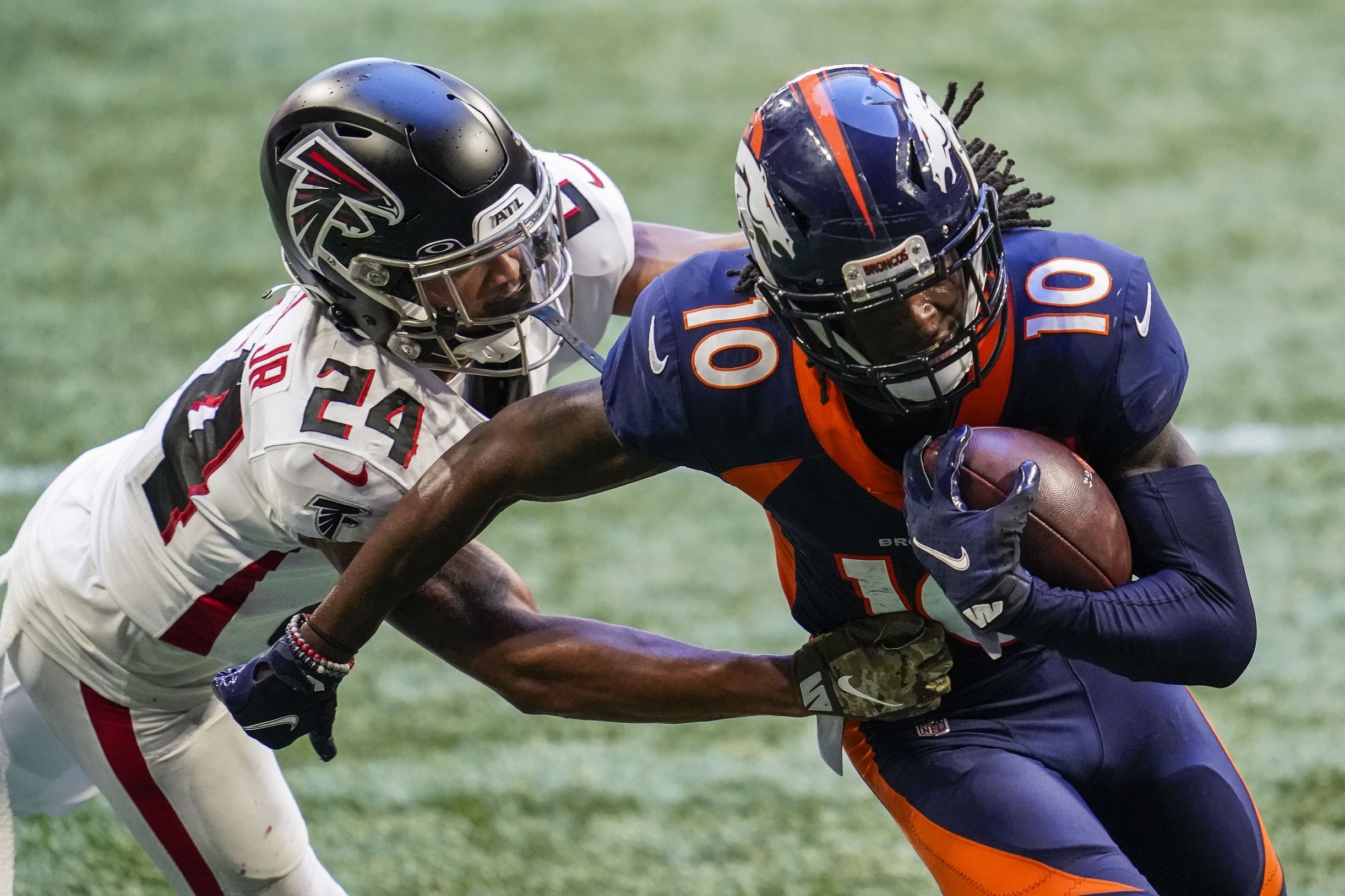 Stefon Diggs and Jerry Jeudy may be the key to the Denver Broncos quarterback problem.
It is no secret, the Broncos have one of the most complete rosters in the NFL. However, doubt creeps across the league to the lack of competent play at the quarterback position by the incumbent Drew Lock or his competition Teddy Bridgewater.
After breaking down what Lock and Bridgewater must do to win the starting job during training camp. The understanding from afar is that Bridgewater provides steadier and more predictable play. He may help keep the team on schedule, but his lack of aggressiveness could lead to missed opportunities to score points.
Lock on the other hand creates a wider range of volatility. Meaning, when he's on, the team can put up more than 30 points with relative ease. When he's off, the offense sputters and the team digs canyon for themselves.
The consensus around the team is clear, Lock becoming "The Guy" provides this team with their highest upside.
The incumbent still struggles with many of the same issues he battled during his time at Missouri.
So, we know Lock can make the leap, but how can Jeudy help in accomplishing that task? Let's take a look.
Connecting Broncos' Lock to Bills' Allen in their third season
Many who believe Lock can be successful connect it to Allen's leap from 2019 to 2020.
In 27 starts spanning his first two seasons, Allen averaged 191 passing yards per game and a 10-to-7 touchdown to interception ratio.
Lock sports an average of 219 passing yards per game and a touchdown a 23-to-18 touchdown to interception ratio.
In his third season, Allen's numbers skyrocketed to 284 passing yards per game and a 37/10 touchdown to interception ratio.
Many would attribute Allen's growth to a variety of reasons. Some being Allen's maturity, some the evolution of the offensive coordinator, Brian Daboll.
Yet, this time a year ago, there was no indication Allen was anything more than a guy who struggled in structure. Additionally, Daboll had a less than stellar background as a play-caller.
Sound familiar?
Most missed the importance of Stefon Diggs's arrival in Buffalo to the toolsy quarterback's improvements.
One could argue Broncos receiver Jeudy provides some of the same skill set as the first-team All-Pro.
Diggs's arrival was the catalyst necessary for Allen's improvement. Furthermore, like Diggs, Jeudy's skill set can help unlock Drew this season (pun intended).
How Diggs helped Allen in 2020
Before Diggs arrived Allen was a player with immense physical talent, but had yet to put it together.
Allen loved playing out of the structure before the former Viking lined up outside. He played schoolyard ball, taking advantage of his big arm and good mobility.
Sound familiar?
Diggs described himself as a, "by-the-book guy".
Unlike the former Wyoming quarterback, Diggs is a technician.
However, the former Vikings wideout was able to mesh with Allen's playstyle. In doing so, their rapport helped increase Allen's completion percentage from 58 percent to almost 69 percent.
Their bond helped Allen flourish with on-time, short to intermediate routes.
One way that worked is Diggs start and stop ability. Diggs creates separation with suddenness and phenomenal footwork.
Diggs excels on a stop/curl route. This route usually tops off around 8-to-10 yards. At the top of the route, Diggs's reliable hands and separation give the quarterback confidence he is going to be open.
Stefon Diggs running a stop/curl route pic.twitter.com/26EfwhSKG7

— Receiver Life (@ReceiverLife_) November 15, 2018
In most cases, the opposition knows it is coming, and still cannot stop it. The defender has to respect the deep threat out of fear of being beaten deep.
Stefon Diggs is an elite route runner. Can start/stop on a dime. Love this guy. pic.twitter.com/flhomsPe4e

— Jordan Reid (@Jordan_Reid) February 20, 2017
Diggs was constantly open on short to intermediate routes during the matchup between the Bills and Broncos last season. Broncos fans may recall the 11 catches for 147 yards Diggs put up in Denver. Diggs created space and made a move, picking up first-down after first-down.
In fact, much of Allen's success came on short to intermediate throws. Per Next Gen Stats, Allen's passer rating was 108.9 when targeting throws shorter than 10 yards downfield. Additionally, he had a passer rating of 110.6 when targeting throws shorter than 20 yards. All numbers much improved from his freshman and sophomore season.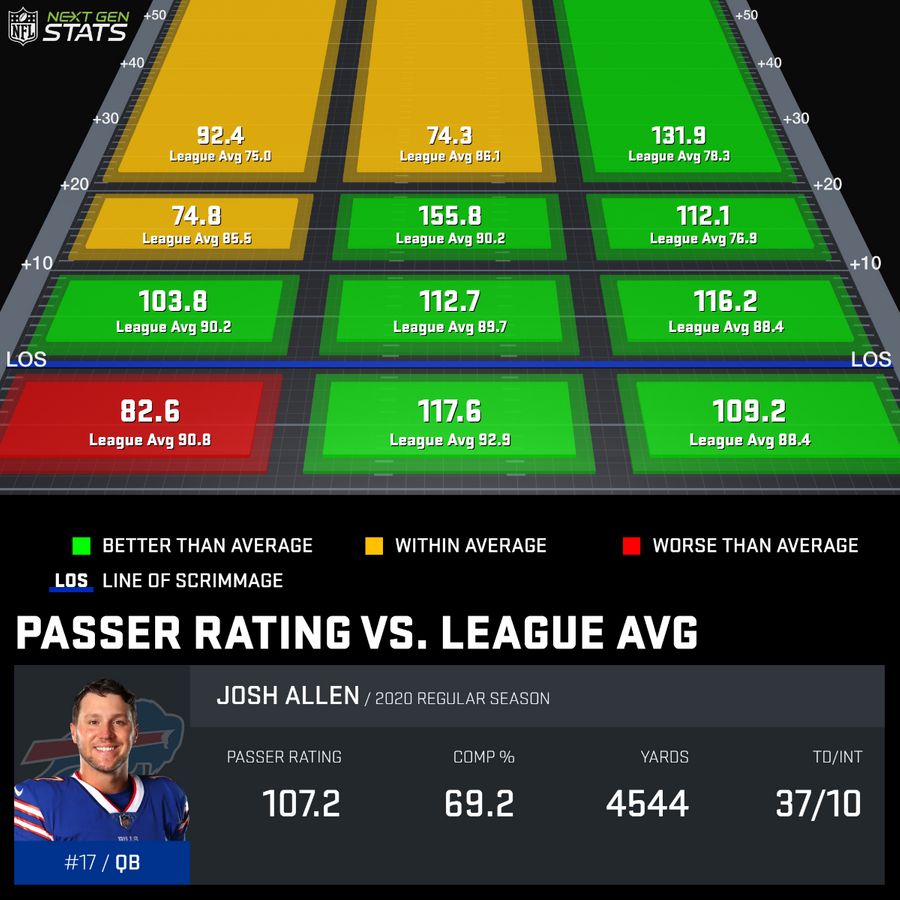 For example, in Week 3 of the 2020 season Allen rolled against the NFL's number one defense. Allen diced up the Los Angeles Rams with only one completion over 20 yards.
Josh Allen's passing chart courtesy of Next-Gen Stats pic.twitter.com/Q5HWaOb7eN

— Cover 1 (@Cover1) September 27, 2020
Diggs and slot receiver Cole Beasley provide Allen with targets who can help create easy completions. Jeudy and, potentially, K.J. Hamler can provide something similar for Lock.
Broncos' Jeudy can provide Lock with Diggs's like support connection
Like Diggs, the former Alabama standout has a tremendous start and stop ability. Jeudy can create separation on short or intermediate routes easily, while also threatening defenders deep.
Jerry Jeudy perfect feet and stop route at the 1st down sticks#JerryJuedy pic.twitter.com/AhLCmfKI82

— John Chapman (@JL_Chapman) April 8, 2020
This season offensive coordinator Pat Shurmur should look to use Jeudy as Daboll did Diggs last season.
If Shurmur does, Lock could see an increase in his completion percentage similar to Allen's jump last season. Additionally, Jeudy's suddenness can help Lock create easy completions on third and short opportunities.
In the end, the connection between Lock and Allen has been discussed at nauseum. However, many of those discussions have not incorporated the benefit of having a player who can get separation so quickly. Diggs and Jeudy are the same types of players in that regard. Each offers phenomenal separation and if the quarterback can trust where they'll be, it is easy to find completions.
Therefore, building rapport with Jeudy could be the last piece the unlocking the young quarterback's potential. If he does not, it also could lead to more of the same for the young quarterback, leading to Bridgewater taking the reigns at some point this season.